N/A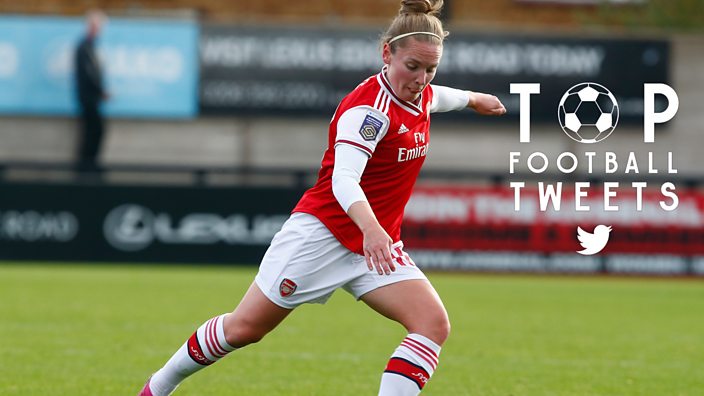 Gettyimages
A record-breaking derby day in the Women's Super League
Also, this is why goalkeepers shouldn't take penalties
Just because the Premier League was on a break, that doesn't mean there was no football to watch this weekend.
England qualified for Euro 2020, Wales kept their hopes alive and it was a huge day in the women's game with two of the most storied rivalries in English football being played out in the WSL for the first time.
But during these international breaks, it's always best to stick with the true gem in the crown of British sport: non-league football.
When a goalkeeper walks the length of the field to take a penalty, you can't help but expect something special.
And Nuneaton Borough shot stopper Tony Breeden certainly delivered something special as he smashed his penalty... over the crossbar and into one of the lights behind the goal.
Thankfully for Breeden, Boro still went on to beat Stratford Town 2-0 so he was able to have a laugh about it after the game.
But that wasn't all the magic from an exciting weekend of non-league action, with things going just as planned for Leighton Town's Danny Webb in his side's 2-1 win over Tring Athletic.
Women's football continues to be a vehicle for social change, with Megan Rapinoe among those who have used their platform to highlight inequality around the world.
The latest example comes from Brazil, where the scoreboard delivered an important message to viewers.
You're away from home in the first derby showdown in the WSL, who better to break the deadlock than your captain? And how better to do it than with a strike from outside the box?
A mix up in the Belgian kit department left Dedryck Boyata wearing teammate Michy Batshuayi's shirt for the first half of their 4-1 defeat of Russia on Saturday night.
As you'd expect, the Chelsea striker saw the funny side of it.
In a week in which England played their 1,000th game as a country, it's fun to think about how one of the most famous players to ever don the shirt would get on today.
Meanwhile, the current crop of young English stars are well aware of the fact that they are living the dream.
Gareth Bale made headlines during the week as he said he enjoys playing for Wales more than his club Real Madrid, and it seems that he's not the only one.
Meanwhile, Harry Kane might be struggling to find his shooting boots for Spurs this season but he's had no such problems for his country as he equalled the record for most England goals in a calendar year.
9) It's all about the 'real' fans
We're not sure this is what people mean when they say they want to make some new fans.
10) Even when you win, you lose
While most teams would be thrilled to see their side record a 27-0 win, Italian outfit Invictasauro weren't too impressed to see their U18 side record such a scoreline and quickly sacked their coach.