N/A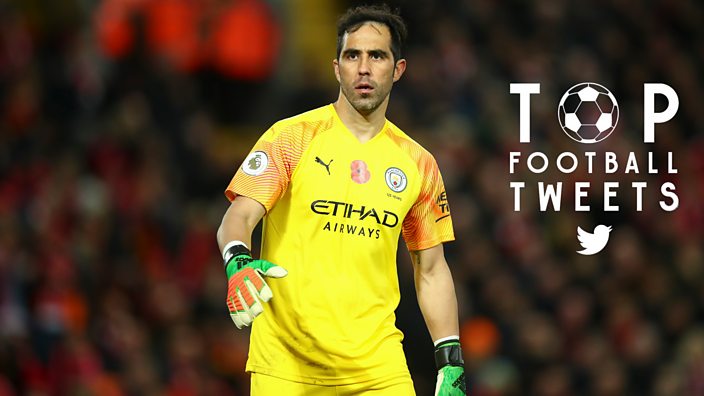 Gettyimages
Why Manchester City fans should hope Ederson's injury doesn't keep him out for long
Liverpool's rivals are praying for another Leicester title miracle, rather than the Reds end their wait
The days are getting darker but thankfully we've got plenty of football to carry us through the harsh winter months. 
Here's a look at what people are saying after another exciting weekend of action up and down the country.
1) No "Bravo" for Claudio
Manchester City fans will be hoping that Ederson can return from injury before too long as his understudy, Claudio Bravo, doesn't seem to be at quite the same level as the Brazilian.
That stat came after Liverpool's second goal in their win over City, but there was more misery to come as the Reds scored again to go up 3-0 before eventually winning 3-1.
Liverpool's win on Sunday puts them nine points clear of Pep Guardiola's men with just 12 games gone in the current campaign.  
With just two points dropped all season, the odds are shortening on this finally being Liverpool's year to win the title, for the first time since England's top division was rebranded as the Premier League.
But there is another hope for those hoping the Reds will slip up again. A familiar face for Liverpool supporters, who is in charge of a team who won the title just a few years ago… 
Though it's always important to maintain a sense of perspective on these things. 
Liverpool might have an eight-point lead at the top of the table, but things are very tight elsewhere in the Premier League, with just a few points separating teams from chasing a spot in Europe and facing a relegation scrap. 
4) After the Lord Mayor's show
Even on an exciting weekend of action, you've got to feel sorry for the guys at Football Focus who were never really given a chance by the BBC One schedulers on Saturday.  
Heavy rainfall during the week led to flooding in Derbyshire and South Yorkshire as a month's worth of rain fell over a 24-hour period in some places.
Many were forced to evacuate their homes, including Northern Premier League Division One East side Belper Town whose home ground, Christchurch Meadow, was left totally submerged.
The club are now looking to raise funds to repair the damage caused to the pitch and their clubhouse.
Thankfully, the Christchurch Meadow pitch is no longer under water but it will no doubt require some work in order to make it playable again. 
It's safe to say Arsenal fans are running out of patience.
At the end of the day, Unai Emery is the man who has to take responsibility for the results. After all, the team are playing in his image.
7) Offside by a Blade of grass
It's safe to say that the first few months of VAR in the Premier League have not gone down universally well, with some fans increasingly viewing it as a nuisance, rather than something which can improve the game.
Still, Sheffield United managed to hold on for a point and extend their remarkable run of close games by another week and now sit fifth in the table, ahead of the likes of Arsenal, Manchester United and Tottenham Hotspur.
This week's "magic of the cup" award goes to Crewe Alexandra's FA Cup first round win over Accrington Stanley. 
Having taken the Premier League by storm with six goals in his first five games, early season fantasy football superstar Teemu Pukki is now without a goal in his last seven outings for the Canaries.
10) Dude, where's my car?
Safe to say Exeter City midfielder Jake Taylor has had an absolute 'mare here. 
Not only has he sent a good effort flying into the sky, he's smashed the windscreen of his own car in the process. 
Everyone has that one big moment in their life. That one opportunity where they were presented with two choices and forever changed the entire course of their existence by picking one over the other.
This is one of those moments. Which one would you choose?
12) The roar of the crowd
Tottenham's new stadium may have a brewery inside it, but does it have a lion on the roof?