N/A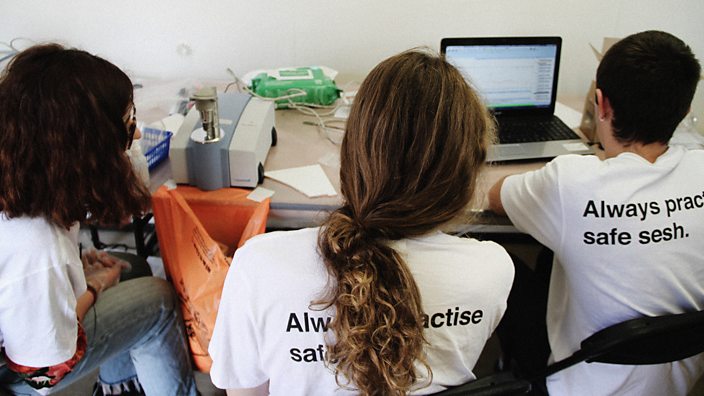 BBC Three / Ayman Al-Juzi
'My day with the drug testing squad…'
Drug-related deaths are on the rise. We go behind the scenes with the volunteers offering to test your festival drugs
Jake*, 19, is wearing Hawaiian shorts and a mesh top, with glittery patterns covering his cheeks. "I threw my coke in a police amnesty bin," he tells me as we chat outside an innocuous-seeming tent at Birmingham's MADE festival. "Well, most of it was paracetamol actually. According to the guys in the tent it had less than 2% actual coke in it."
The tent in question is a full drug-testing facility. With boxy grey testing machines, flashing lights, test tubes, sample bags, and an army of laptops loaded with specialist software, behind the tarpaulin lies a scene that could be straight out of Breaking Bad. 
It actually houses seven volunteer chemists (many have PhDs or experience in the drug-testing industry) and drug counsellors, all of whom are working for The Loop, currently the only organisation offering on-site testing at festivals and nightclubs in the UK, they say. As well as MADE, over the summer they were at six other festivals, including Bestival.
Having had their drug samples tested, people are offered a 10-minute counselling session, if they want them. Users are told to stay well hydrated, how to deal with a drug-related emergency, and are given festival-specific information, such as the location of the medical tent.
"We talk about their drug-use history, we answer any questions they might have about drugs, and we discuss the risks involved," explains Dr Henry Fisher, one of the senior chemists. "We're honest about these risks, but we try to do it in an open, friendly, and non-judgemental way."
Held across one blisteringly hot weekend at the end of July, MADE festival draws a young, excitable crowd. Many of them are like Jake: ready to party in brightly-coloured outfits, smeared in glitter and face paint. Inside the main stage tent, young festival-goers, some of whom have just turned 18, clutch their beers while dancing, lost in their euphoria. It's not always easy to spot the ones who have taken something. But there are some more obvious side effects. For example, some people who take MDMA clench and unclench their jaw involuntarily – known as gurning.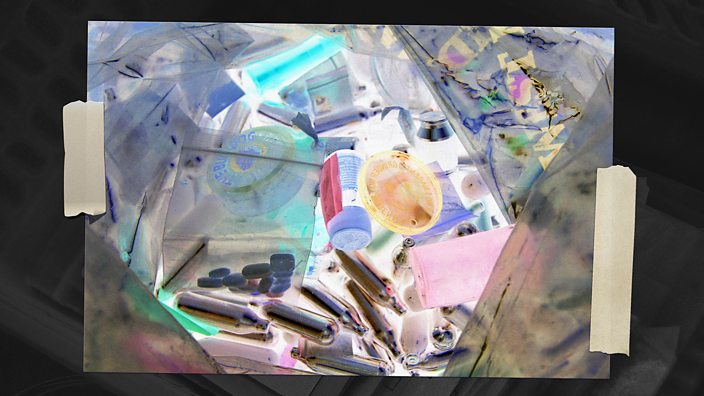 As I scan the happy crowd, though - all talking, laughing, and singing - it's hard to get an accurate reading of their faces. Some could be gurning. Then again, maybe not. It's a real cause for concern among police officers who've worked with young people in this environment. How do they spot the ones in trouble before it's too late? David Jameson, Police and Crime Commissioner for the West Midlands – which is where the festival is being held – tells me he doesn't want to see people taking drugs at all.
"But we have to go with the flow of people," he says. "As a police commissioner, I really have great concerns about young people who may be harmed by drugs. But at least if they bring those drugs for testing, and we find something really dangerous, we can get the word out quickly [via social media and word of mouth]."
It seems like a pragmatic approach to an increasingly dire problem. Recent government figures showed that cocaine-related deaths in England and Wales increased to the highest level since comparable records began in 1993.
Up to 20% of people discard their drugs after getting their test results
According to the chemists working in the testing tent, problems with the drugs they work with generally fall into two categories: mislabelled contents or high purity. "The three main drugs we see at festivals are MDMA, cocaine, and ketamine – in all three cases purity can range from 0% to 90%," explains Dr Fisher.
Last year, researchers also found there had been a sharp rise in the number of deaths attributed to so-called "club drugs", particularly cocaine and ecstasy. In fact, ecstasy-related deaths in England and Wales reached their highest point ever in 2016. This is despite the fact the number of people using these drugs has remained largely stable. Instead, experts point to the fact there has been a dramatic uptick in purity and strength.
For example, while the average content of MDMA - the active ingredient in ecstasy pills - was between 50mg and 80mg in the 1990s and 2000s, it is thought pills in Europe now contain an average of about 125mg. "Super strength" pills containing between 270mg-340mg have also been seen. In May this year, Georgia Jones, 18, and Tommy Cowan, 20, died after attending Portsmouth's Mutiny Festival where organisers had issued warnings about a "dangerous high strength or bad batch" of drugs on the site. A further 15 people received treatment at a local hospital.
Georgia's mum later paid tribute to her daughter on Facebook, writing that she had died "due to complications after taking two pills at Mutiny…The pills had caused her temperature to rise so high it made her fit for 45 mins. This then caused her muscle to break down and turn her blood acidic." She ended her message with a warning: "I just hope this stops at least some of you from ending up the same."
Dr Fisher tells me that last year the most unpleasant thing he saw was pentylone being sold as MDMA. "People took it expecting a few hours of euphoria" he explains. Instead, he says, they ended up with (up to) 48 hours of paranoia, in some cases causing a more intense state of psychosis.
He says that up to 20% of people discard their drugs after getting their test results – perhaps the gram of coke they have is cut with something particularly nasty and they would rather get rid of it. If the drug is high purity, though, it's usually kept.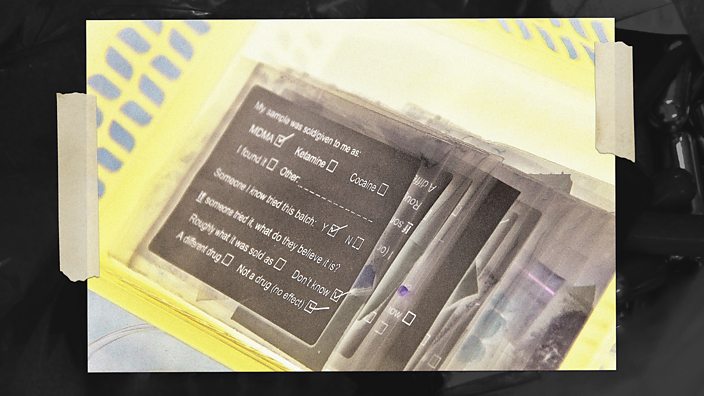 I'm reminded of those terrifying government stats as 19-year-old Shaima* collects her results and finds her pills are very pure. She seems delighted a pill-bonding agent is the only extra ingredient after MDMA. She tells me she's a student, and speaks like an experienced raver. "There are internet forums where people post pictures, the weight and the effects of pills they buy," Shaima tells me. "So I actually researched what I had before bringing it along. But you never really know." She explains she'll take her pills in smaller doses now that she knows how pure they are.
It's a sentiment echoed by 21-year-old Said*. "The pills we have are basically completely pure" he says. "Good to know that - so none of us over do it. The guys were cool and friendly, but I didn't really want to do the counselling bit. I just wanted to make sure these pills weren't going to mess me up."
More cautious dosing is a good outcome as far as Dr Fisher can see. "We are trying our best to provide a frontline service that directly reduces the harm caused by drugs, and as you can see out there, there are a lot of young people who could seriously harm themselves," he says.
If you submit samples, you cannot be arrested and are allowed to leave with your drugs
Today's is the team's first gig in the West Midlands, after a legal struggle which ultimately required the cooperation of local police, council and festival organisers. "We've had to look into the legalities extensively," Supt Jane Bailey, who is overseeing the drug-testing facility today, tells me. Everyone knows most festivals contain no shortage of drugs; but accessing legal drug testing somewhere that has a strict and extensive search-on-entry policy – as MADE does – seems somewhat contradictory.
Added to that is the fact the team work under a promise of amnesty, meaning that if you submit samples, you cannot be arrested and are allowed to leave with your drugs. This is obviously a tangled legal web, and, in practice, quiet surreal. While officers will not enter the drug-testing tent, just metres away from it is a heavily-equipped security team who, alongside police, carry out searches. They're even using drug sniffer dogs.
"I was uncomfortable with the idea when my friend first told me - it felt like it was obviously a police trap," Said tells me. "But after reading some articles online, none of them mentioned anything like that. It felt weird, and it felt like the searches on the door and the drug-testing tent were from completely different eras." After using the service and having a positive experience, Said was quick to mention it to his friends at the festival.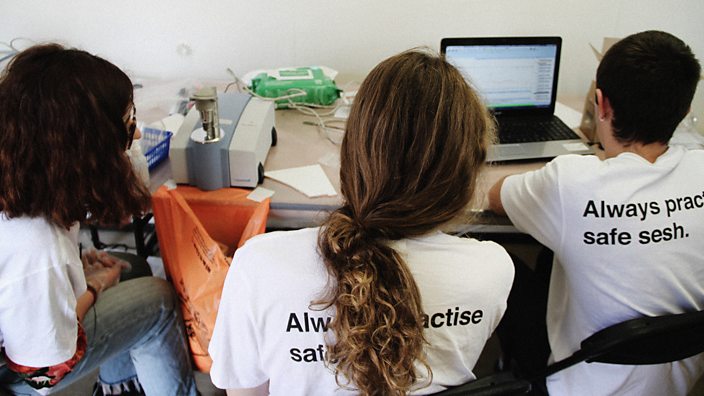 By the afternoon, word has spread and more and more revellers come through the discreet entrance. "I've taken a lot of MD[MA] pills before and never had issues. But I've recently heard of some fake pills going around in Birmingham, so I wanted to make sure I had the real deal," Robbie* tells me, soon after submitting a sample.
He explains he usually gets branded pills which he believes come from "trustworthy" labs in Holland, but some local dealers try to recreate the same pill design and colour, which either contain absolutely nothing, or an alternative cheaper drug, like pentylone – which can be more dangerous. "I had a mate who took one once which just made him really sleepy and sick, no one has ever felt like that off MD, so we knew it was a fake," he says. His pills turn out to be very pure, and he pockets them saying he'll take less to start with than he'd planned to. "I'm just going to take it steady and see how I feel," he says.
As the sun sets, and the last acts wind down, the crowd begin to sway their way to the exit. I spot Jake's Hawaiian shorts as he stumbles past– without the mesh top, face paint, or bag of powder that he had started the day with. Although the crushed paracetamol he was sold probably wasn't going to kill him, snorting that alongside copious amounts of alcohol would have probably given him a furious headache. He's smiling and waves. He didn't buy anything else at the festival, he assures me. "It didn't seem worth it," he shrugs.
*Names have been changed.