N/A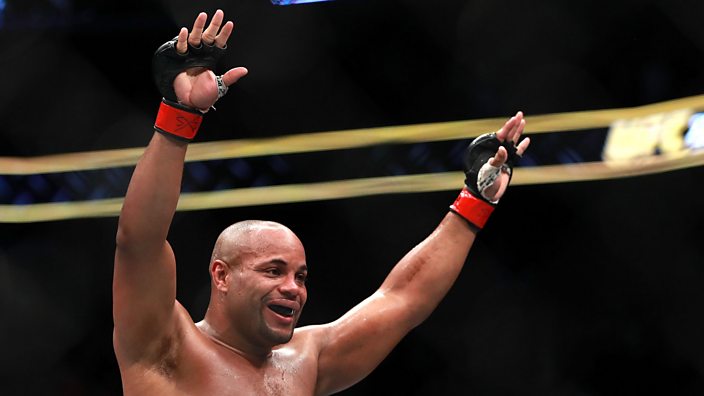 UFC 226: Daniel Cormier says it's knockout or bust for Stipe Miocic in Las Vegas
It's champion versus champion for the heavyweight title - and Cormier says the bookies have it badly wrong
After the surprising news this week that American fighter Max Holloway has been pulled from UFC 226 with 'concussion-like symptoms', all eyes now turn to the remaining title fight at UFC 226, Cormier v Miocic.
It will be a champion versus champion "superfight" at the T-Mobile Arena in Las Vegas, with light-heavyweight Daniel Cormier moving back up to his former weight class - heavyweight - to challenge record-breaking UFC heavyweight king Stipe Miocic.  
And a fired-up Cormier told a packed media scrum at Wednesday's open workouts that the bookies in Vegas have got it wrong, by backing pre-fight favourite Miocic, and his rival only has one way of winning, and that's to knock him out.
"Know that those odds, and all that money that they bet on him, it's tied to one outcome," Cormier stated.
"The only way he can win is to knock me out. There's no other way he beats me. If he didn't finish [Francis] Ngannou on the ground, he is not finishing me on the ground. And if we fight for 25 minutes, there is no way he gets his hand raised.
"So all the money that people are betting, know that it's all tied to one outcome, because that's the only way he wins the fight."
Defending champion Miocic was typically unruffled by Cormier's comments when they were put to him during his media scrum later that afternoon.
"Sure. I've knocked people out and I won," he shrugged. "Guess what? He'll get knocked out, too. And I'm gonna keep winning."
And the Ohio firefighter brushed off Cormier's suggestion that there was no way Miocic could win a decision.
"What happened in my last fight?" he asked. "Ah yes, I won by decision!"
The fight pits two of the UFC's most popular world champions head-to-head, in a fascinating battle of champions. Miocic is the most dominant heavyweight champion in UFC history, with three straight title defences, while former US Olympic wrestling captain Cormier is a former Strikeforce heavyweight grand prix champion and the current UFC light-heavyweight champ – and also has three title defences to his name.
The UFC has branded their UFC 226 clash "The Superfight" - and Cormier says that label is fully justified.
"It's a true superfight," he said. "People say that just because two champions are fighting it's a superfight. But that's not necessarily true. It's the best of the best that warrant the title of superfight. This guy has done things that no other heavyweight has ever been able to do, and I've defended that light-heavyweight title three times.
"Stipe and I were in the heavyweight division at the same time. I was ranked number two in the world before I went down [to light-heavyweight]. He was still a prospect. So I've lived in that division for a long time. There is no part of me that fears Stipe Miocic."
Following in Bisping's footsteps?
Before the big guns take to the octagon at UFC 226, the next crop of UFC stars of the future will take centre stage on Friday night at the Ultimate Fighter Finale – and the British featherweight Jay Cucciniello is all set to play a starring role.
Cucciniello, who trains alongside another former British TUF star, Luke 'Bigslow' Barnatt, in Spain, was initially eliminated from the tournament, but was offered a path back in after fellow prospect Ricky Steele was forced to withdraw with a concussion. Cucciniello went on to defeat Tyler Diamond in one of the best fights ever seen in the Ultimate Fighter gym, booking him his place in Friday's final against Dublin-based Canadian Brad Katona.
"It's a cool feeling, and it's a nice little honour to be able to be in the final as a Brit," he said. "So to be able to go out there and do it, and hopefully cement my own legacy and do something for myself and my dad's name, it's going to be amazing."