N/A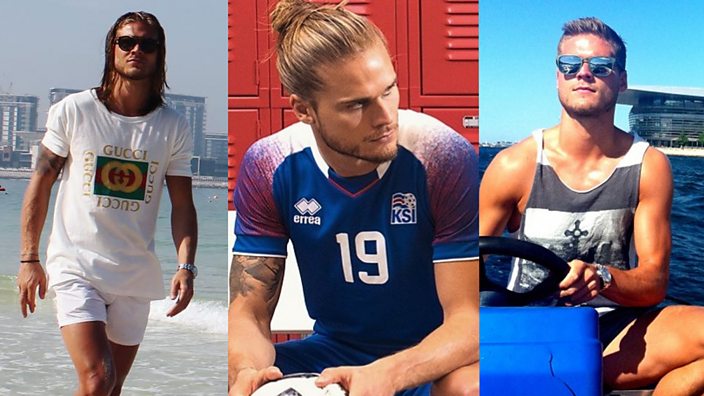 Instagram / rurikgislason
Rurik Gislason is social media's new favourite heart-throb
What do you get when you mix Chris Hemsworth and Brad Pitt, with a hint of Channing Tatum? Iceland's Rurik Gislason - that's what
Icelandic midfielder Rurik Gislason made an impressive start in his World Cup debut, featuring in the shock 1-1 draw with Argentina in their opening game. But it's not just his performances on the pitch that have been making headlines.
Gislason became an overnight sensation on social media when viewers around the world realised that a hunky, blond peach of a man was kicking about in Iceland's squad.
The 30-year-old, who plays his club football in Germany's second tier at SV Sandhausen, started off the World Cup campaign with roughly 30,000 Instagram followers.
That figure grew rapidly after the Argentina game in which fans feasted their eyes on Gislason for the first time. He now has over 760,000 followers on Instagram, and that figure continues to grow, especially with #sexyrurik trending on Twitter.
The midfielder now has more followers than the entire population of Iceland - estimated to be 328,000 - and all of the national team's social media accounts on Facebook, Twitter, and Instagram combined.
It was only a matter of time before Gislason began to attract the attention of famous faces around the world. Argentine actress Gimena Accardi began following him on Instagram, while Brazilian actress Gabriella Lopes asked her followers, 'How is it possible to be this cute?'
It was also reported that an Argentine travel company shared his picture after Iceland's opener, advertising trips to Gislason's home country, by using his image with the caption, "Girls, who's in."
Meanwhile, Gislason isn't the only World Cup bae to come out of this year's tournament - there's also Morocco's coach Herve Renard.
The 49-year-old Frenchman bears a striking resemblance to Game of Thrones actor Nikolaj Coster-Waldau, who plays Jaime Lannister, but also, as one Twitter user pointed out, Prince Charming from Shrek.
Renard had been attracting attention from the dugouts, but unfortunately we won't be seeing much more of him at this year's tournament after Portugal knocked out Morocco earlier this week.
So we've got a gorgeous player and a handsome manager, but the team effort for best looking nation has to go to Iran, after they rocked up in Russia suited and booted without a single hair out of place.
Players such as Iran goalkeeper Amir Abedzadeh and striker Mehdi Taremi look as though they've just rolled off the catwalk on to the field with their impeccable stylish swagger.
BBC Radio One's Greg James was chuffed when he saw how "fit" the team was after drawing Iran in his sweepstake, while others on social media thought the squad belonged in a Mr Universe tournament.