N/A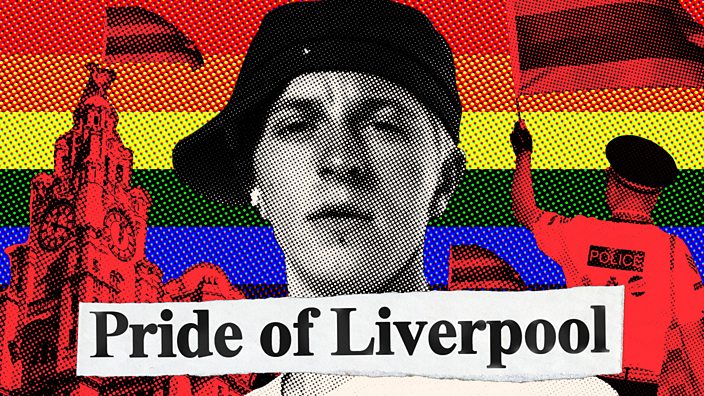 BBC Three
A decade after gay teen Michael Causer's murder, is hate crime rising?
'People think the fight's over because there are lots of rainbows in Primark – but it couldn't be further from the truth'
The call from the hospital came early in the morning. Debbie Causer screamed and grabbed her mum, Marie.
"We literally jumped in a taxi," she says.
Michael Causer, Debbie's 18-year-old brother, lay unconscious in the intensive care unit of a Merseyside hospital. He had severe head injuries, including a fractured jaw and a blood clot in his brain that required emergency brain surgery.
"All the medical equipment made him look like he was in a cage. It just didn't look like Michael," Debbie recalls. "I walked out and burst into tears."
Debbie, then 25, had no idea who had done this to her younger brother. Unknown to her, she was about to find out. The men responsible for Michael's injuries were also inside the hospital – and they were waiting for her.
"We walked into the relatives' room and there were two boys sat there who said they were Michael's friends," she says. "My mum and I looked at each other and said, 'They're not Michael's friends. We've never seen them before'."
While Michael fought for his life, James O'Connor, 20, and Michael Binsteed, 18, attempted to persuade his family that he'd been attacked by strangers.
"They told the police he'd been beaten up on the road by three unknown youths who'd pinched his phone," Marie explains. "They even left a sympathy card as Michael was in the operating theatre." 
Eight days later, on 2 August 2008, Michael died. As police pieced together what happened, they grew increasingly certain that the story spun by his so-called "friends" was a lie. They believed that Michael had been murdered because he was gay.
In 2008, Liverpool was still the largest city in the UK without its own official Pride celebration. There were other celebrations like Homotopia, an LGBTQ+ arts and culture festival which launched in 2004, and Lesbian and Gay Film Festival (Outsiders) in 2004 – but Pride was a glaring omission.
The contrast between Liverpool and its immediate neighbour, Manchester, was particularly pronounced: Manchester had a thriving gay village and a Mardi Gras. Liverpool had a gay quarter, but it was not pedestrianised until 2009, and was only officially recognised by Liverpool City Council in 2011.
"Although there were LGBTQ+ support organisations they weren't linked up and were struggling for money," says Joan Burnett, a trustee of Liverpool Pride.
A 2006 report into the experience of LGBTQ+ people living, working, studying and socialising in Liverpool was an "eye-opener" for the local authority, according to Joan. The results showed that of the 210 people who took part in the survey, as many as 59% of LGBTQ+ people had experienced homophobic crime within the Liverpool area. This was significantly higher than London, which had an overall hate crime incidence of 47%, according to the report.
LGBTQ+ people averaged 15 homophobic incidents each over their lifetime, and more than half also said that they lived in fear of attacks. One anonymous contributor summed it up: "Gay lifestyle in Liverpool is like Manchester 15 years ago."
Ten years on from Michael's murder – and with homophobic and transphobic hate crime at record levels in Merseyside, according to data obtained by the BBC – have things changed for the better?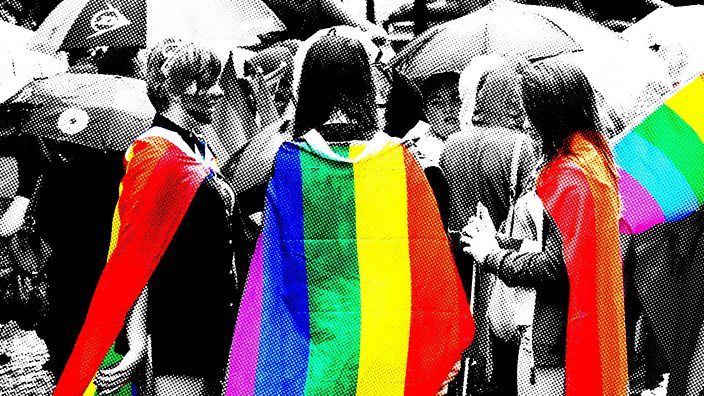 Michael's hair colour changed like a revolving kaleidoscope. As a trainee hairdresser, he re-styled it regularly.
"Each day he'd come in with a different colour," recalls Marie.
No sooner had he adopted a new style, he would abandon it in favour of something different – or shave it off altogether.
"He had a perm, and then he shaved it off," she says. "He let it grow, and then he'd come in with blue tips, and I'd say to him, 'You look gorgeous'. The next day he'd come running up the path and he'd be shaved again."
Michael's family describe him as fun-loving, generous, and outgoing. He volunteered at a care home, making coffee and doing pensioners' hair. He enjoyed a good, very close relationship with his two sisters.
He came out to his mum in 2004, aged 14.
"He said, 'I think I'm gay'," says Marie. "And I said, 'Is that because you're mixing with your sisters and other girls a lot?' And he said, 'No. I like girls, but I don't fancy them'."
Marie remembers that she simply said, "If you're happy, I'm happy" in response.
Michael's family accepted his sexuality without question. Marie says that his coming out brought them closer, and that he went on to confide in her about his relationship with his first serious boyfriend.
On the night he was beaten into unconsciousness on 24 July 2008, a friend had invited Michael to the pub with some others. The group moved on to a house party, and at some point Michael crashed out in a bedroom upstairs to sleep off the alcohol. What happened next is unclear because Michael's attackers changed their story just before the trial. 
According to evidence put before the jury, sexually explicit images of Michael were found on his phone and shown to the group. Two men – James O'Connor and 19-year-old Gavin Alker – went upstairs to where Michael was sleeping, and began attacking him, leaving him with a fractured skull and a swollen brain. It was alleged that Gavin – who had never met Michael – screamed homophobic abuse, calling him "queer" and a "faggot".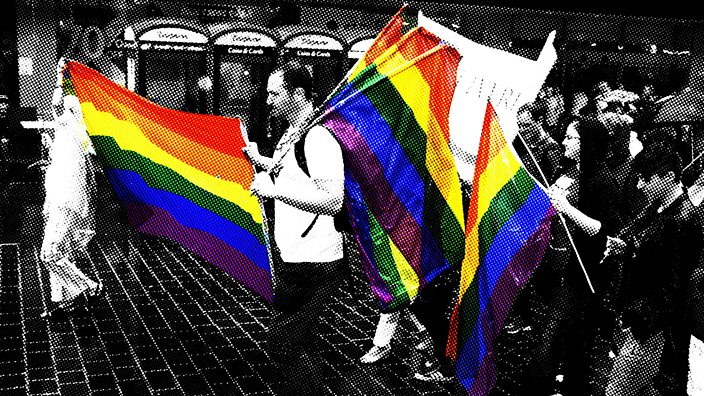 James and Gavin admitted hitting Michael – but Gavin denied making homophobic comments. He blamed James for the murder, and claimed that he had been acting in self-defence when he punched Michael, who was just seven-and-a-half-stone, and 5ft 6in.
A third teenager, Michael Binsteed, dumped Michael Causer's body in the street and called the emergency services, fabricating a story to paramedics that he had been attacked in the street by random men. James and Michael Binsteed then followed the ambulance to the hospital.
James eventually pleaded guilty to murder, but denied that the attack was homophobic. Michael Binsteed pleaded guilty to perverting the course of justice. James received a life term, and Michael Binsteed a 34-week suspended sentence. In a jury decision that shocked Michael's family, Gavin was cleared of murder and manslaughter. He walked free.
There was worse to come for Michael's family. A judge decided that the attack had not been a homophobic hate crime, which is defined as one that is motivated by hostility or prejudice.
Explaining the sentence, Mr Justice Timothy King said it had been a "brutal attack" – but that James did not act out of "homophobic motivation".
This meant that James would not be given the stricter sentence associated with a hate crime. He could be free in 2020 after serving 11-and-a-half years.
"Justice wasn't done," says Marie. "It was obvious why they attacked Michael. Because he'd seen an [explicit image] on Michael's mobile phone of him and his partner.
"It wasn't accepted [by the judge], but it was investigated [by the police] from day one as a homophobic hate crime."
The decision sparked outrage in Liverpool's LGBTQ+ community. Protests followed and one hundred pansies were planted outside the Causer family home in Michael's memory as part of The Pansy Project – an initiative to document hate crimes. And in 2010, the city's first official Pride parade was held on 7 August - a date chosen because it was close to the anniversary of Michael's death.
"[The LGBTQ+ community] are part of our family now," says Debbie. "It just makes me feel proud that they've done things in memory of Michael's name."
This year's march was especially poignant, because it marked a decade since Michael's murder. Marie says that she will continue to lead it as long as hate crimes against LGBT+ youth continue.
"I'd like to see [LGBTQ+ youth] being accepted in society," she says. "No hate crimes. No bullies. You only get one life."
BBC Three received a decade of homophobic and transphobic hate crimes data from Merseyside police under the Freedom of Information Act. It clearly showed that hate crime has increased dramatically since Michael Causer's death – but the rise might not be as straightforward as it seems.
In 2007, the year before Michael's murder, there were 85 recorded homophobic hate crimes across Merseyside. In 2017 there were 442 – over four times higher.
Transphobic hate crimes were far less common. Just one was recorded in 2007, and there were 68 in 2017.
Violent crimes and public order offences, such as verbal harassment or abuse, make up the bulk of these reports.
So how do we explain the rise in recorded hate crimes? There are a number of theories. LGBTQ+ activists say that one key factor is that there have been improvements in reporting.
"Two things have happened. We're more visible so we're easier to find, and we're easier to bash," says Joan.
Joan says the figures show that LGBTQ+ people feel more comfortable reporting hate crimes, and that police are taking them seriously – but she warns against complacency.
"People tend to think the fight's over because there are lots of rainbows in Primark – but it couldn't be further from the truth," she says.
The BBC's figures show that more than half of the 442 victims in 2017 were under-35. More than 50 were under 18. 
"Although these statistics may look worrying at first glance, we're confident that increases in reporting involving all forms of hate crime is due to improved confidence in the police and our partners to investigate allegations of hate, and our ability to bring offenders to justice," says Detective Constable Tracy O'Hara, who chairs Merseyside Police's LGBT network.
However, the numbers suggest that the number of offenders being brought to justice hasn't risen in line with the number of hate crimes being recorded. The number of crimes 'solved' by Merseyside police – that is, resulting in a charge, caution or other resolution – rose from 44 in 2007 to 94 in 2017. While it used to be the case that half of all homophobic hate crimes were solved, now only one in five is solved. Meanwhile, in a statement, Merseyside police told BBC Three there has been a 38% rise in trans hate crime since last year, with most victims aged between 26-35.
What's more, roughly as many investigations into homophobic hate crime in Merseyside are solved as are abandoned before a suspect has been identified. In 2017, more cases were closed without the identification of a suspect (107) than were solved (94).
Those suspects that have been identified, though, are overwhelmingly young: in Merseyside, 63% of suspects in homophobic hate crimes (whose age was known) and 76% of suspects in trans hate crimes in 2017 were under-35. Twelve suspects in total were aged 12 or younger.
Michael was 18 when he was killed by 20-year-old James O'Connor ten years ago. From what we can see in the police figures, homophobic and transphobic hate crimes are largely carried out by – and affect – young people in Merseyside to this day.
The promotion and pedestrianisation of Liverpool's gay quarter, and the introduction of an annual, official Pride Festival, have helped make Merseyside's LGBTQ+ communities more visible. The Michael Causer Foundation, established by his parents, aims to protect LGBTQ+ youth by providing housing and support to the most vulnerable.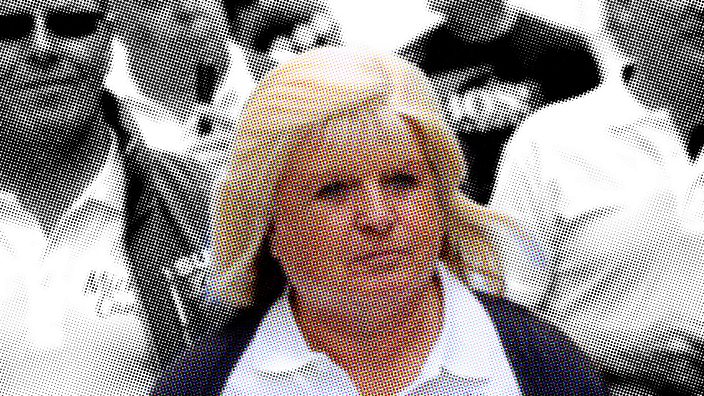 Marie was inspired to set up the foundation after she was contacted in the wake of Michael's murder by a young man who'd been thrown out of his family home for being gay. Home and school can still be a hostile environment for Merseyside's LGBTQ+ youth, she says.
"A lot of us came out after we left high school. It wasn't safe," says Ben Hodge, an 18-year-old trans activist and trustee of the Michael Causer Foundation. A culture of casual homophobia, including occasional violence, remains routine in school, he says.
"People are scared to come out of these boxes we've fixed for them which are straight/gay, male/female."
At this year's Liverpool Pride, Debbie and Marie joined 10,000 other marchers to mark the tenth anniversary of her son's death. Michael was never able to walk in Liverpool Pride – but he will never be forgotten by the city.
Supporters wore T-shirts that read #I'mMichael'sMate and carried banners bearing the Michael Causer Foundation's motto: Educate, Motivate, Accommodate.
Every week Debbie lays flowers on her brother's grave and wonders what his life would have been like had he lived.
"Would he still look the same? What colour hair would he have? What would he be doing with himself now?" she says.
She smiles as she imagines what Michael would have thought of Pride.
"He would've been out buying his outfit weeks and weeks in advance. He would've been the first there in the queue to march," she says.
"If Michael was alive, it would just be one massive street party," agrees Marie. "He'd be in his element."
This article was originally published on 9 August 2018.