N/A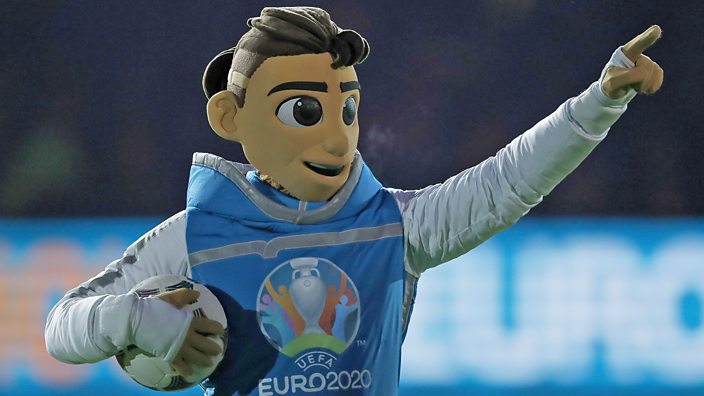 gettyimages
The Euro 2020 mascot is called Skillzy and not everyone's convinced
Skillzy. Because he's good at… well, skillz. With a z.
The official mascots for Euro 2020 have been revealed. There's British professional freestyler Liv Cooke. She's joined by Tobias Becs, a Norwegian freestyle footballer. And they're both joined by 'Skillzy', a humanoid cartoon type fella. With a topknot.
Skillzy's the one in the middle, doing the 'round the world' trick.
Uefa describes him as, "a larger-than-life character inspired by freestyling, street and panna culture".
Not everyone has taken Skillzy to their bosom. 
There have been some questions asked about the name.
Others are a bit more concerned about whether Skillzy is going to scare children.
To be fair though, it's not all been negative noise on the internet. Some people are coming around to old Skillzy. 
What's more, if someone doing keepy-ups in an over-sized human suit brings freestyle football to the mainstream, then that's good, right? 
Uefa has invited people from all 12 Euro 2020 host nations to submit skills videos representing their host cities. 
Liv says: "Being able to take the beauty of freestyling, street football and panna to football fans all over Europe is a really special opportunity."
And when it comes to Skillzy's detractors, it's not like we can pretend that previous iterations of the Euro mascot have been immune from controversy.
Euro 2016 mascot Super Victor also reportedly shared a name with a sex toy. Fans looking to purchase Victor toys online may have been confronted with something quite unexpected. A Uefa spokesperson commented at the time, after the confusion became public: "All we can say is that they [the sex aids] are not produced by Uefa."
In terms of imaginative names, Skillzy is certainly less prosaic and functional than what the creators of the Sweden '92 mascot rustled up when they revealed a fluffy rabbit called, quite simply, "Rabbit".
Perhaps they were concerned about confusion with other types of rabbit toys available for sale?
Some of our faves of recent times were Slavek and Slavko, from Poland-Ukraine 2012, a right pair of wildcards with an anarchic aura and punk hairstyles. 
Of all the previous Euros' mascots though, Skillzy perhaps owes most to 2008 mascots, Trix and Flix. It certainly sounds like the same thinking went into the naming ("Tricks, but with an x"). They were also good at, well, skillz. And trix. And flix.
Either way, maybe the haters will come around eventually. All a bit of fun isn't it?!