N/A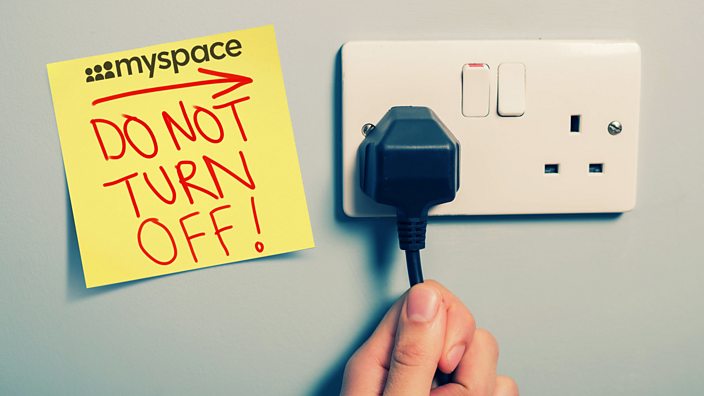 BBC Three / iStock
How the world responded to the Myspace data loss
And whatever happened to Friendster, Bebo and Vine?
Back in the glory days of its internet domination, Myspace - co-founded in 2003 by Tom Anderson, aka 'Myspace Tom' - was the largest social networking site in the world.
Millions of people posted embarrassing pictures of themselves, ranked their favourite friends (igniting bitter school fights of epic proportions over being featured in someone's 'Top 8') and shared songs from their favourite bands and performers.
Big names such as Lily Allen, Arctic Monkeys, Calvin Harris and Kate Nash all found early success on the social media platform - as well as some you've since forgotten all about: Owl City or Hellogoodbye anyone? 
"I think the secret to the success of Myspace is that you're not being sold anything, and there's something really special about that," Lily Allen said of its popularity to The Guardian at the time.
But buckle up millennials, because we've got some devastating news: Myspace has revealed that "any photos, videos, and audio files you uploaded more than three years ago" may well have been wiped after a server migration caused a massive data loss.
The reaction to the news varied between genuine sadness at all of that lost music, to relief that a host of awkward photos have now gone forever.
Musicians in particular were reflecting on all of their lost tracks.
Others used the news as a wake-up call to back up anything they cherish online.
And still others were relieved that all those old files were now wiped - some didn't even realise Myspace was still chugging along the dark recesses of the information superhighway.
Myspace was sold to NewsCorp in 2005 for $580m (£437m) but, after gradually losing users over the years, was bought for $35m in 2011 by online ad firm Specific Media, together with investors including singer-turned-actor Justin Timberlake. In 2016, it was sold again, with Myspace and its parent company and was purchased by media corporation Time Inc.
One person with a particularly intimate history with Myspace is Academy Award-nominated actor Tom Hardy who, back in the '00s, loved nothing more than sharing a revealing selfie on the social network.
"I've got no shame about my Myspace photos, especially the one of me in my underpants which is a glorious photo of a man in his natural habitat," Tom told Sky News years later. "In America, they say, 'You should be ashamed of this', but I'm actually not remotely ashamed - that is me in my natural habitat, thank you. I might not be an Adonis, but I like to think of myself as an Adonis in that photo."
But what about some of the other favourite social media platforms you have loved and lost? Are they now just languishing away in an internet graveyard somewhere, backed up on a CD-ROM, never to see the light of day again?
Bebo, created by husband and wife team Michael and Xochi Birch in 2005, was for a while one of the main challengers to Facebook.
The site, whose name was a backronym 'Blog Early, Blog Often', became hugely hugely popular with teenagers and was sold to AOL in 2008 for $850m (£558m). At its peak, it had about 40 million users.
Bebo struggled to remain relevant and ultimately lost out to competitors such as Facebook and Twitter. New owner AOL was also reportedly reluctant to invest in the social network. The site is still operating but now exists as an e-sports company.
Before Facebook, early internet users had to settle for Friendster, which appeared in March 2003. At its peak, tens of millions of people used the site, which let users connect with friends and family, join groups based on shared interests and interact via messages or games.
Friendster, like Bebo, was relaunched as a social gaming site in 2011 but just four years later, the owners of the internet property revealed it was "taking a break… due to the evolving landscape in our challenging industry".
Vine, which helped launch the careers of several stars including Shawn Mendes and Logan Paul, was created in 2013. The platform, which allowed users to share short video clips, reportedly had about 200 million users at its height.
Twitter bought Vine for a reported $30m (£23m) in 2012 - but it struggled to make money and keep up with its competitors. Vine was, tragically, ended in 2016 but the archive is still available online.
Open Diary, founded by US computer developer Bruce Ableson way back in 1998, is generally regarded as one of the first-ever social networks. The site, which has hosted millions of entries since its inception, allowed readers to post comments on other people's diaries.
The site went down in 2014 but has since been relaunched as a paid-for service, so perhaps social media resurrection is possible?
Now, if they could just bring that year 7 Bebo profile back to life… actually, it's probably best left dead and buried.