N/A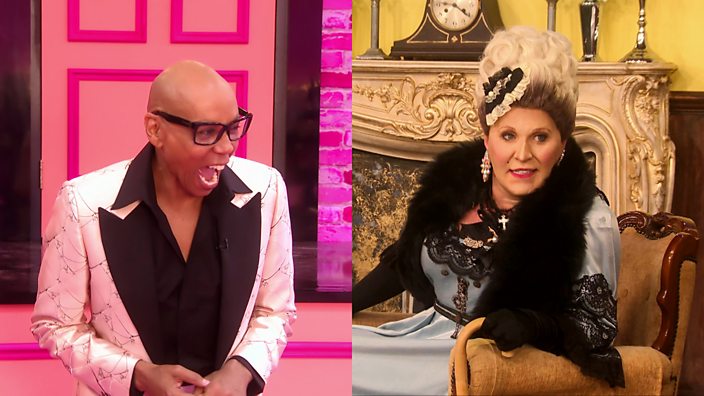 BBC Three/World of Wonder
RuPaul's Drag Race UK does Downton Abbey: Episode two recap and reaction
Who won this week's RuPeter badge? Which queens can act? And find out who we think delivered the read of the week (and who was on the receiving end)
*WARNING: This article contains spoilers for episode two of RuPaul's Drag Race UK*
*This article contains some references and language that you may find offensive*
We've got tears! We've got Maisie Williams! We've got an alien er… Bond Girl? And the queens channel their inner Dame Maggie Smiths.
The second episode of Drag Race UK - Downton Draggy - is upon us, after coming to iPlayer at 8pm and it's just as stuffed with laughs and drama as the first. But this week took a surprisingly emotional turn as the queens started to get under each others' skins, broke into tears on the runway and there were even some genuinely heartfelt moments as some revealed shocking truths about their families. Here's a recap of the most sickening moments and everything that had fans gagging.
1. The girls are fighting!
This week's episode began with last week's winner, The Vivienne, cockily flaunting her coveted prize she got for winning the Queen Elizabeth II challenge. "I'm wearing my RuPeter badge and it feels absolutely amazing," she said, before joking: "I'm gonna sell it on eBay in five years." (And yes, I have set a reminder to make a bid if/when she puts this up for sale).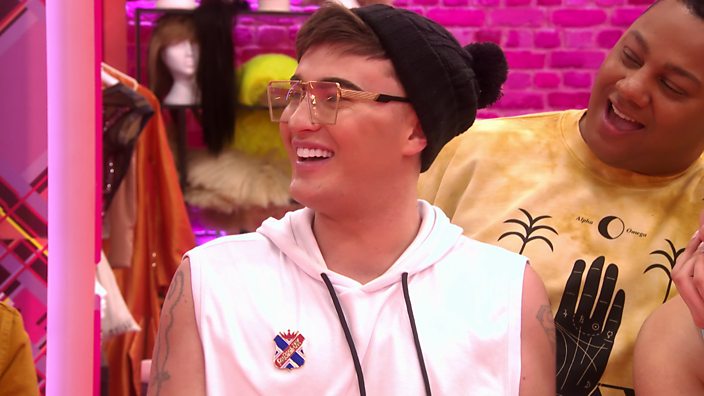 But it became clear, very quickly, that tensions are already running high in the Werk Room, especially between last week's winner and Cheryl Hole. "I've been in this Werk Room 10 minutes and already all I can hear is Cheryl, Cheryl, Cheryl," The Vivienne complained. "I don't know how long I'm going to be able to put up with this." Later, she added: "I can't wait to see the back of her. She's being over dramatic about everything."
And things only got shadier when The Vivienne was asked, by Ru, to rank her fellow queens by how much of a threat she felt they were. (Cheryl was picked second from the bottom, ahead of Scaredy Kat.) Gulp!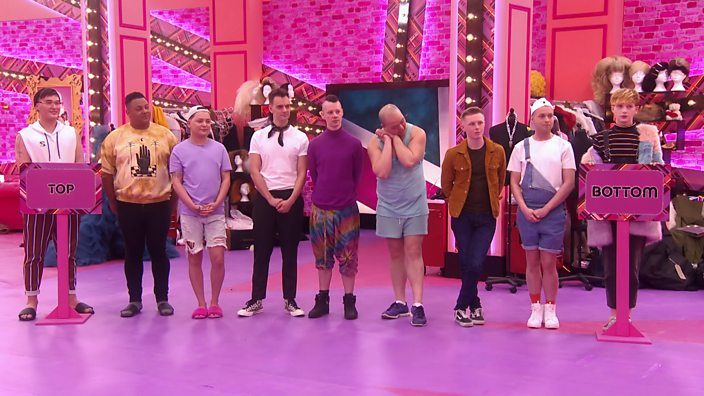 "Who put 50p in Cheryl?" The Vivienne said later in the episode in one of the shadiest lines of the night. 
Ladies and squirrel friends, we have our very first feud of Drag Race UK! I feel like a proud parent. *wipes away single tear*
2. Ru's British education continues
Drag Race UK has been an education in British culture for RuPaul - he's already enthusiastically entering the Werk Room with a cry of "'Ello guvnors!" and last week The Vivienne told him about Cleaner Off The Telly, Kim Woodburn.
And Ru's British cultural education continued this week.
"Mind me tuppence," Blu Hydrangea, from Northern Ireland, said as she walked over to join Scaredy Kat's team.
"Just to get things straight. What is a tuppence?" Ru asked, with The Vivienne helpfully explaining a tuppence is both "an old two pence" and another term for "your vagina."
Sadly we think the "two pence" explanation baffled Ru even more, who replied: "I didn't understand any of that."
And Ru also got more insights into smutty British humour via… who else? Baga Chipz, who came up with the very classy team name of "Team Slag". 
Then came the moment we've all been waiting for: the main challenge. And this week's task - learning a script and performing in a production inspired by Downton Abbey - was actually really hard. There were lines to learn and some character acting to master.
And it became quite apparent that lots of the UK queens are not trained thespians, with Sum Ting Wong, The Vivienne and Blu Hydrangea all struggling to remember their lines and deliver them in a convincing accent.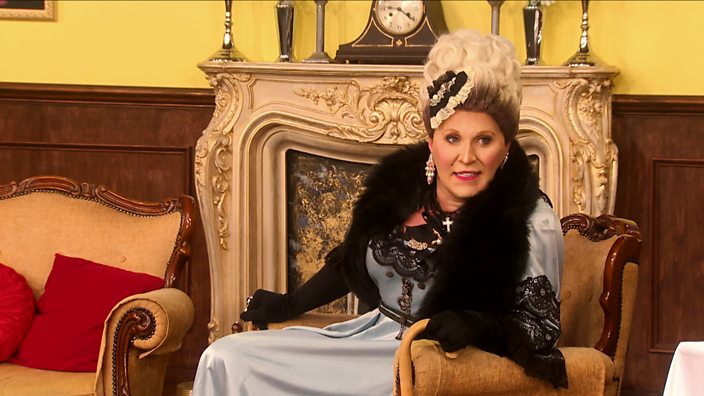 Michelle Visage, who was directing the scene, didn't seem especially impressed with Scaredy Kat and encouraged her to be a little less whiny.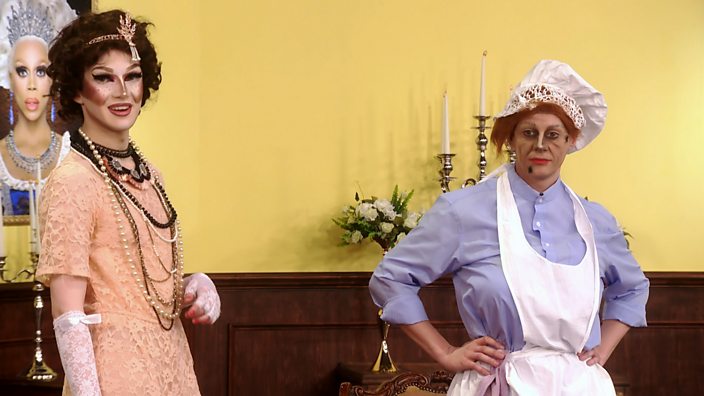 4. Dick Van Dyke, sorry, I mean Baga Chipz steals the show
Some of the queens were able to deliver on the laughs, though, with Divina De Campo and Baga Chipz both giving knock-out performances as the crusty old maid character.
Baga, in particular, made Michelle and the other judges crack up with her weird, unsettling, but hilarious comedy acting chops, which seemed to be heavily inspired by Dick Van Dyke in Mary Poppins. (Plus, we love the shout out to acting queen Pauline Quirke).
The emotional intensity of the episode really amped up to 11 as the queens began preparing for the runway and Scaredy, Vinegar and Sum Ting Wong sat down for a serious, heart-to-heart conversation.
"Scaredy, does your family know you're bisexual?" Vinegar asked the youngest queen in the competition. "Have you come out to them?"
"Not really," she replied. "I think they just presume that I'm a little bit different. I wouldn't really call it bi. I just go out with anyone I fall in love with really. But honestly. My sexuality is my girlfriend. I wouldn't want to be with anyone else."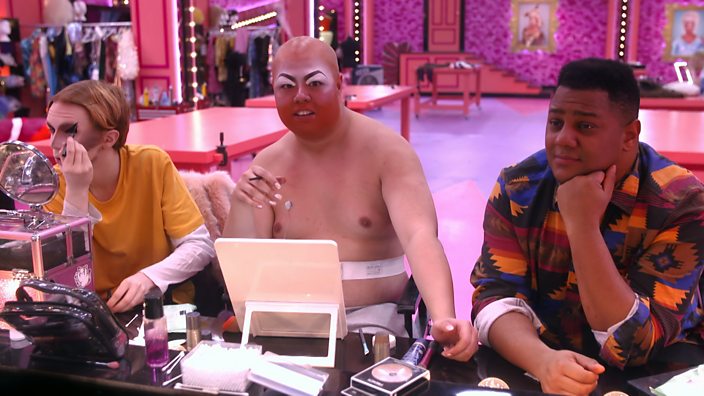 Vinegar, 35, went on to explain why she came out only 10 years ago. "When you are black - especially Caribbean - and gay, it's not the thing. You think homophobia is bad here, but over there it's like a different level."
The most shocking revelation, though, came from Sum Ting Wong who said that she still hasn't told her parents that she is a drag queen.
"I don't have the heart to tell them," she said. "I think it's a cultural thing. It's just a little different being first-generation Chinese. When I was around 12 years old I told my dad that I was gay and he just didn't acknowledge it. So we haven't brought it up since.
"I still love my mum and dad but I just keep this side of my life away from them. They still think I work as a marketing exec at some company in London. They don't know I'm gay. And they don't know that I live with my partner of five years.
"They've given so much of their lives. All I want to do is make them proud."
Current emotional state: curled up in a ball, bingeing on ice cream and listening to Robyn on a loop.
6. The name's Bond, Baga Bond
At last came the runway and the queens pulled out some incredible looks inspired by classic Bond Girls - complete with outrageous, ridiculous names. The judges were clearly enjoying coming up with puns around the Bond theme, including "double-ho seven" and "for your thighs only". We approve.
Blu Hydraenga's buxom character Triple Tatas turned heads and so did Crystal's leather-clad, dominatrix look. 
And the way she cracked her whip had celebrity guest judge Maisie Williams looking genuinely terrified.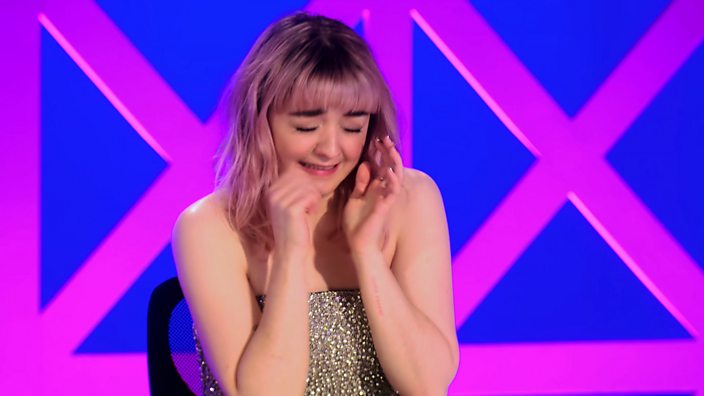 The Vivienne's look, meanwhile, was inspired by Grace Jones in Bond film A View To A Kill.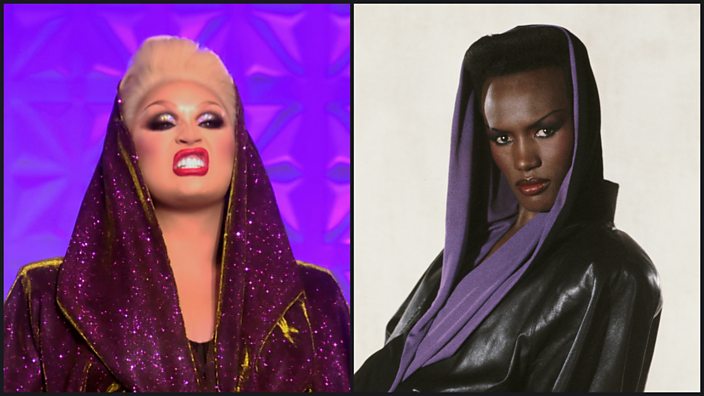 In the end, Baga Chipz - who opted for a Liza Minneli-inspired runway look - was crowned this week's winner.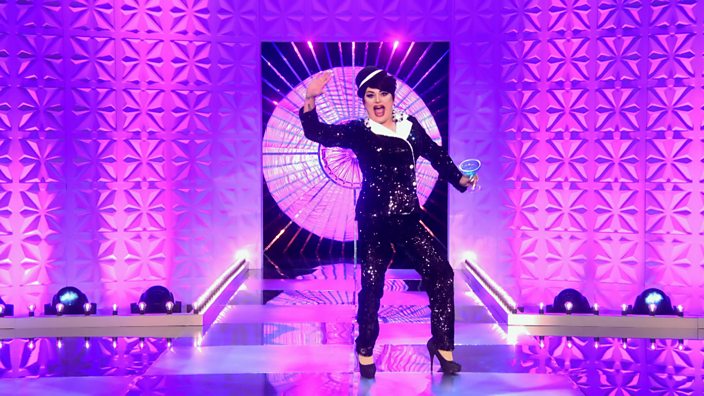 After the runway presentation, Divina broke down on stage, upset that she felt she hadn't given enough to her performance in the acting challenge. "I feel like there was a lot that I should have squeezed in there… there was so much that fell flat," she said. "I've got to a point in my career where I feel like I need to push myself. And I don't feel like I've arrived yet."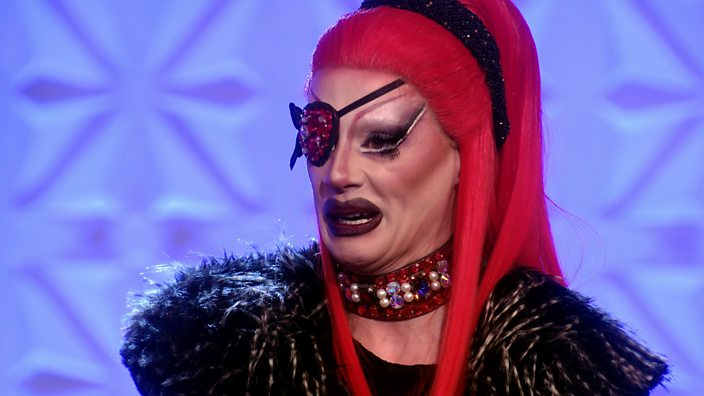 Blu, too, got choked up and explained how she felt alone during the competition. Even Cheryl started weeping when the other queens said they felt like the Essex contestant hasn't been true to herself in the show so far: "To be honest I do feel really overwhelmed being here. I knew I was not being myself because I was too scared to let my guard down."
Blu and Scaredy were chosen to lip sync for their lives and Scaredy was asked to sashay away. "It wasn't a bad first gig," she said as she left the runway, getting a big laugh from the other contestants and the judges alike.
Don't go Scaredy! Don't go! 
And, finally, we tip our hats to this fan who managed to tie in with the epic WAG feud this week. Brava!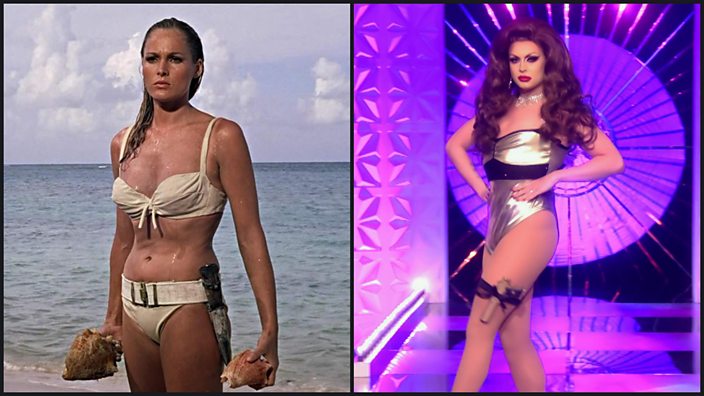 Michelle Visage comparing Cheryl Hole's runway look to legendary Bond actress Ursula Andress, who appeared in the first ever Bond film, Dr No, in 1962:
"I think she was trying to give us Ursula Andress but she gave us Ursula… A-mess."
("Oh! You've been saving that up!" added Graham Norton).
And don't forget to listen to the official Drag Race UK podcast hosted by Scarlett Moffatt and Baby Lame. This week's special guest will Australian comic Rhys Nicholson.