N/A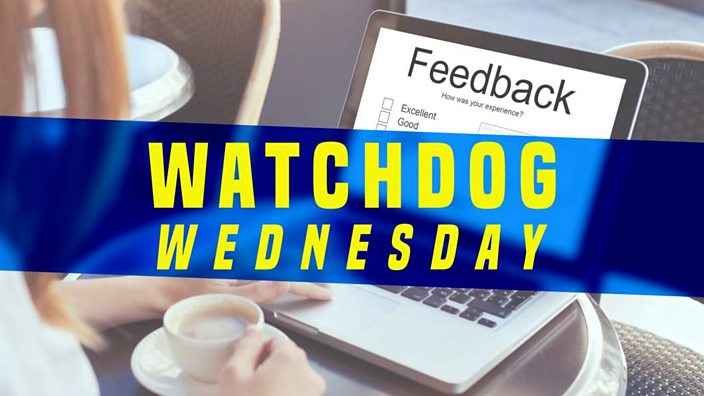 BBC Three
Watchdog Wednesday: Survey scams that promise a voucher, but steal your info instead…
Is it just us, or does it seem every time you buy so much as a pencil you're asked to fill out a 'short' 100 page survey about your experience?
For the most part, it's just annoying. But there has also been a growing trend in scammers taking advantage of these emails to try and steal your details.
Here are some of the most common survey scams around. If you get these emails, get deleting! Needless to say, they have nothing to do with the companies they claim to be from.
Think you're getting a free iTunes voucher? Think again.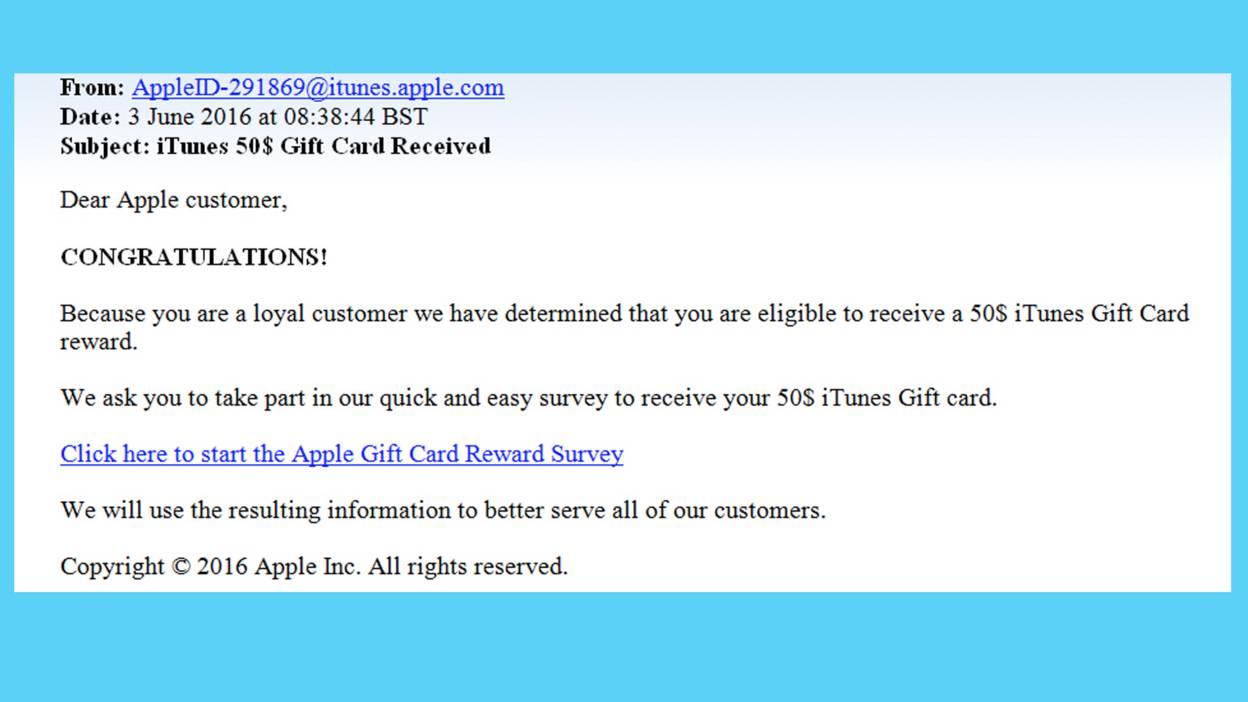 BBC
This survey scam is designed to steal your personal information and earn fraudsters commission each time people supply their details.
If you click on the link within this spoofed email in the hope of getting the promised gift card, you'll be taken to a page that has been designed to look like it has come from Apple. No matter how many surveys you complete, you will never get the promised gift card.  But, if you fill in your personal information your inbox and mobile is likely to start getting clogged up with spam… or worse, used for identity theft.
No, Morrisons doesn't care if you like rock or pop music more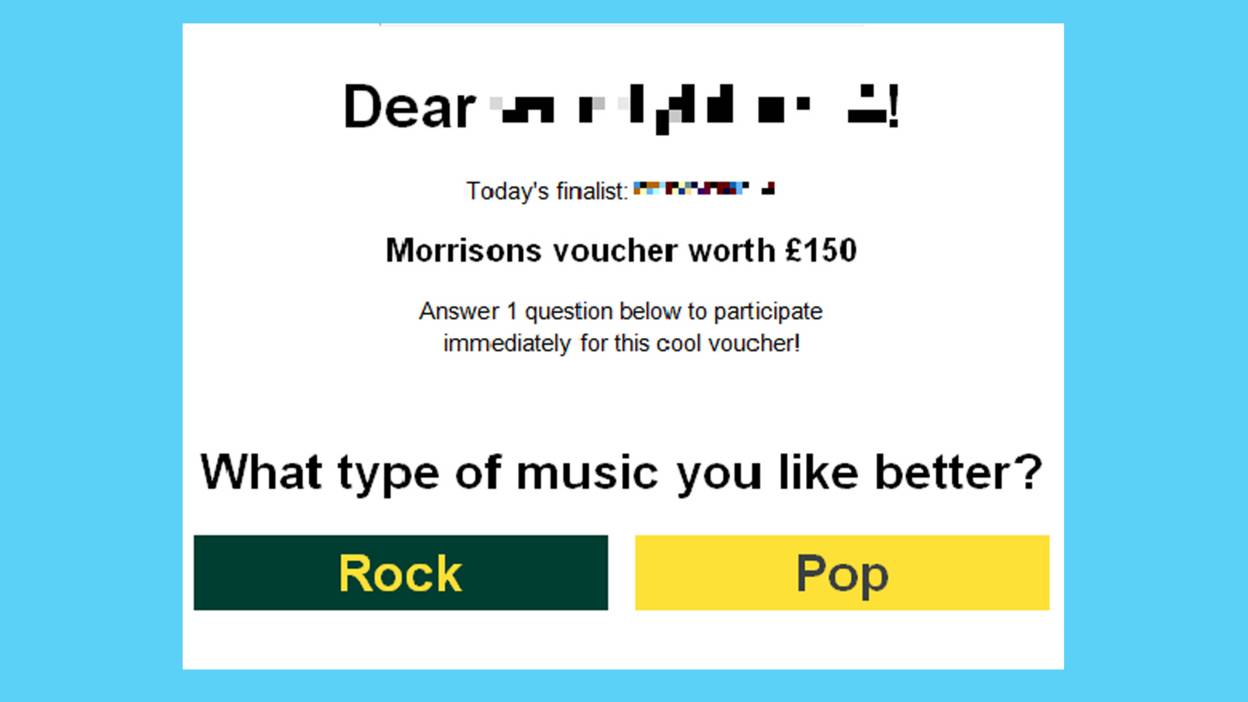 BBC
Yep, you've guessed it, as soon as you click it fraudsters are after more than just your music knowledge. It's not just your love of Taylor Swift they want to know about, it's all your personal details too that are likely to be on the black market in no time.
It's not just a survey, it's a fake M&S survey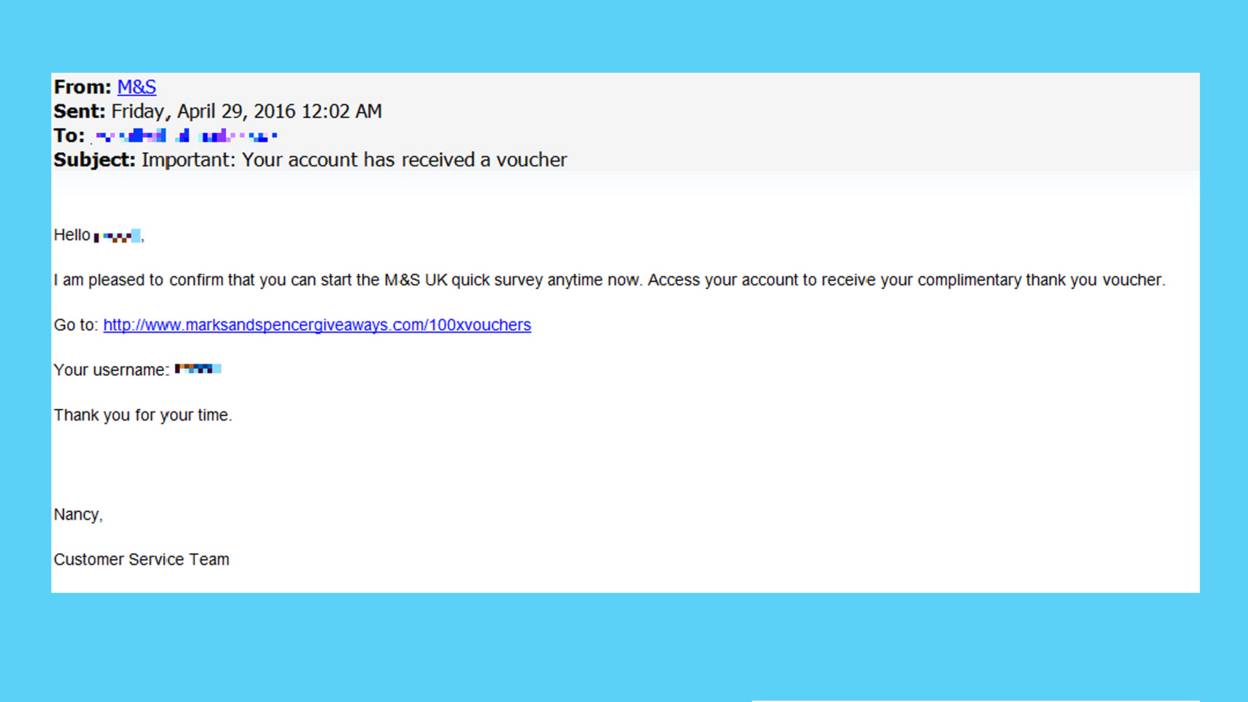 BBC
Ooh, a voucher for an unspecified amount. How exciting. Nope - scammers again pretending to be from M&S.
We spoke to Action Fraud about the rise in this survey fraud. They told us:
"Legitimate companies like online surveys because they are quick, easy to put together and cheap to do. It's not unusual to get a survey request in your email inbox from a company that you've recently bought something from or signed up to.
"Fraudsters also love online surveys because it's easy to trick victims into revealing personal information such as banking details or passwords in the belief they are going to get something in return. They then use this to steal victims money or identity, or to sell on this information to other fraudsters."
How to spot a dodgy survey:
- Look for grammatical and spelling errors – if there are any, it's likely to be a scam
- Double check the URL, there may be very subtle differences between the fake one and the real one
- Don't open attachments, no matter how safe they might look. Even an innocent looking PDF can contain malware.
- Genuine businesses won't ask for your bank details, credit or debit card information or personal information in exchange for free gifts or money
- Remember, you can hover over a link to see where it really takes you
So, if you receive a survey that you think might be fake, don't click on it. And if the voucher offer sounds tempting and you think it MIGHT be genuine- check with the company themselves before completing.
If you want to report a fraud, call Action Fraud on 0300 1232040 or visit them online.
This article was first published on Wednesday June 29th, 2016