N/A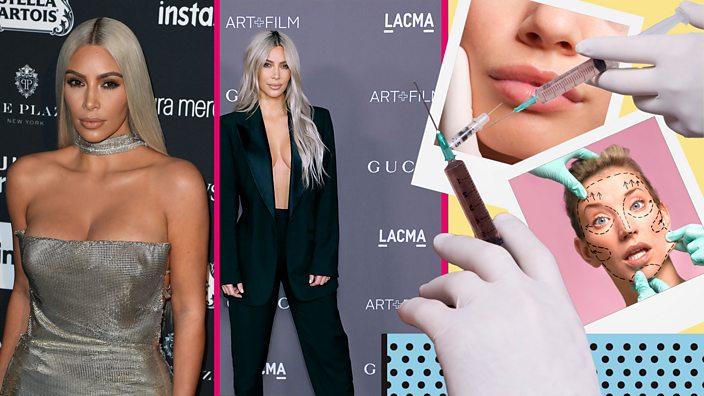 BBCThree
Is it time we all unfollowed Kim Kardashian?
The reality queen's fans are going to ever more extreme lengths to look like their idol
Kim Kardashian has almost 200 million social media followers, many of whom spend vast amounts of time and money trying to look like their idol.
Along with other influencers, including her sister, Kylie Jenner, the reality star has changed the way many of us feel about how we look.
False lashes, endless squats, heavy make-up and the odd artistically-shot naked selfie - these are all things that you'll find on Kim K's Instagram (108 million followers). Thanks to Kim K, the skinny Kate Moss look is out. Her look is all about curves, a large bottom, full lips and immaculate, complicated, contouring make-up.
And her fans want to emulate her. I wanted to figure out what the impact of this new beauty ideal is – one which is so manicured, so sculpted and, above all, so unnatural. So I set out to make a documentary for BBC Radio 1, The Kardashian Effect, looking at the lengths people will go to look like Kim K.
A generation is growing up wanting to look perfect for social media, just like Kim K does. The pressure to dress up, put on make-up, strike a pose and upload flawless, filtered pictures to Instagram is a potential source of insecurity and anxiety.
This pressure is not coming from the reality star herself. In fact, Kim K has herself spoken out against body-shaming, most notably last April when paparazzi photographs of her on a beach holiday that appeared to reveal cellulite on her butt went viral. Kim responded with a snarky tweet, showcasing her body confidence (fleshy dimples and all).
She's a passionate advocate of the idea that being sexy can be empowering, famously posting an open letter on International Women's Day in 2016 defending her right to post naked selfies without facing criticism. 
"I am empowered by my sexuality. I am empowered by feeling comfortable in my skin. I am empowered by showing the world my flaws and not being afraid of what anyone is going to say about me," she wrote.
Jenny, 16, and Danielle, 21, are typical Kim K fans. Danielle, a trainee nurse, has dyed her hair platinum blonde - Kim K's latest shade. Their bedroom walls are papered with selfies and, although they are both aware that Kim K's look is unrealistic, they still follow her every move on Instagram.
"It's what everyone wants to look like," says Jenny. "I see 14-year-olds doing full Kim K-style make-up just so they can take a selfie to put on Instagram."
The UK beauty industry is now worth a whopping £2.3 billion. I wanted to meet some of the people whose businesses are inspired by the Kardashian look.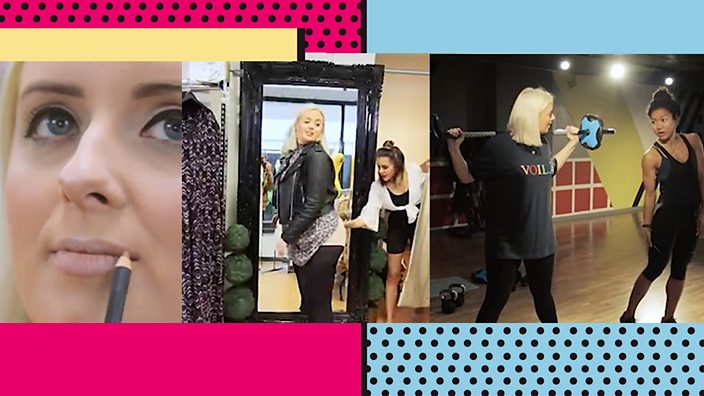 "Kim K is a beauty icon, women want to look like her and they want to be her," says the Manchester-based make-up artist, Kiera-Louise. She specialises in contouring – a technique made famous by Kim K which involves using different shades of powder to sculpt the face.
A decade ago, when she started her career, the natural look was all the rage, says Kiera. "Back then, contouring was only ever used in theatrical make-up or drag," she tells me. Having your make-up professionally done was something reserved for special occasions, like weddings, but now she's busy every weekend.
Kiera traces the growth in this beauty trick's popularity to a Kim K Instagram post from 2014, where she revealed the secret behind her trademark chiselled look. That post has had almost 70,000 likes. When the reality star launched her own contouring kit last year it sold out from her beauty brand's website in under three hours.
Kiera tries the contouring on me. It's far more make-up than I normally wear, and it feels odd, but it does create the illusion that I actually have cheekbones.
Stevie Coiley, 24, wears contouring make-up on a daily basis. The Ex on the Beach star recently attempted to get plumped, fuller lips like those of Kim's youngest sister Kylie Jenner.
"I had really small lips so it was something I always wanted to get done," Stevie says. "There is so much pressure on young girls to look a certain way, and if you don't, you feel so insecure."
The procedure was a disaster. Stevie's lips ended up so swollen and painful that she found herself squeezing the pus out of her inflated lips. "I lost all sensation in my lips and my face felt like it was about to explode. I looked deformed. It was awful," she says.
Dr Esho, a cosmetic surgeon who has starred in E4's Body Fixers, tells me he's seen an increase in the number of clients bringing in pictures of Kim K or other full-lipped celebrities. He has been treating Stevie to try and get her botched lips back to normal.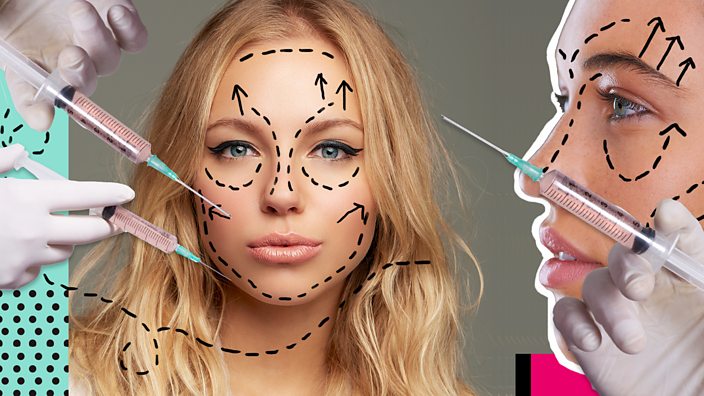 Another trend he's noticed is people asking him to recreate the effects of Snapchat filters on their faces. "People bring in images of themselves with a filter saying, 'I want to look like this'. And I'm like, 'What, with the halo and the flowers?'" he says. What they are after is the effect those filters create: bigger lips, longer eyelashes, chiselled cheekbones. This phenomenon even has a name: Snapchat Dysmorphia.
I meet a lot of young people through my work on CBBC and BBC Radio 1, and whenever I'm asked for selfies, the majority of young girls won't take a photo without somehow obscuring their faces either by putting a hand over everything except their eyes or ensuring that only a tiny section is in shot. 
And it's making some people miserable. A recent report identified social media as one of the factors driving increased anxiety around body image in young people.
It's now normal for young people to be unhappy with their bodies, with some children as young as six concerned about their body image.
It's not just fillers and contouring make-up that's booming thanks to Kim K's popularity.
Leading personal trainer, Annabelle Breakenridge, says growing numbers of women are coming to her asking for a bottom like Kim's. The image they often reference is the famous shot that "broke the internet" of Kim resting a champagne glass on her behind.
"People's fitness goals are now driven by chasing a following on Instagram," says Annabelle. But she advises against chasing after a big bum, small waist and slim legs body shape because, for so many, it's an unattainable goal.
And, for those who don't want to sweat it out in the gym, there is the painful and expensive option of getting a Kim K rear by having a butt augmentation. We filmed the cosmetic surgeon Dr Horn carrying out the procedure. Kim K has always denied having had butt implants herself - even having an X-Ray of her bottom in a 2011 episode of Keeping Up With The Kardashians to prove it.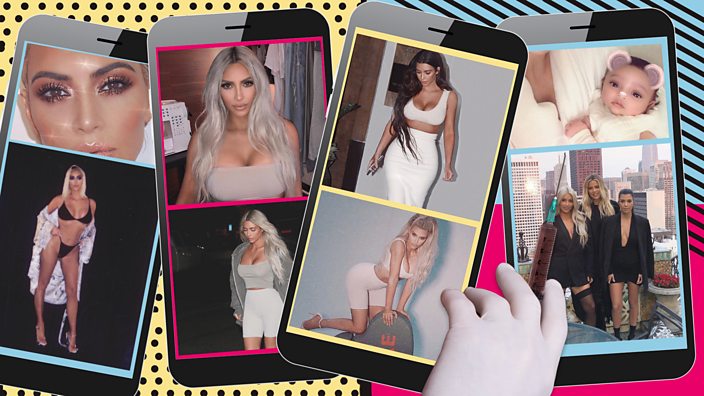 Dr Horn has been boosting butts for 15 years and has noticed a huge increase in women and men wanting the surgery in recent years. In the US, the number of people getting butt implants increased by 34% between 2015 and 2016.
In the UK, the London-based Plastic Surgery Group (TPSG) reported a 500% increase in consultations for the 'Brazilian Butt Lift' in 2016. This procedure – which combines butt augmentation with liposuction and body contouring – is popular in Dr Horn's Harley Street clinic.
'It's just the beginning' he tells me. "It probably will at some point be as popular as the boob job."
For many, achieving this look is all about status - it's a bit like having a certain car or a designer handbag. The full lips, the contoured face and the big bum are a way of getting more likes on your pictures, and increasing your social media standing.
"Kim Kardashian's Barbie look is very unhealthy," says Shirley Cramer, chief executive of the RSPH, who is calling on social media platforms to highlight when images have been airbrushed to perfection.
"I would like to see young people adopt a more balanced approach to who they follow and why. It needs to be less dependent on body image and more about real achievements." 
It seems this constant pressure to keep up with the Kardashians is creating a reality where looking good is prized above everything else. Maybe it's time we all thought about unfollowing the queen of Instagram.
Go here for further advice on body issues and mental health
This article was originally published on 5 March 2018.