N/A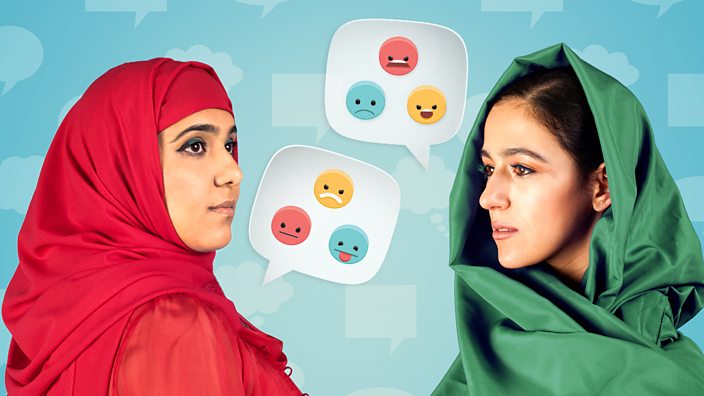 Getty/Shutterstock.
How to make good jokes about the hijab
A Muslim playwright shares her thoughts on turning a religious symbol into comedy gold
The hijab isn't often associated with comedy. Religion, oppression, feminism – sure. But, comedy?
Finding the right way to be funny about religion requires both sensitivity and an understanding of how badly it can go wrong - as the comedian Shazia Mirza discovered last year when she joked that Muslim girls were joining terrorist groups abroad because they were tempted by the "hot" jihadis. "These ISIS men," she said during a TV chat show appearance, "as barbaric as they are, they are hot. They're macho, they're hairy, they've got guns. And these girls think, 'these are a bit of alright'." People were not impressed. 
Now, Channel 4's much-hyped documentary My Week As A Muslim, which shows an NHS healthcare assistant with anti-Muslim views spend a week wearing a hijab, has sparked a 'brown-facing' row. Katie Freeman's skin was darkened with make-up (despite the fact that many Muslims are actually white) and she was given a prosthetic nose and fake teeth, which look stained and crooked, apparently in order to make her appear 'Muslim'. What started as an attempt to provide a serious insight into Muslim life has inadvertently become, to many, a bad joke.
Many viewers have questioned why it was necessary to use a disguised white woman to give an insight into Muslim life. The Muslim Council of Britain told the BBC that they would "not have advised" the use of 'brownface' but they did appreciate that it was trying to help audiences better understand "the reality of Islamophobia".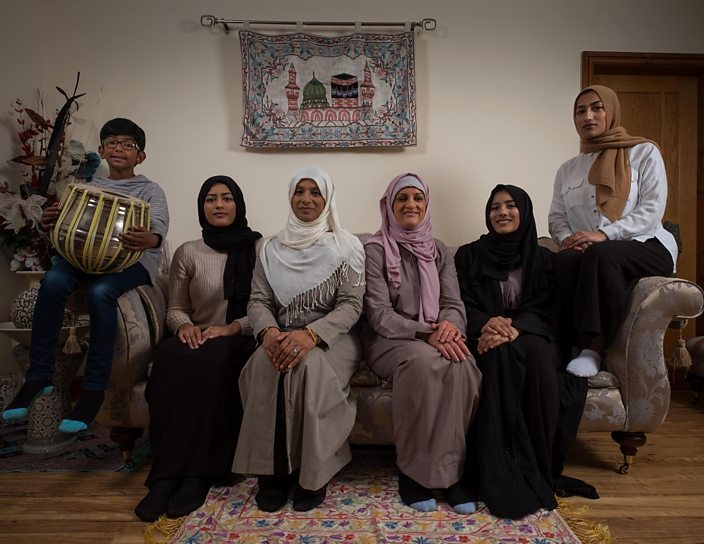 Those lucky enough to have seen the Hijabi Monologues will have experienced neither brown-facing nor bad jokes, but a subtle, poignant and often hilarious take on life in a headscarf.
Sahar Ullah, 29, is the co-creator of Hijabi Monologues - a series of stories based on Muslim women's real-life experiences. First performed in 2007 in front of a small crowd at a US university, the concept was inspired by the hit 1990s play The Vagina Monologues - a frank and funny look at women's sex lives. Since then, Hijabi Monologues have toured America and the world, from Indonesia to the Netherlands.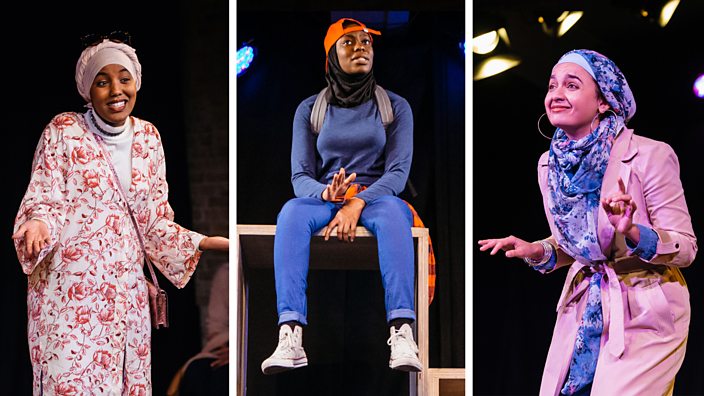 Each production brings in new stories by local writers, which are staged alongside a set of "core" stories written by Sahar. The Hijabi Monologues celebrates its 10th anniversary this year.
She started the project with two of her university friends, Zeenat Rahman and Dan Morrison. "Zeenat is from Chicago and doesn't wear a headscarf. I grew up in the suburbs, I do wear a headscarf, and I have a different perspective on Muslim life. We were unlikely friends but we loved sharing stories."
It was Dan, who used to work in marketing, who first hit on the idea of a series of monologues inspired by Sahar's experiences of life as a hijabi. "I was telling Dan a story and he blurted out 'you should do a hijabi monologues on stage'. I was like 'you're just saying that because I'm wearing a hijab'. But every time we used the title, people laughed, so it stuck."
I meet Sahar in the book-lined bar of the Bush Theatre during the show's London run. She wears a floral-patterned headscarf, red boots and matching red lipstick, and her laugh echoes around the quiet space.
Born in Florida, Sahar grew up one of few Muslims in her community - a dramatically different childhood from the Londoners' stories included in the Bush Theatre's production.
"London is a place where Muslims occupy spaces where there are lots of other Muslims," she says. "That was not my experience. A lot of students in my school were Jewish, so I went to lots of bat mitzvahs."
Sahar has become a myth-busting voice for a minority whose views are seldom heard. But she's wary of being seen as representative of a broader Muslim identity. For her, the hijab was a personal choice she made in her mid-teens. "It was something I wanted to do but I was afraid of how people would react. Between the ages of 13 and 15, you want to be accepted, so why would you do something that makes you so different?
"I ended up making friends with people who were into alternative music and liked things that were different, so when I started wearing the headscarf they were really excited. Some people made fun of me, but it didn't last, as my friends would intervene."
Those reactions to the hijab - whether of excitement or mockery - are what the Hijabi Monologues explore.
"Just like race, the hijab is part of your identity because it's visible. People respond a certain way to it and that is part of my lived experience."
The reality is that for those who wear the hijab, it's often not a big deal. "One of our performers always says that she is passionately dispassionate about the hijab, that she wears it like she wears her underwear." It's other people's reactions that can make it problematic.
Her writing focuses on the paradox of feeling both invisible and hyper-visible in the hijab.
In one monologue, called 'I'm Tired', the narrator vents her frustration at her fellow students' perception of her. They think her silence in class is due to being "oppressed" by her religion. Actually, it's because she was "dicking around on Facebook the previous night". She lifts her abaya to show the audience her pyjamas underneath. The point - as Sahar explains in her writing - is that these garments can bestow personal freedom.
Another story, which wasn't included in the London production, is about a Muslim girl who gets pregnant, has an abortion, and is blasted for her 'sinful' behaviour. "People ridicule her because they're like, 'she wears a hijab and she let this happen?'" The implication, Sahar says, is that, "Wearing a headscarf means you should be more pious. It's not directly stated in the story but it's definitely understood."
Hitting on a Hijabi is a brilliant satire about all the different types of guys that hit on Muslim women. These include the 'Single Muslim Guy' who "gives off the holy vibe" and is more excited by God than romance, as well as the man who was a player before he found God and discovered polygamy: "Sister, it's a man's right. And you would be honoured by God for allowing me to fulfil this right. My first wife? Oh, she doesn't need to know."
This particular monologue always gets big laughs, says Sahar. It ends with the narrator tracking down a potential suitor and delivering the killer line: that no, she never takes her hijab off, not even when "in the shower. Not when having sex. Not when I put on my superhero cape and take off my daytime disguise."
As Channel 4 have discovered, spotlighting a symbol like the hijab can open you up to criticism. Sahar's work has also come under attack at times. "Islamophobes ask, 'where are the real stories about FGM and terrorism?', while religious Muslims ask, 'where are the real stories about pious saintly women?'"
She says, "These are the two sides to misogyny - either they want to see Muslim women portrayed as perfect or as monsters."
It's the positive responses that linger in Sahar's memory, though. She recalls a performance in the US, after which a Jewish student approached her and said he related to the feelings of isolation and difference depicted in the monologues.
"He said 'people do the same things to me'." It made her realise, she says, that "Even if there are no Muslims in the audience there are often people who can relate."