N/A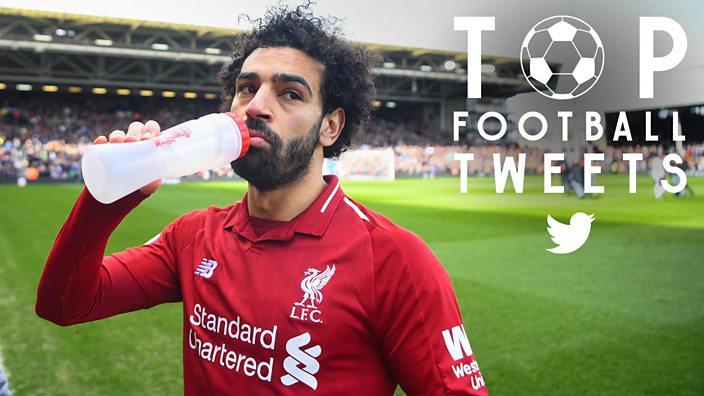 Getty Images
With one tweet Mo Salah both thrilled and frustrated Liverpool fans
Prepare yourself for some pedantry...
In a weekend without Premier League action, the international break was still able to provide some much-needed football drama for all of us.
There was action lower down the footballing ladder too, with some of the weekend's biggest highlights coming from unpredictable places - oh and a deserted beach...
1) Mo followers, Mo problems
Mohamed Salah has become one of the biggest names in football since joining Liverpool and is a favourite at Anfield for his goal-scoring exploits.
With the Reds not playing during the international break, the Egyptian sent a message to supporters on Twitter.
While Liverpool fans were happy to see their star man hint that his future lies on Merseyside, rivals were quick to jump on two issues with Salah's message.
The first being the addition of an extra word to Liverpool's famous anthem; the second, that the photo literally shows the 26-year-old walking alone.
2) There's no place like home
After months of waiting, Tottenham Hotspur began the final stages of moving into their new stadium as their under-18s side took on Southampton in the first test event at the new ground ahead of its official opening next month.
Spurs fans are thrilled to finally return to the site of the old White Hart Lane.
But some rival supporters seem to have noticed some aesthetic similarities between the new Tottenham ground and another stadium in north London…
3) The best league in the world?
The Premier League is often billed as the best league in the world, but this season there is one contender whose drama is unmatched: League One.
The third tier of English football is in a 13-team relegation battle. Yes, you read that right. Here's how things stood going into Saturday's action...
That meant the meeting between the two middle teams in the league - Plymouth in 12th and Bristol Rovers in 13th - somehow became a relegation six-pointer.
It is the most open league in football at the minute, leaving half the teams fighting to stay and the other half battling to go up to the Championship. Anything could happen.
Plymouth Argyle v Bristol Rovers finished 2-2 btw. 
There is a name that strikes fear into all those who hear it. Its power is unfathomable and its glory knows no bounds.
That name is Keith, and over the weekend it unleashed its full potential in the Highlands League as Cammy Keith scored five times for his team, who are also named Keith.
This takes the concept of a one-man team to a whole new level.
5) A little story about San Marino
Following their humiliation in Kazakhstan at the end of last week, Scotland managed to bounce back and record a 2-0 win over San Marino on Sunday.
While Alex McLeish will be happy to get back to winning ways, it wasn't the most difficult test - out of all 211 men's national teams registered to Fifa, San Marino are ranked dead last.
Still, it was nice to prove the doubters wrong...
Just don't mention the goal difference...
Just because Jurgen Klopp's side weren't playing at the weekend doesn't mean there wasn't any action on Merseyside.
Take a bow Karl Clair, who managed to score from his own half for City of Liverpool FC in their 3-2 win over Hanley Town in the North West Counties League.
7) Is it still coming home?
Something has undoubtedly changed for England football fans in the last 12 months. Rather than dreading each international break, there is something to look forward to as Gareth Southgate's men have reignited the nation's passion for their team.
After starting off somewhat tongue-in-cheek, chants of "it's coming home" have followed the England team since the World Cup and Friday night's 5-0 drubbing of the Czech Republic has supporters excited for the future for the first time in a long time.
Anyone remember the last time it was said to be coming home? Golden generation wasn't it? Well apparently they're still coming home too. 
Elsewhere rumours abound that the UK could soon be in search of a new leader, with senior ministers reportedly encouraging Prime Minister Theresa May to step down.
With the Brexit deadline only pushed back slightly, the country would need someone who can step in and immediately get results. Some Tottenham fans think they have found the ideal candidate...
In case you are not convinced, Tim Sherwood has quite the impressive CV in accomplishing what the UK is currently trying to do. 
We have been spoiled for choice when it comes to the best goals of the week. With the Premier League on a break, some of the lower league stars stepped up to strut their stuff.
Like this beauty from Jason Cowley for Bromsgrove Sporting, which would make even Sergio Aguero blush.
Then there's Jonathon Margetts' perfect turning half-volley for Matlock Town, which is reminiscent of the great Thierry Henry.
There's quality all over the country.
Every fan knows that the beginning of a new season can throw up some odd standings, with a slow start for one of the big guns giving us an unusual pacesetter early on.
Nowhere is that more clear than in the Euro 2020 qualifiers, where Luxembourg finished the weekend top of Group B ahead of European champions Portugal, while Malta find themselves leading Spain in Group F.