N/A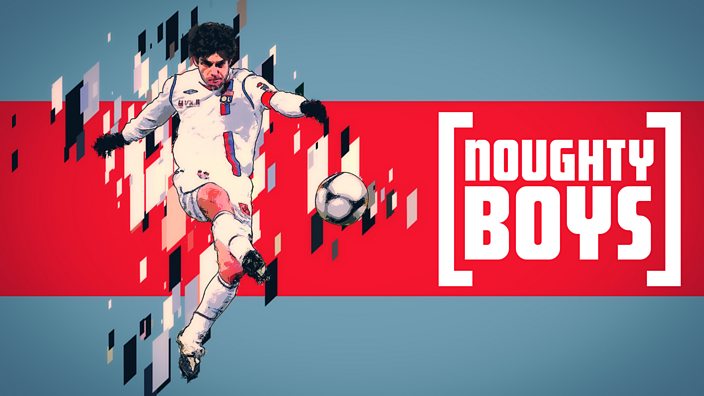 BBC
Noughty Boys: No one hit a free-kick quite like Juninho Pernambucano
The Brazilian's mastery of his weapon of choice made him a walking YouTube highlight compilation
Few things in football match the pageantry of an attacking free-kick. When a foul is made less than 40 yards from goal, pomp and circumstance takes over.
Goalkeepers bark orders and organise defenders. People merge and form walls in an effort to protect their goals from an oncoming siege. Attackers ready a football and discuss who will be their champion, the one to launch the attack.
A good attacking free-kick is more than a set piece, it's a game of kinetic chess - and the game had no better grandmaster than Juninho Pernambucano.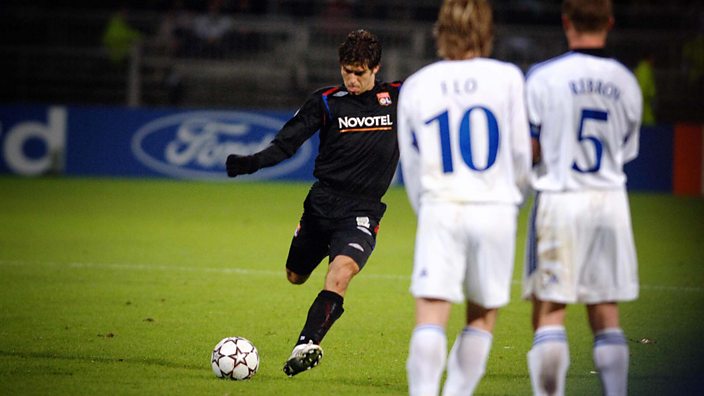 Born Antonio Augusto Ribeiro Reis Junior - his name comes from Juninho meaning 'Junior' and Pernambucano pays reference to his birthplace in Recife, Pernambuco - Juninho was a midfield hero of folklore, journeying around the world and performing derring-do.
Much like King Arthur had Excalibur and William Tell his crossbow, the folk hero Juninho possessed his own special weapon to save the day - his legendary free-kicks.
No one hit a free-kick quite like Juninho. No one. At a time when most footballers either opted for a refined instep 'up and over' technique a la David Beckham or Zinedine Zidane, or the thunderous 'hit it and hope' stylings of Roberto Carlos, Juninho did something else entirely. He did everything.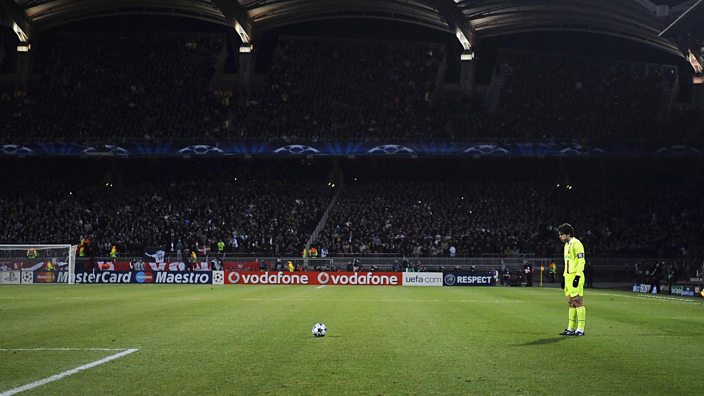 Juninho took to free-kicks as if he was Robin Hood with a special selection of arrows. Short-range insteps, long-range cannon balls, catapulted assists - such was the Brazilian's prowess at dead-ball situations, defending teams were said to stop fouling once they got within 40 yards of their own goal.
He wasn't bad when the ball was moving too. Juninho was a classic midfield playmaker, recycling possession and sending through balls to team-mates as though they were little gifts.
Dubbed 'Reizinho da Colina' or the 'Little King of the Hill' during his time at Vasco da Gama, Juninho twice won the Brazilian championship, as well as the Copa Libertadores and the Copa Mercosur in his homeland. When Europe came calling in 2001, Juninho opted for French side Olympique Lyonnais rather than one of the more typical paths for South American footballers - clubs like AC Milan, Barcelona, or even PSV Eindhoven.
The move made sense, Lyon already had three Brazilians at the club - Edmilson, Claudio Cacapa and Sonny Anderson - and to say Juninho merely 'settled in' to his new surroundings would be a disservice. The playmaker thrived at Lyon, playing a key part in the French side's first ever Ligue 1 title in the 2001-02 season.
The following season, he finished top scorer as Lyon won another title. The season after that, Lyon won another title. And another. In the eight years Juninho played for Lyon, the side won seven Ligue 1 titles in a row, a record yet to be bettered. Even Paris Saint-Germain, newly flush with money, have yet to get past four consecutive wins.
Juninho and his free-kicks were key to this reign, operating like an ace in tennis whenever Lyon needed it. Of the 100 goals the midfielder scored for Lyon, 44 of them came from free-kicks. Lyon fans fell quiet when the whistle blew for a foul in anywhere near striking distance - the club never lost a game in which he scored from the dead ball.
"I've faced thousands of his shots. We'd do 30 or 40 free-kicks per session and 90% of them would be on on target. And most of the time if it was on target, it was a goal," said Lyon goalkeeper Remy Vercoutre of his team-mate's prowess.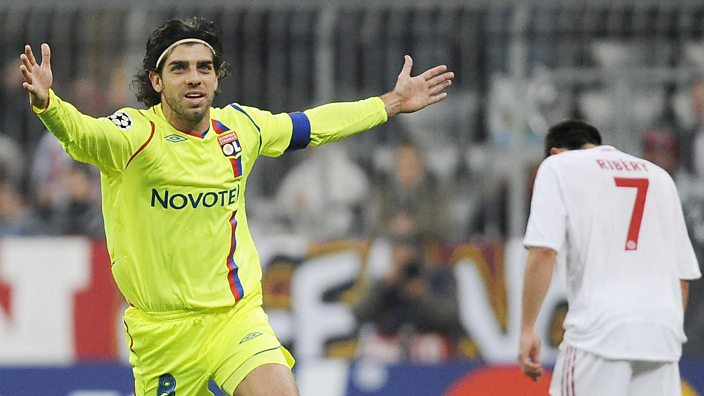 On the continental stage, Juninho's mastery best caught the eye in a thrilling 2-1 victory over Bayern Munich in the 2003-04 Champions League group stage.
Standing 35 yards away from goal, the Brazilian launched what looked like a hopeful lob, before the shot delightfully dropped and nestled in off the right post. Bayern goalkeeper Oliver Kahn was bamboozled by the free kick, only realising Juninho's deadly intent when it was too late, and head-butting the upright in an ill-fated attempt to stop destiny.
Khan could find solace in how he wasn't the only goalkeeper to be embarrassed by Juninho in the Champions League. Iker Casillas was left sprawling after the Brazilian sent a cannon of a shot past him in 2005. Werder Bremen goalkeeper Andreas Reinke could only swipe his arm at a Juninho shot as it delightfully whistled past him into the top corner in the same year.
In the 2008-09 Champions League, Juninho stood against eventual winners Barcelona and lined up a free-kick from close to the corner flag on the left-hand side of the pitch, some 30 yards out. He had no right to shoot for goal, no reason to attempt, and yet he launched a beautiful curved shot that short-circuited Victor Valdes as it sailed into the top right-hand corner.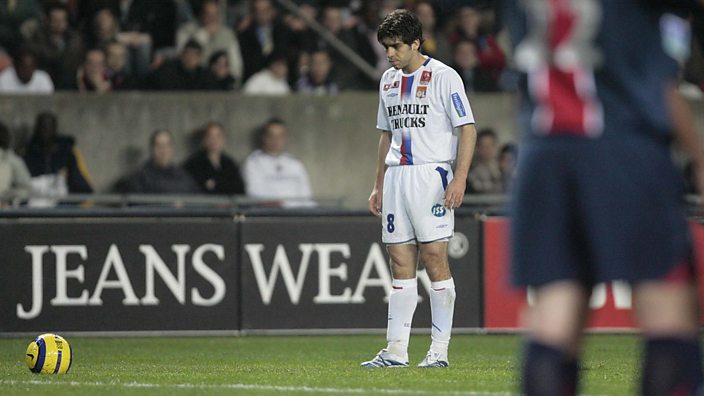 Juninho's free-kick expertise gains particular significance when you factor in that, at the time, the match balls used during French league games were determined by the home team. So Juninho's mastery of a dead balls didn't stop at one: it covered all of them.
Marseille may have opted for a heavier Nike football one month, compared to a softer Puma effort wheeled out by Saint-Etienne the next, in an arms (or foot) race to present a challenge that Juninho would struggle with, but it didn't work.
The Brazilian practised relentlessly, asking Lyon to buy every possible football around so he could familiarise himself with each weapon. Lyon players would stop their training to watch him take free-kicks, hoping they could learn the Brazilian's secrets.
The demon of the dead ball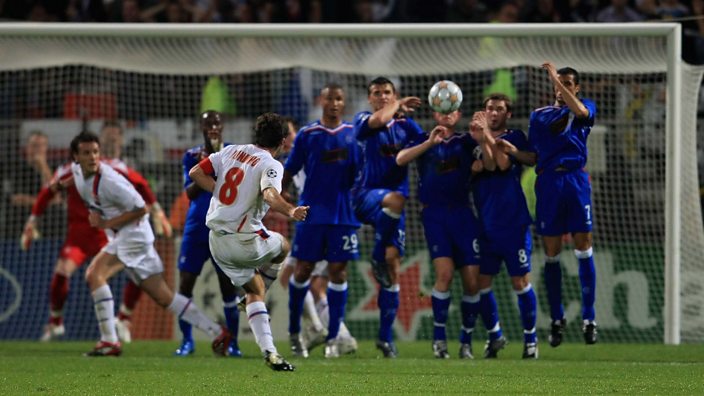 Juninho was one of the first free-kick takers to make goalkeepers abandon the wall. Against Juninho's boot, a free kick wall was akin to building a flood defence out of tissue paper. 
Many of the world top players tried to emulate Juninho's technique, but even the best struggled to work out the precise way he struck the ball.
One player who did eventually was Andrea Pirlo, who wrote about the technique in his autobiography I Think, Therefore I Play in 2014.
"In essence, the ball needs to be struck from underneath using your first three toes. You have to keep your foot as straight as possible and then relax it in one fell swoop. That way, the ball doesn't spin in the air, but does drop rapidly towards the goal. That's when it starts to rotate. And that, in a nutshell, is my maledetta," wrote Pirlo.
Portuguese football fans may notice similarities with the trivela technique which Ricardo Quaresma mastered, but Pirlo opted to call Juninho's form maledetta - Italian for 'cursed'. A fitting term for the hocus-pocus that Juninho seemed to place on goalkeepers once he launched a shot on goal.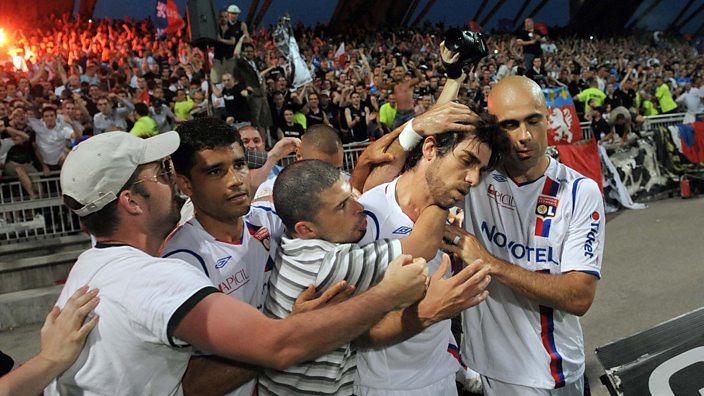 Juninho's technique now lives on in the knuckleball-style free-kick method preferred by Cristiano Ronaldo and others, but for those who witnessed the Brazilian during his Lyon pomp, there will be no better free-kick master.
In fact, while Pirlo admitted he stole the technique, he wrote of Juninho's prowess that "he was like an orchestra conductor who'd been assembled upside down, with the baton held by his feet instead of his hands."
Juninho's time at Lyon would come to a close in 2009, as the French side failed to win Ligue 1 for the first time in seven years. There was still magic in the grandmaster, as the midfielder's last free-kick goal - a stunning 40-yard strike against Marseille - demonstrated.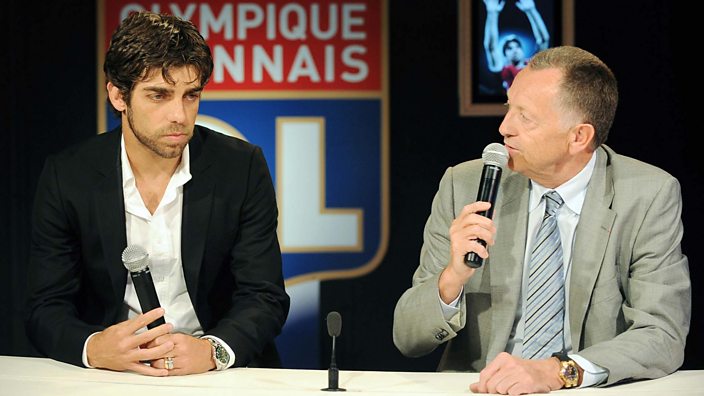 Yet, following Lyon's third-placed finish in the league, chairman Jean-Michel Aulas announced to assembled press "Juni is going to leave us at season's end." The then-34-year-old didn't say a word as Aulas explained Juninho's contract would not be renewed, quietly crying as the conference completed.
Time in Qatar and the MLS with New York Red Bulls sandwiched two more spells back in Brazil at Vasco da Gama. He still scored free-kicks right until the end of his career, netting a 30-yarder against Criciuma in July 2013, before his eventual retirement that year.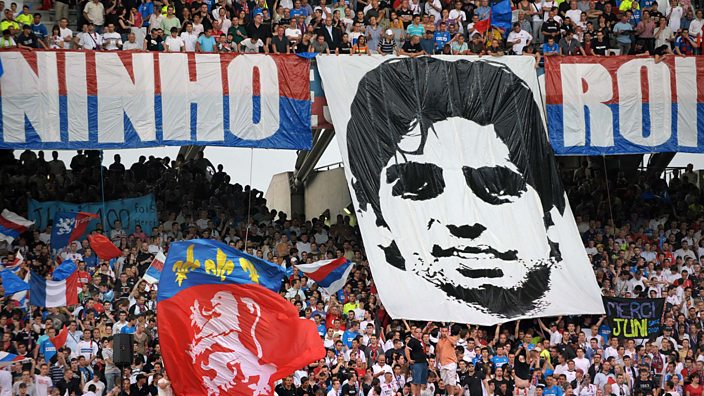 But Juninho was Lyon and Lyon was Juninho. He would later say, "I spent the best years of my life with Lyon." The fans, who have yet to win a league since, would say they spent the best years of their lives with him.
For he was the king of the free-kick. The master of the maledetta. The demon of the dead ball.
This article was first published on 16 December 2018.