N/A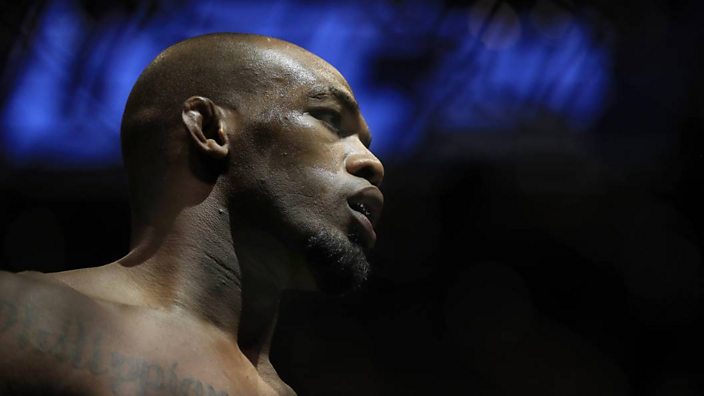 Getty Images
Jon Jones has 'potentially' failed his UFC 214 drug test
He's one of the UFC's most recognisable and popular faces, but Jon Jones is now facing an uncertain MMA future. On Tuesday evening, the UFC released a statement relating to a "potential Anti-Doping Policy violation" by the fighter.
The sample was collected after the American's weigh-in on 28 July, a day before he defeated Daniel Cormier for the light-heavyweight belt in Anaheim, California at UFC 214.
A visibly downbeat White stated "It's brutal. It's unbelievable."
It was hoped the enigmatic fighter had left his troubled past behind him.
After being involved in a hit-and-run incident in 2015, he had been stripped of his title. Just a year later at UFC 200, he was stripped of the interim title after failing an anti-doping test.
It seemed UFC 214 - billed as one of the biggest ever grudge-matches - had been somewhat of a redemption story for the fighter. Despite a war of words between Cormier and Jones in the build-up to the fight, Jones had used his post-fight press conference and follow-up interviews to compliment his former foe, describing Cormier as "a model champion, a model husband, a model father, a team-mate, leader, and I aspire to be a lot more like that man because he's an amazing human being."
After the potential violation was announced, Cormier spoke to MMAFighting.com. After revealing the situation is "very emotional" he stated, "In my mind, on 29 July, I competed and I lost. I thought Jon Jones was the better man that day. I don't know what to think anymore. I can't believe we are going through all of this again. We will see what happens next."
Jones' manager Malki Kawa said: "We are all at a complete loss for words right now. Jon, his trainers, his nutritionists and his entire camp have worked tirelessly and meticulously the past 12 months to avoid this exact situation. We are having the samples tested again to determine the validity or source of contamination.
"Jon is crushed by this news and we are doing whatever we can as a team to support him."
UFC's statement also explains this is far from over.
"Under the UFC Anti-Doping Policy, there is a full and fair legal process that is afforded to all athletes before any sanctions are imposed."
Yet Dana White admitted if he is found guilty "it might be the end of his career".