N/A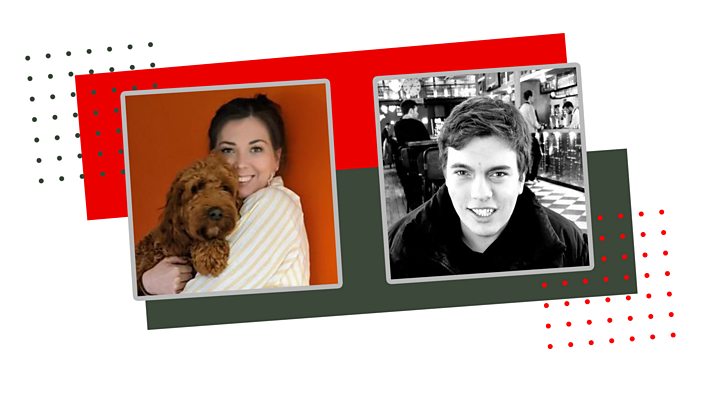 BBC Three
Young shielders: 'Isolation felt like a parallel universe, but I'm scared to leave'
Ahead of shielding restrictions lifting on 1 August, two BBC journalists - who have been shielding themselves - share their experience and speak to other people at high risk from Covid-19 about what the last 131 days have been like for them. 
Despite my life being confined to my house for the last four and a half months, sometimes when I'm scrolling through social media I think I've hallucinated the whole pandemic.
I'm not elderly and I don't look ill, so when shielding was announced it was the first time I'd heard the words "clinically extremely vulnerable". But, a bad flare up of my ulcerative colitis and immune-suppressing medication, meant I fell into that category.
At the beginning I thought I'd find shielding pretty easy, with years of practice of being "different" and coping with chronic illnesses. I'd missed whole school years growing up. Surely I could handle 12 weeks of isolating. 
And to make it easier, during lockdown, everyone was in the same position. For the first time ever, I didn't have FOMO (fear of missing out) during a flare-up.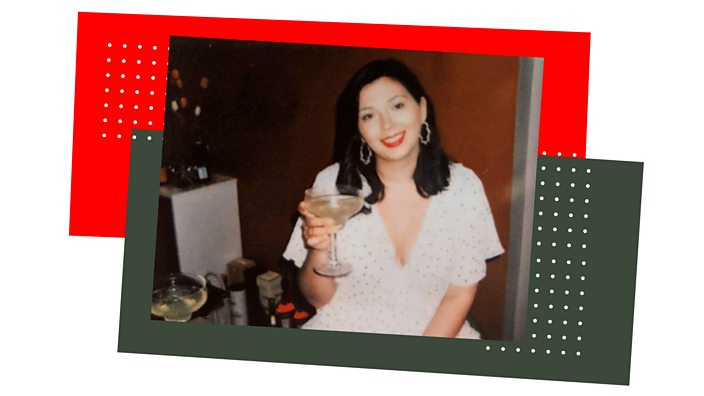 House parties moved online so even on a bad day I could still have drinks with my friends. 
Working from home became easier than ever. And things disabled people only dreamed of being accessible to them remotely, suddenly were.
But as the death toll started to rise, the daily briefings became harder and harder to watch. The mention of "underlying conditions" made it feel like the lives of "high-risk" people like me, were being explained away as unimportant. 
For the first two months I didn't step outside my house, until I started to go on short dog walks early in the morning or late at night to try and help improve my mental health.
As the lockdown started to lift across the UK, Zoom calls started to drop off and through the lens of social media it looked like everyone had given up following government guidance.
As people I knew started to post pictures of meeting up in large groups, something as innocent as a picture of people from different households hugging was enough to bring me to tears or spike my anxiety. Because while some people weren't socially distancing, shielders were still being told they were at risk of death or serious illness.
My friends and family have been amazing, keeping me busy and checking in all the time. 
But the stark difference of my daily life to other people's my age has been so surreal and isolating. I've not felt this "different" since I was first diagnosed over 15 years ago. Especially now that shielding's over and staying safe is going to rely on the behaviour of other people, as well as myself.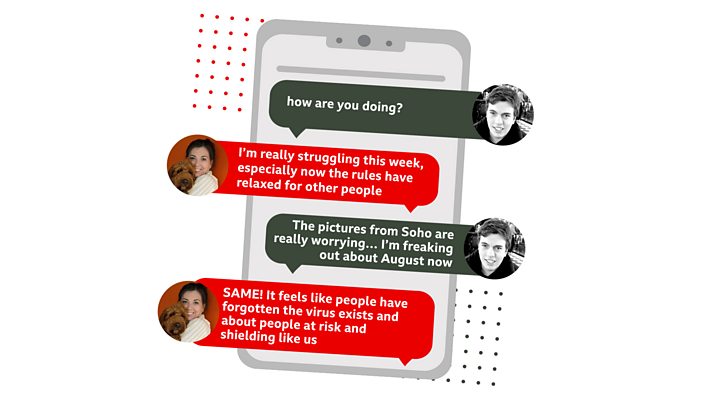 Life in a wheelchair prepared me for lockdown, but only up to a point. 
As a child with cerebral palsy, I had to learn to live with myself in my world's limits. 
Even as I've become more independent with age - using an electric wheelchair to get around and finding carers to help me get up for the day and stay out for the night - this mindset's never left me. A cloak of isolation protection.
The deadly pandemic changed this. My support needs suddenly not only put me in danger, but also the family household. My Dad's 73 with a severe lung condition that makes him a prime Covid target. 
This made relying on my council carers, who deal with lots of people daily, simply too much of a risk. 
My Mum stepped in out of desperation, aged 68. But the time so-called 'Super Saturday' rolled round, she was exhausted, with a sore back from helping me. 
We've since had no choice but to welcome back one council carer for the mornings. There is PPE equipment, but there is also risk - one I can't escape.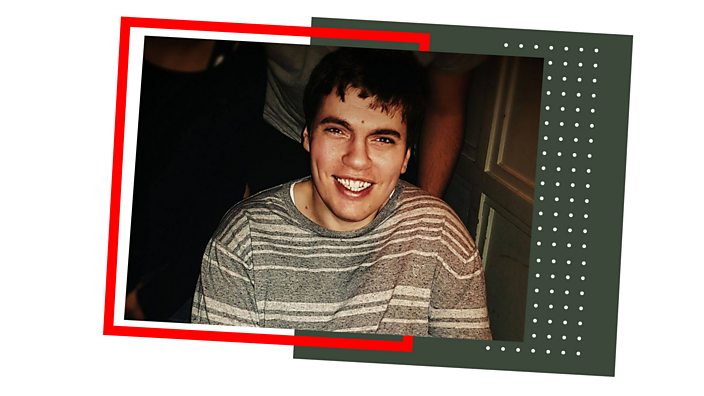 At times recently, even social media updates of friends gathering safely have made me feel like I'm living in an isolated parallel universe. 
Stuck largely within four walls for months, I haven't travelled beyond my road since March, and only recently began going to the nearby park - mask on.
So, as shielding lifts, navigating public transport, bars and restaurants again feels a vast bridge to cross. 
And that's before I even begin to think about accessibility - will the disabled toilet be open and safe to use? Can the train guard help me board at one meter? Are passengers going to get too close?
I'm not alone in my nagging sense of unease. A recent survey by Scope suggests 87 per cent of disabled people are concerned that people will not respect social distancing.
For shielders like me needing some form of care, it's not just about us and never has been. We rely on others as much as ourselves.  
As a child I relied on other people to live my life, now it's to stay alive.
'I don't feel safe in the slightest'
Melody Powell, 22, London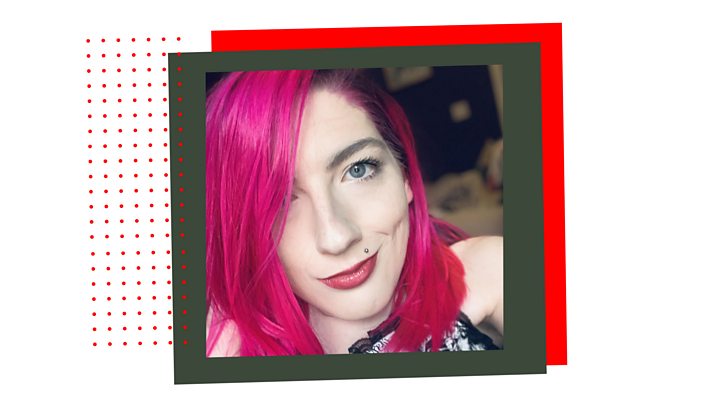 I've got Charcot-Marie-Tooth disease, a form of muscular dystrophy, as well as severe scoliosis, which basically means my lung capacity and other organs are compromised.  
I found that the closer we've got to 1 August, the clearer it's become that I just don't feel safe in the slightest knowing that I have to rely on people to wear masks, wash their hands and social distance in order to stay alive. 
All the trending hashtags like #nomaskselfie makes me really anxious, as it seems my life - and others like me - is not of priority for these people. 
I miss normal life. I've removed my social media so that I don't feel so alone while watching friends go about their lives.
It's also affected my care. Just before the pandemic I was in the process of hiring a personal assistant to have more freedom - which feels very ironic now - but it's been on hold for my safety. 
As someone who battles OCD on a daily basis, I won't feel safe knowing that my PA could have been into contact with anyone before assisting me, even if they are wearing PPE, so I'll be waiting before advertising again. 
Shielding has strained my family relationships too. I'm so scared of catching the virus that I am making them wash and change their clothes every time they've been outside. 
I'm aware that it's extreme and unfair on them but I'm constantly on edge. 
The only way I can get my mind to quieten is to make sure at least my house is safe.
'I've had to leave my job to put my health first'
Ross Lannon, 27, Cornwall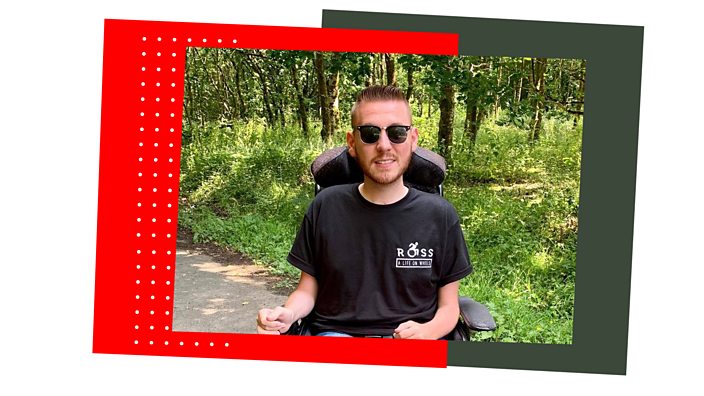 I think the hardest part for me has been the uncertainty of it all. At the start of lockdown, there was a time where I was checking the government statistics everyday. It became so damaging that I decided to block all stats from my social media.
I have a condition called spinal muscular atrophy (SMA Type 2) - which causes muscle weakness and requires me to use an electric wheelchair 24/7.
Once I eventually received my official NHS shielding letter, I started to embrace the lockdown life, knowing that I had months to relax at home.
One of my proudest moments was a parody song that I wrote to spread some positivity online. It even made it onto local news!
In the beginning, I definitely felt people were being more considerate - there was a real community spirit. But once restrictions lifted this didn't last long.
The crowded scenes in Soho were a real kick in the teeth, especially for those NHS staff who have been working tirelessly since March.
While I totally appreciate some people can't wear masks for medical reasons, everyone else has no excuse.
I've followed the shielding rules carefully and haven't been able to see certain family or friends in months - so why should you?!
As lockdown began to lift I had to make the decision to leave my job. Working from home was not an option for me and I didn't qualify for additional furlough.
This has been incredibly tough but sometimes you have to put health first.
'I can go to work but I can't sit in a friend's garden'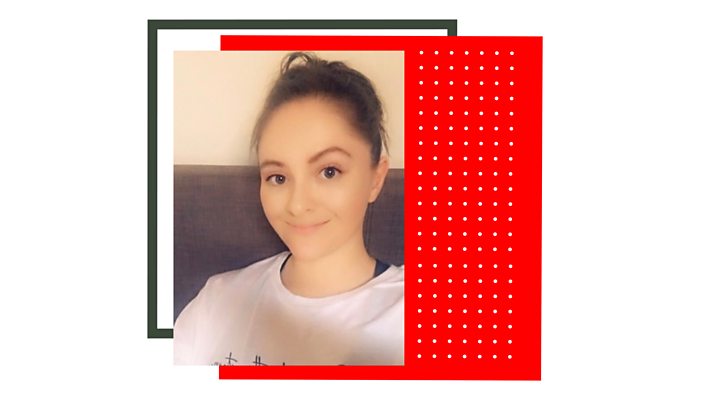 I don't feel safe stopping shielding. Cases are rising where I live and where my new job is. 
We've been placed on a sort-of local lockdown – the advice says I should now go back to work but it also says it's still too unsafe for me to meet a friend outside. I'm not really sure what I'm supposed to be doing. It's going to be hard having to return to work but still not being able to socialise.
I'm so scared of getting the virus because I'm already dealing with multiple complications from my recurring pneumonia and thoracic endometriosis. 
My doctor has put me on antidepressants because my anxiety about getting the virus has been really bad for my mental health.
I've been on my own most days because my partner still had to work so it's been lonely and then when he gets home I worry about him infecting me.
Nobody my age really gets it because there aren't many of us. 
I see my friends hugging and going out drinking and it's been hard because I can't go. I made friends on a shielding Facebook group to try and find people that understood what it's been like.
It's so frustrating when you've been stuck at home and then you see people breaking the rules, especially in Bradford where it's rising and impacting people like me. 
I can't even grab a coffee because it's too risky. I've never felt so isolated.
'My dating life has been non-existent'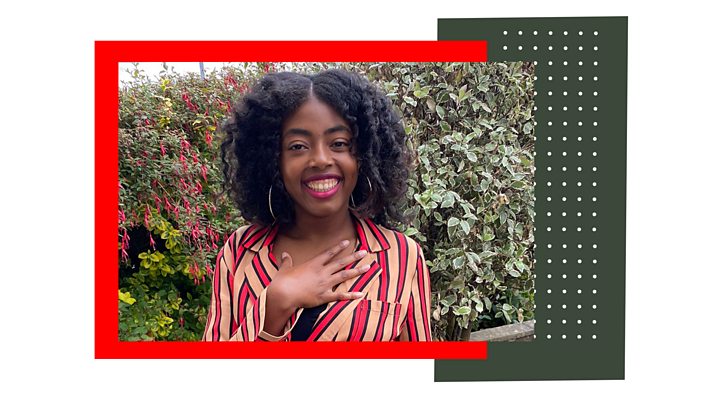 I was initially worried about shielding ending but tomorrow I'm meeting up with my friend that has sickle cell anaemia, too, and we're just going to go out and get it over with. 
I started isolating before the government announced shielding because I was worried about being more at risk from the virus, so I wasn't surprised when the text and letter came through.
In February, I had some complications from my condition so I had to have unexpected surgery. Because I had to cancel things and change so many plans because of that anyway, I thought shielding was going to be like an extended R&R recovery.
But in reality I ended up having to move back in with my parents. Losing my independence really affected me a lot. Even in the house our social distancing had to be really strict. I ate separately and spent most of my time in my room.
When I'm recovering and resting because of my health usually, I do my own thing. So when all of a sudden everyone wanted to FaceTime and do online parties all the time it was a bit too much for me.
The only time I went outside since March was when I got dressed up for my birthday in June, when my friends waved at me from the front door. 
I had a long conversation with them about social distancing – I explained that you guys might be fine, but your parents, grandparents and people like me, that you might end up passing it to, wouldn't be. I don't think they understood that until I explained it.
Over these last few months my friendship bonds that were genuine and quite tight to begin with have just got stronger, and friends that turned out to be only "going out friends" kind of fizzled away.
My love life wasn't great before - what little there was became non-existent over shielding. 
I'm a people person and I like to meet people before getting close to them. I wasn't the kind of person to jump on Zoom and get to know a stranger.
I used the time to really get in tune with my health and I started a podcast. But I can't wait to be able to go to the cinema again – watching Netflix by yourself just isn't the same. 
'I won't forget this time - it's definitely made me appreciate my life'
Olivia Gallagher, 19, London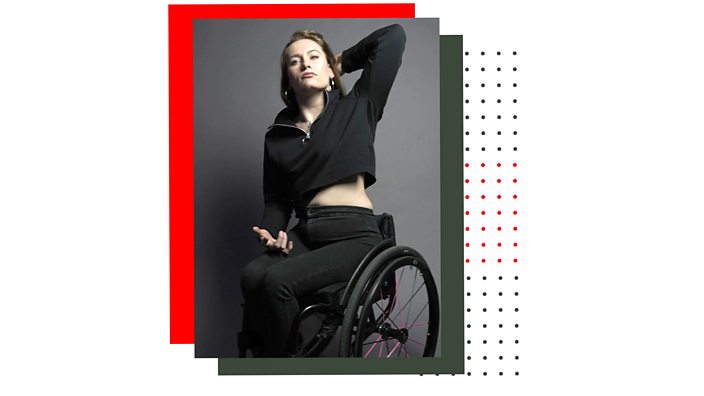 Shielding has been incredibly tough. 
I'm very independent and normally have a busy lifestyle so I've struggled with feeling like I'm not in control of what I do. 
My family and friends have been understanding and have supported me when I was having a bad day. I definitely couldn't have got through it without their support.
I have athetoid cerebral palsy. I'm also partly sighted and blind in my right eye, as well as profoundly deaf, meaning I wear a cochlear implant.
Another big challenge has been lip-reading when people wear masks. 
I'm anxious but I do feel safer when out and about with a family member. They make sure I keep my distance as I can only see up to three metres.
As restrictions have begun to lift it's been the best feeling to escape the home environment. Visiting friends at a distance in their garden, and going for some retail therapy.
Generally though, I actually think shielding has brought me closer to my family and friends. I've also had time to really think about my future and what I want to do.
I'm starting university in September, the university experience will be different for the time being but it's going to be the new normal. 
But I won't forget this time - it's definitely made me appreciate who and what I have in life.
Images and design by Sana Jasemi.