N/A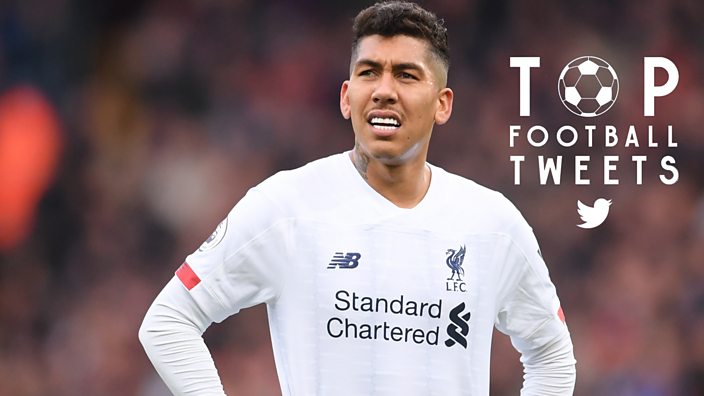 gettyimages
Roberto Firmino's armpit is causing controversy
Meanwhile, Preston put an end to an unwanted 13-year streak
Late drama, controversial VAR decisions and some cracking goals - it was just another weekend in the world of football. 
Let's take a look at what people have been talking about over the weekend.
Once again, VAR dominated the chat on Saturday as Roberto Firmino was denied a goal after the on-field call of offside was upheld on review, thanks to a wayward armpit (yes, armpit) from the Brazilian. 
No one appears to be happy with the new system, with some former players counting themselves fortunate to have hung up their boots before VAR arrived on the scene. 
Someone should probably tell him your arms can't be offside, though.
2) Preston North End of an era
As Manchester United were kept goalless by Bournemouth at the weekend, Romelu Lukaku continues to enjoy his new life in Italy.  
He scored twice, including a stoppage time winner, as Inter beat Bologna 2-1. 
While Lukaku's new side are just one point off Serie A leaders Juventus, Man United aren't enjoying quite the same level of success. 
Whoever said you shouldn't meet your heroes obviously didn't idolise Arsenal midfielder Danielle van de Donk.
The Dutch star celebrated her hat-trick against Slavia Prague by giving away her boots from this summer's World Cup final to a fan.
Hearts missed out on a place in the final of the Scottish League Cup after falling to a 3-0 defeat to Rangers. 
A goal either side of the halftime break seemed to be the thing that broke the Edinburgh side's resolve. 
After trailing for most of the game, Andrew Roberston drew the Reds level in the 87th minute before Sadio Mane grabbed the winner deep into stoppage time. 
7) Finally, a win for the little guys
Everyone loves a good underdog story and is there a better one this season than plucky little Chelsea overcoming a transfer ban to challenge for a top four spot? 
8) Lundstram in fantasy land
If you ever see someone say "you couldn't write this" about something that happens in a football game, just remember that sixteen people had enough confidence in John Lundstram's ability to score two goals in a game that they triple-captained him in fantasy football. 
Lundstram scored two in a 3-0 win for Sheffield United over Burnley. That leaves the recently promoted side in sixth, (yes, sixth!), but manager Chris Wilder insists he's not looking at the table just yet.
9) Thanks for the Unai mEmeries
There is little love among Arsenal fans for Unai Emery, with many calling on the club to replace the Spaniard sooner rather than later as the Gunners continue to sputter. 
And it seems even the players are getting a little tired of Emery.
A cautionary tale: if you're going to call out a Premier League footballer, you should probably make sure your team's credentials are up to scratch first.