N/A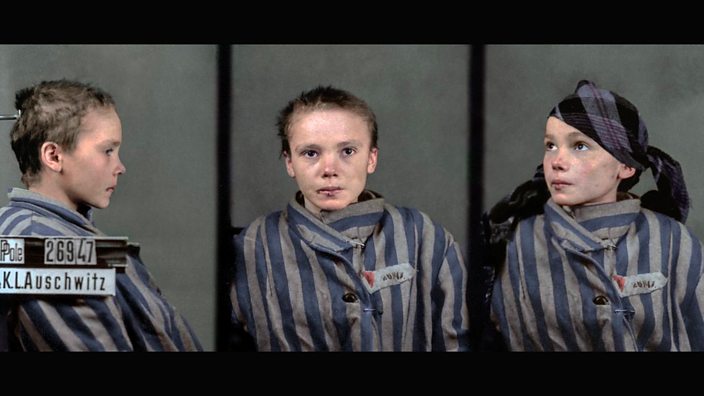 Marina Amaral
An artist coloured in a photo of an Auschwitz victim and it's heartbreaking
The picture was shared by the Auschwitz Museum and it has resonated across the world
Czesława Kwoka was 14 years old when she was deported to Auschwitz.
The Polish teenager arrived at the concentration camp on 13 December 1942 where she was given a serial number, beaten by Nazi prison guards and photographed. Three months later she was killed. The only lasting trace of her brief existence is her black and white registration photo.
On Monday, the 75th anniversary of Czesława's murder, the Auschwitz Museum posted a thread detailing her tragic last moments.
The thread included an image by the Brazilian digital artist Marina Amaral, 23, who has painstakingly coloured Czesława's photograph in order to change the way we look at victims of the Holocaust.
"It is much easier to relate to people once we see them in colour. Holocaust victims had dreams, family, friends and they had it all taken from them," Marina says.
She originally posted the picture in 2017 on 27 January - Holocaust Memorial Day - when it went viral, receiving over 5,000 likes and over 6,000 shares. 
In response, the Auschwitz Museum, which sits on the site of the former camp in southern Poland, approached Marina and asked to share her work. 
Since the museum posted her photograph this week, it has received more than 40,000 likes and nearly 9,000 shares.
The musuem explains in its accompanying Twitter thread how Czesława was one of 318 women and girls who arrived at Auschwitz on 13 December 1942. Among them was Czesława's mother, Katarzyna, who died in the camp on 18 February 1943, a month before her daughter.
Marina had chosen Czesława's image because she was struck by the emotion captured in her expression. "You can feel how much she's suffering, and yet, she has a haunting courage in her eyes," she says.
This work is the latest in a series by the artist where she takes historical photographs and colours them to give the stories and characters in those images more immediacy.
Marina's coloured photographs include a portrait of Fredrick Douglas, a statesman, abolitionist and former slave.
She has also recreated the arrest of Suffragette Emmeline Pankhurst outside Buckingham Palace.
And posted a portrait of a young Queen Elizabeth, sitting together with her father, George VI.
She sees Czesława's image as a warning against pursuing the politics of hate.
"The Holocaust did not begin with mass killings. It began with the rhetoric of hate.
"I hope people look at Czesława's face and see a 14-year-old girl who was murdered for no reason. And she was only one among millions of others."
Marina's work appears to have struck a chord with audiences. 
People won't be forgetting this image any time soon.