N/A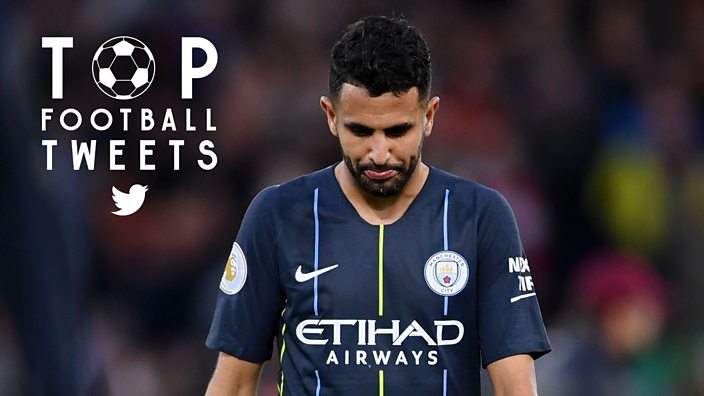 There's a penalty graphic Mahrez will definitely not want you to see
It might be lo-fi, it might be mean, it might even be made up - but this picture paints 1,000 words. Plus there's about a trillion* other tweets on the subject
*This might be a slight exaggeration
As we head into the second international break of the season, it's time to look back on an entertaining weekend of football.
There was a 17-goal thriller, a nomination for Alan Pardew to be Prime Minister, and of course an absolutely terrible, terrible penalty kick. 
1) Mahrez's miserable record
Riyad Mahrez had the chance to be the hero for Manchester City against Liverpool but he skied his late penalty over the bar. It wasn't the first time he's missed from 12 yards. The Algerian hasn't scored from the spot in the league for nearly two years now, failing to score five of his past eight Premier League penalties. Want a graphic to sum up his latest miss?
There were, of course, a plethora of tweets at the ready to highlight just how bad the spot-kick was...
2) Where to park the bus?
City's first trip to Anfield since April's Champions League quarter-final didn't exactly live up to the billing. Not only did the two of the most exciting attacks in football fail to score, but Reds fans decided against replicating the warm welcome they gave to Pep Guardiola and co. six months ago.
Perhaps City's bus disguise fooled them.
Jadon Sancho's inclusion in the England squad for the forthcoming internationals makes him the first player born in the 2000s to get a call-up for the senior team, which is a fact that has made anyone over the age of 25 feel extremely old.
4) (Ney) Marred by camera work
When you've celebrated all four of your team-mate's goals but an unfortunate snap suggests you're not quite as happy as you were.
You've got to feel sorry for Luis Corcoran. It's not often you score five goals and still end up on the losing side.
There really should be some kind of annual competition where fans from around the world can demonstrate their match-day prowess. Ability to time a trip to the toilet when there's no queue but you don't miss any action on the field of play? 10 points. Managing to get to your seat at the end of a full row without having to get anyone to stand up for you? 20 points. This...
7) It's not easy being a Newcastle fan
With just two points from eight games so far this season - and having blown a 2-0 lead at Old Trafford on Saturday - things are not going well for the Newcastle faithful.
So Arsenal are on a bit of a run, hey? But what's really important about their 5-1 victory over Fulham yesterday, is that Hector Bellerin is now in the title race for Best Footballer Tweets Season 2018-19. Look out Mendy, Bellerin's chasing you down.  
If you like obscure and largely useless football statistics, then you're in for a treat.
10) Pardew for Prime Minister?
Forget all that talk of a snap election: it's time this country united behind a true leader.