N/A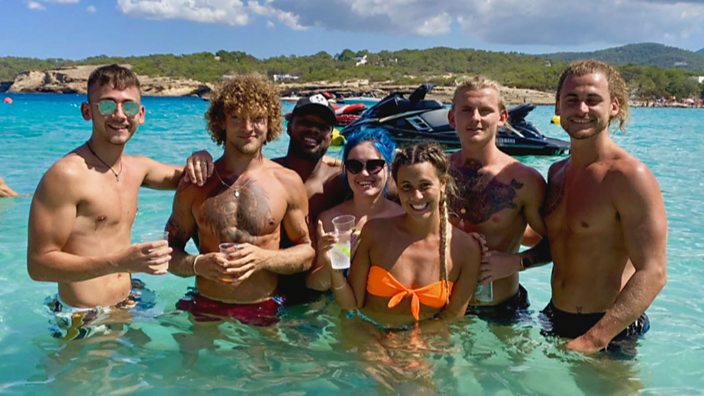 BBC THREE
Ibiza Dreams: Life in lockdown after living on the party island
A new BBC Three series follows several hopeful youngsters as they chase their dreams in Ibiza, but lockdown changed their plans.
Ibiza, the infamous party island, has long been a draw for young people who want to work hard and play hard at the same time.
The clubs, bars and hotels offer summer jobs where partying is part of the role – it's an intense lifestyle, but for some, that's exactly what they want. A new BBC Three series, Ibiza Dreams, follows several twenty-somethings as they move to the island to find work and get immersed in the lifestyle.
Coronavirus has changed everything, though. The Balearic government has announced that no clubs will open this year – or possibly until a vaccine is found – meaning hundreds of bartenders, DJs, events staff and others involved in keeping the party running will be out of work. For those who appear in Ibiza Dreams, life looks very different in lockdown to how it did on the isle. Liam and Jess tell BBC Three what happened next.
Liam, 26: 'I've got no idea when I'm going to get home'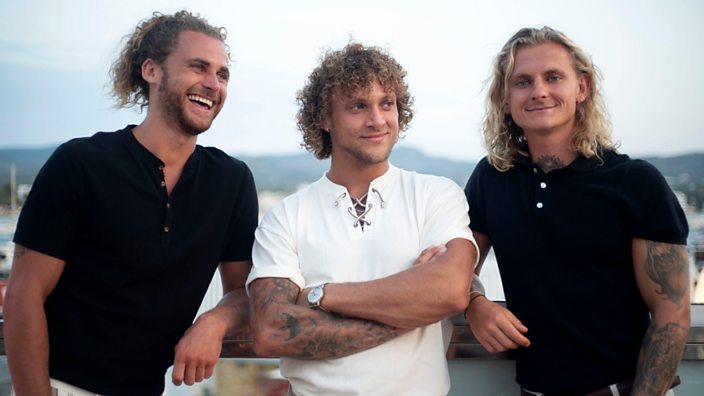 "We were in Ibiza from mid-May last year until September. Now [my friend] George and I are in Cambodia – there's a select few of us living in a bungalow and we've got the beach to ourselves. Businesses have had to close [in Cambodia, people are advised to stay indoors and wear masks, and foreign arrivals now have to pay a fee on entry to cover medical costs should they catch COVID-19].
"We feel very fortunate to have been out on the beach all day compared to places that have had it worse like Spain and England.
"I've felt like I wanted to go home just to assure my family that everything's OK. I know they're all OK and they're getting on, they haven't been affected too much by the lockdown. I try not to watch the media too much, I know it can be quite fear-inducing. I just try to always count my blessings. Some of my family have underlying health conditions and haven't been able to visit my grandparents.
"We were supposed to fly home on 7 April. Our flight got cancelled a week before we were supposed to fly, and they can't put us on a flight til mid-to-late July. But we don't know how it'll work with going into Thailand, whether we'll have to quarantine there. We have no idea how we're going to get home. I'm really excited to get home and see my family but I'm happy to wait another month or so here and wait until things blow over.
"George, my brother, and I all worked in engineering before going to Ibiza. Me and George worked together for six months before we left, and we were always talking about leaving the 9-5 job and making a plan. We didn't plan to leave until the winter, but one day we saw something on Facebook about Ibiza and thought, 'Let's go'. We made a one-day decision to quit our jobs and book a flight, it was all very last minute.
"Where we're from can be a pretty closed-minded place. I know there are other parts of England but we'd travelled before, so we'd met a lot of people in the last four or five years. We got the travel bug. Coming back to this environment surrounded by a lot of closed-mindedness, it didn't feel right for us. We want to be around people who can help you grow. We went out to Ibiza with a camera and a drone and kind of winged it. We worked our way up from there.
"People back home think we're both bonkers. My mum thinks I'm crazy, but now, seeing what we've achieved in the last year, she believes in it a lot more. My parents are very old fashioned, they think you learn a trade, get a mortgage. I did all that, got my apprenticeship, bought a house with my brother, I did all those things alongside travelling, so I saw that you don't need to be living that kind of life to achieve those things. For some people, Ibiza is a place just to party and take drugs and not really make any money, that's what my mum and dad thought we would be doing there, but we weren't drinking, we were focussing all our attention on learning a new skill. Now they're really proud of us."
Jess, 27: 'I'm worried about how my career will change'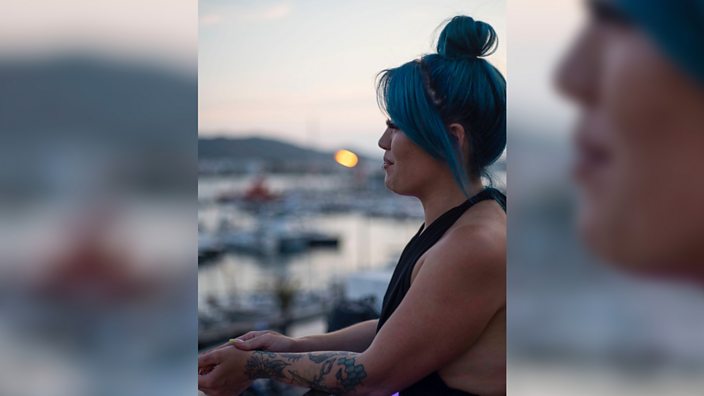 "When I was 20 I went on my first holiday with me and my best friend and sister. We stayed in Ibiza Rocks hotel. Ever since then I was fascinated with it. I applied for Ibiza Rocks, went to London for the interview, got through the process, and I didn't even end up working there in the end. The recruitment process was completely out of my comfort zone. I had to send in a video interview, then I got to London and there was about 70 of us. They broke us up into groups and we had to do an X Factor audition in 20 minutes. I was standing around in a group of strangers thinking, 'why can't I just be happy with what I've got?' It was a day of anxiety.
"When I got to Ibiza I felt like I wanted something less pressured, so I ended up taking a job in an Irish bar in the end. I used to drink in the bar a lot, and they asked if I wanted a job. But I only lasted a month, I realised I didn't actually like drunk people when I was sober, and I was exhausted. I went to a family-run bar and restaurant. I ended up getting back into hairdressing because I had more free time and wasn't doing nights. The bosses were really encouraging about me getting back into it.
"I'd already gone home by the time lockdown was announced. I live with my nan back in Dublin, and I couldn't leave her in the winter. She lives alone, and I always go back. We're both very independent and do our own thing, but it's been fine. Ireland's lockdown was a bit stricter – she couldn't go out and do any shopping, as she has underlying health issues. I do too, I have respiration issues, so it was a bit scary at first as I'm a bit of a panicker. I've been doing the shopping and she's been staying in, now we've been able to start going out again. It hasn't been that bad.
"I worked for a pamper retreat over in Ibiza. I was meant to be going back this summer and we had a lot of big plans. But now that we can't, we're opening up an online academy together. I'm going to be the head hairstylist. I'm recording videos in Dublin on my mannequin and myself, and we're putting them out at the end of the month. It's taken my mind off work worries and made me feel like I'm back in the real world. The idea is that girls who want to work for the pamper retreat in Ibiza next year can learn from the videos. I was going to train the new staff in person, but we're getting a bit of a head start online. There's been a lot of positives to come out of this situation for me.
"I am a bit worried about how working in a salon might change because of coronavirus. We're going to have to do longer hours and less clients, because we can't go between clients at the same time anymore. I don't know how we're going to make a full week's wage, because we work on commission. I'm thinking of just going out on my own, because I can't see myself making enough money working in a salon. I know a lot of people who own salons as well, and I worry about how they're going to keep their businesses open. But I couldn't see myself doing anything else."