N/A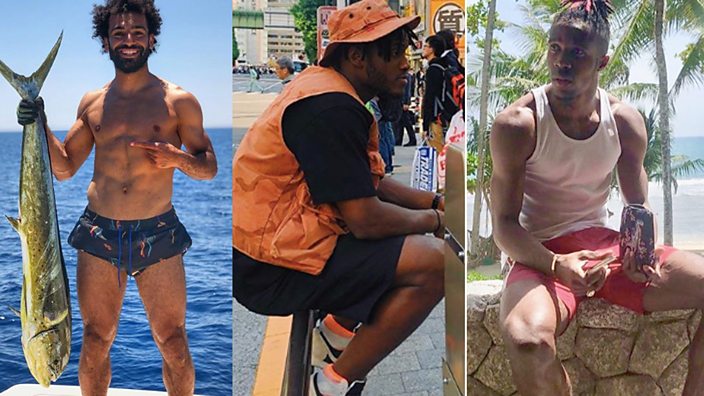 @mosalah/@mbatshuayi/@wilfriedzaha
We're loving these pics of footballers on their summer hols
Thank goodness Instagram allows us 24-hour access to our favourite men's footballers' intimate lives, even during their down time.
In the meantime, for the fellas, it's time for a bit of R&R, before pre-season starts in earnest. If, like us, you invest a lot of your hopes and dreams in these young men's exploits over the course of a long season, it can be difficult to let go once the summer break begins.
That's why we're so thankful that social media allows us to continue to feel that connection with them. It's as if just scrolling through photos of these millionaires jetting off to glamorous locations around the world allows us to be there with them, even as we have to start thinking about that week with the family in Auntie Sue's static home near Skegness.
1. Mohamed Salah is so bait
Mo bagged himself a Champions League trophy at the start of June, and here he is catching himself another big prize. Look at the joy on his face. He loves a rolled-up short too. Like Ronaldo taking a free kick.
Salah's an absolute, bona fide master of the holiday snap, it has to be said. 'Holiday uniform', indeed.
2. Divock Origi appears to have gone on holiday alone 
Liverpool had three weeks between the end of the Premier League season and their Champions League final clash with Tottenham Hotspur so a lot of their squad headed out to different parts of the world to get their heads in the game.
To all intents and purposes though, Divock Origi, the surprise cult figure of their season, with his winning goal in the final, his double against Barcelona and late goals against Newcastle and Everton, appeared to have travelled out to the middle of the desert on his own. Either that, or there is a partner/mum of Instagram behind these carefully crafted shots of him modelling a variety of bucket hats. 
We like the one of him looking wistfully at the empty beach buggy chair where a mate should be. 
3. Anthony Martial: checking out the wonders
Manchester United's young French forward isn't renowned for smiling a lot. In fact, it's become a bit of a thing, drawing criticism from former United legend Phil Neville and spawning in-jokes with team-mates. We've written a whole piece on the subject here.
In that context, there's definitely something quite charming, then, about this slightly goofy holiday snap of him gesturing, all happy-faced at the Sphinx of Giza, Egypt. In a world of sponsored posts and carefully managed public image, there's a refreshingly retro authenticity to all of this.
Insert your own joke about the Manchester United player surrounding himself with once-great glories.
4. The Batman flies into Tokyo
Michy Batshuayi is engaged in preparations with the Belgian national team for a Euro 2020 qualifier against Scotland - preparations that have included him going native by wearing a kilt and playing the bagpipes. After the Premier League season finished, the Chelsea striker, who was on loan this season at Crystal Palace, flew off to Japan for a city break. This look screams 'stillness amid the chaos.'
Props also to the Batman for integrating into his neon environment with a bold, orange theme.
5. Paul Pogba takes the lad on holiday
Manchester United's Paul Pogba here, showing that, like other young dads up and down the country, he also has to contend with the terrifying prospect of taking a small child on a long flight. He's all over Insta, but, as the jacket reads above, #nosnapchat apparently.  
6. Ben Chilwell shows off his white bits
The Leicester City boys jetted off to Saint-Tropez together for an end-of-season bender last month and it looks like young Ben may have taken a detour along the way to visit the same place boss Brendan Rodgers has been getting his teeth whitened. Gleaming.
7. Wilfried Zaha practises wellness
The Crystal Palace forward, captured here last month enjoying a moment of stillness and quiet reflection in Thailand and not thinking for a beat about any tricky agent discussions. Wellness…
8. Bernardo Silva enjoys the festive season
Well, hopefully that's made you feel better about your week in Mallorca with the in-laws, during the busy school holidays.
Andrea Pirlo's staycation
He's retired now, so he can probably go on holiday whenever he wants, but we just wanted to say how much we appreciated the effortless cool of this picture of him in Capri, ordering a lemonade.
Or this one of him sitting in a deckchair, quoting Charles Dickens: "In no place on earth are there so many opportunities for delicious peace and quiet as on this small island." Amazing.
Article first published 23 May 2019