N/A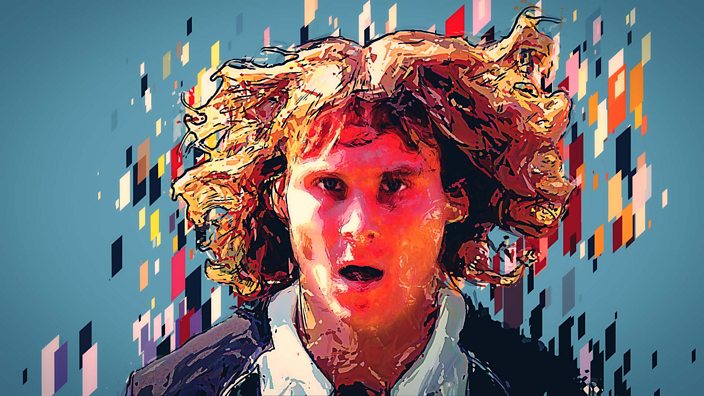 Getty Images
Noughty Boys: Celebrating Pavel Nedved - much more than just a haircut
For our series celebrating the icons of European football in the 2000s, Tom Victor fanboys over Czech blond bombshell Pavel Nedved
The legacy of an athlete can differ hugely based on who is judging them.
Younger football fans might well have a view of Zinedine Zidane as one of the best young managers around, having witnessed his Real Madrid teams dominate the Champions League over the last five seasons.
Sure, they'll have seen clips of his skills and goals for club and country, but they will never have the same impression of the man as those who watched live as he sent an inch-perfect volley beyond Bayer Leverkusen's Hans-Jörg Butt to win Madrid the 2002 Champions League final.
Pavel Nedved is another who fits this bill.
A fair few fans, and even some players in the current Juventus youth ranks, will primarily think of Nedved as the club's vice-chairman - their image of him involving a suit and tie, rather that the black and white stripes of The Old Lady.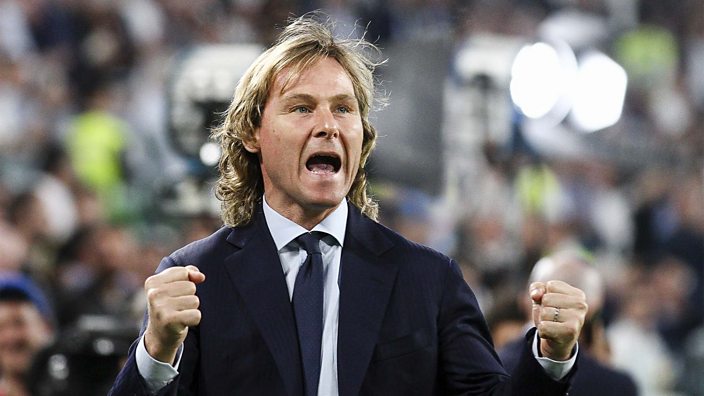 There will have been some clues to his past, though. Not least his performance in the 2012 Prague marathon. It was there that his sub-four-hour time (competitive if not world-beating) helped paint a picture of a man who would never stop running and never stop pushing himself.
In those flowing blond locks, there may have been a hint that he was once capable of lighting up any game.
How? Over history, certain players have just looked the part, to the point that failure simply didn't sit with their aura.
The bespectacled Edgar Davids, another Juve midfielder, was one. Colombia's Carlos Valderrama, with his scene-stealing hair, was another. Further back, George Best was the embodiment of the late Sixties and early Seventies swagger. They just had to be good.
It wasn't that they took power from their looks, but that they were confident to carry themselves in that way meant that they were always likely to play without fear. When you could marry that fearlessness with tenaciousness and a true fighting spirit, you had Pavel Nedved.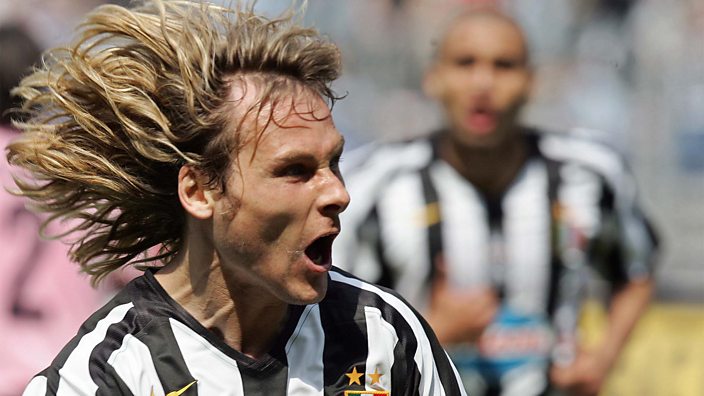 The early 1990s were a time of monumental change for European football, but also for Europe itself.
Eastern and central European football nations had frequently comprised experienced home-based players. The Czechoslovakia squad at the 1990 World Cup included just eight men playing their club football overseas and just one, Vaclav Nemecek, aged 23 or under.
But after the fall of the Berlin Wall and the country's split into the Czech and Slovak republics, player pools changed and this forced coaches to cast their nets wider.
Younger players were often the beneficiaries, especially at Euro 96, where the Czech Republic – in their first major tournament as an independent nation – stunned everyone to escape a Group of Death and ultimately make the final.
Nedved and team-mate Radek Bejbl, both 23, scored the goals to help shock Italy at Anfield, while Vladimir Smicer (also 23) scored a late equaliser against Russia which saw them pip the Azzurri to second spot in the group.
After victories over Portugal and France in the knockout rounds, it was 22-year-old Patrik Berger who gave the Czechs an unlikely lead in the final, only for Germany and Oliver Bierhoff to beat them with a golden goal in extra-time.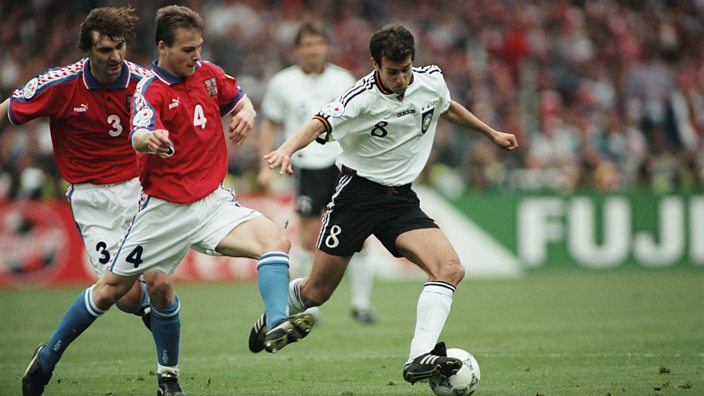 "It was the right moment for me, perfect for my career," Nedved would later say about the fall of the Berlin Wall, which helped open up the wider footballing world to young Czech talents. 
It's impossible to talk about Nedved without mentioning that fantastic blond mop of hair - worn in a style which drew eyes his way and almost forced him to raise his game to meet expectations - but that didn't arrive until later in his career.
If his time at Juve saw all eyes drawn to that flash of yellow, the earlier part of his career saw him ensure all eyes turned his way simply because he seemed to be everywhere at once.
Nedved could have hidden after joining Lazio off the back of his Euro 96 displays, but that was never his style. While his international team-mate Karel Poborsky floundered at Manchester United (quickly in the shadow of an emerging talent by the name of David Beckham), Nedved hit the ground running in the daunting environment of Serie A.
In the mid-1990s and early 2000s, Italian football had more than its fair share of decorated heroes, to the point that you could be forgiven for questioning how many more the league had room for. It was certainly true that players would need to do a lot to upset the established order, but Nedved did all that and more.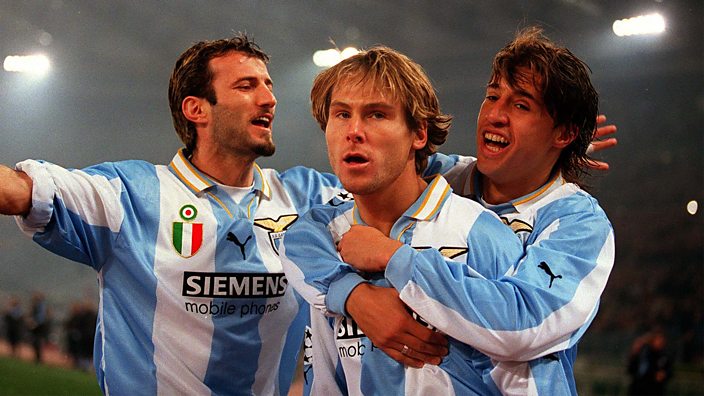 Indeed, Nedved's time in Italy saw him straddle two eras. He survived European football's transition into a big-money game, he earned the Ballon d'Or before it became the exclusive preserve of Ronaldo and Messi, and he hung up his boots at the end of the last pre-Europa League season, having scored the last ever goal in another UEFA competition, the Cup Winners' Cup, a decade earlier.
As Lazio and Mallorca players edged towards extra-time and a chance to recharge, Nedved had enough left to take matters into his own hands. Lashing at a loose ball he refuses to let anyone else near, he strains just enough to make his effort seem effortless.
It's the measured approach of the long-distance runner, crossing the finish line with sinews bursting, all the while letting his eyes tell those watching that he had a bit left in the tank.
Growing old with the Old Lady
Nedved's time in Italy also arrived when Serie A clubs were forced to find new ways to compete with the Galacticos policy of Real Madrid and the new money of clubs in the Premier League. Lazio's time among the elite clubs of European football would be fleeting.
In the summer of 2001, team-mate Juan Sebastian Veron moved to Manchester United for a British record fee, while Nedved traded Rome for Turin, joining Juventus to replace Zinedine Zidane, who had moved to Madrid for a world-record sum.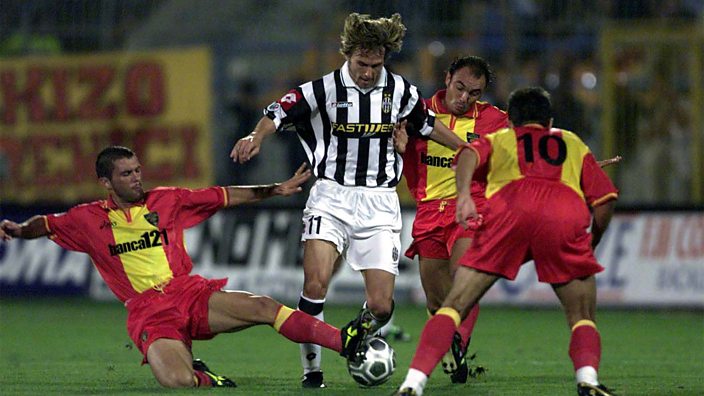 There's something in the Turin water that seems to elevate players as they enter their 30s. Gigi Buffon found a second and even a third wind at the club, while Andrea Pirlo came into his own as a grizzled veteran, but neither of them had a style which relied on the intense movement and tireless running of Nedved.
Nedved's image, like Pirlo, might point towards a graceful dictator of play, but while he had such qualities, he was never one to deliver on them at a walking pace.
Coming up against the formidable Dutch midfield of Edgar Davids, Clarence Seedorf and Phillip Cocu, Nedved helped inspire a comeback from 2-0 down while acting as mentor to his international heir Tomas Rosicky. He came perilously close to a career-defining goal in that game, rattling Edwin van der Sar's crossbar from 30 yards, but the final score will have been more important to him than any personal glory.
Ultimately, only a silver goal from Greece's Traianos Dellas denied Nedved and the Czech Republic another European final – doubling the heartbreak after Bierhoff's golden strike eight years earlier. Yet Nedved's Euro 2004 was a rare example of a top player being almost unrealistically hyped ahead of a major tournament - and actually delivering on it.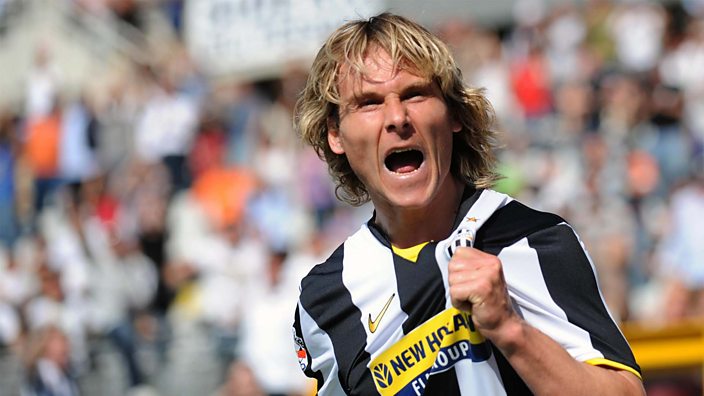 Later in his career, Nedved would admit his regret at never having joined Manchester United, explaining he was a little jealous of Poborsky back in the 1990s, but he was never realistically in a position to make such a move. Indeed, looking back, it's hard to see how anything could have prised him away from Juventus.
Even demotion to Serie B following the Calciopoli scandal wasn't enough for him to abandon the Bianconeri amid Premier League interest. Nedved, along with Buffon, Alessandro Del Piero and others, stuck around to help Juve climb out of the second tier at the first attempt. Enough to secure his status as a legend at Juve.
By then, Del Piero had shorn the locks of his golden-boy era in Turin, but Nedved's look remained one of movie-star swagger, reminding us that Juve were the A-listers slumming it for one season and one season only.
"I never doubted I would stay at Juventus," he said at the time. "I owe a lot to the club and the Agnelli family (who own the club), who have always been close to me."
Fans who see Nedved in the stands now will be able to appreciate his quality, but nothing will compare to watching him glide across the turf and find the net from anywhere and everywhere.