N/A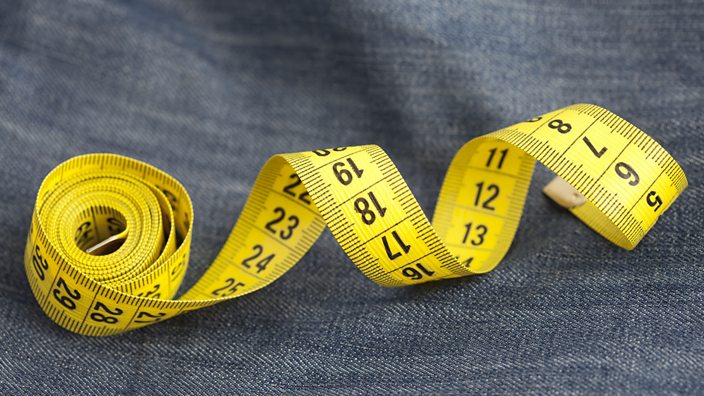 iStock
Why do women's sizes look so different in different shops?
An image of seven pairs of jeans has gone viral for highlighting the huge lack of consistency in clothes sizes
Shopping for clothes is already full of tough choices: What's in fashion at the moment? Can I actually afford this amazing jacket? Do I really need another pair of shoes? Are gold lamé hotpants too much? (Answer: Never.)
One thing that should be certain, though, is your size. Surely, your jean size in one shop is your jean size everywhere, right? Er, wrong, as one woman has illustrated in this viral tweet.
The jeans are all labelled as size 12 – but that's where the similarity ends.
Chloe Martin, 18, posted the image last Friday with the caption "In case you've ever wondered why women get so frustrated with our clothing sizes" and it has clearly struck a chord with shoppers, picking up over 100,000 retweets in the following days.
She told BBC Three: "I posted the tweet purely because I was frustrated that all of my jeans were allegedly the same size, however they were all different. I didn't realise how much of a difference there was until I laid them out – I knew some were maybe bigger than others, but I didn't realise how drastic it was."
"I am so shocked [at the reaction]. I only posted it thinking that my friends would think it was funny and compare theirs too, I didn't realise it was an issue for women all over the world."
Chloe explained in a subsequent tweet how the variation in sizes was baffling, with the replies showing that Chloe was not alone in her frustrations.
Some tried to see the funny side of the issue.
While other commenters suggested that the discrepancies were a result of the difficulties inherent in design and manufacture:
One, however, simply asked, "Why are things like this?"
We spoke to Dr Simeon Gill, Lecturer in Fashion Technology at the University of Manchester, who explained:
"Sizing should be improved, but to do so would need to recognise population variability and requires more sizes or a fundamental change in how we provide products. Sizing for jeans – in fact, for all clothing – should be based directly on body measurements of the individual it is made to fit. There is no good reason that women's jeans should not be sized as men's jeans are, with waist and leg length. Most of this is about existing practices, and fear of change [and] lost sales."
Chloe explained how it has affected her shopping habits: "I normally would like to do most of my shopping online, but it's getting harder because you can just never tell if your size will fit you, and when you're physically shopping in a store, sometimes I'll have to take in three different sizes of the same item just to make sure one fits.
"I feel like the sizes are more of a guess or estimate because they are clearly not accurate or consistent between brands – sometimes even a single brand's range of jeans isn't consistent with their sizing."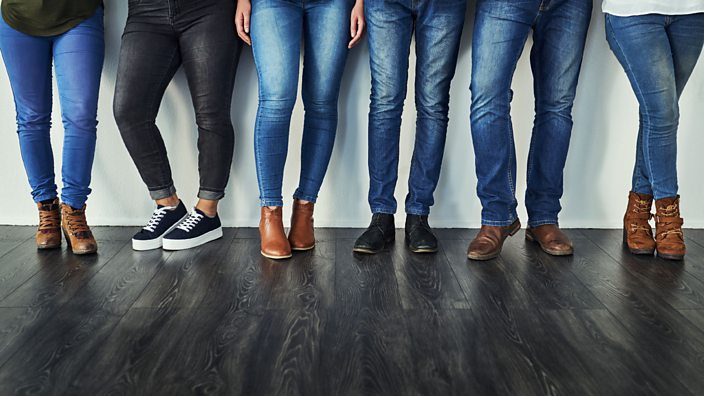 The latter point is illustrated perfectly by the fact that four of the pairs pictured come from the same two shops, yet all appear differently sized. The seven pairs, from top to bottom, are from New Look (skinny jeans); Pull & Bear (mom jeans); Bershka (normal mid-waist); George at Asda (skinny jeans); Matalan (skinny jeans); Bershka (mom jeans); New Look (skinny jeans).
All brands were contacted for a response to the issues raised by Chloe's tweet; New Look was the only to reply, and declined to comment.
Dr Gill, however, advised caution on judging the image too harshly, saying, "It is frustrating, the variation in garments, but the image is misleading as it only shows the waistline and these jeans could be different styles, or have different rises (the depth from waist to crotch). There is no standardisation of UK sizing outside of retailers aligning their practices, and therefore variation will occur. This variation is necessary, because even when people share the same size, there will be variations between their bodies."
As well as complicating a shopping trip, Chloe points out that these wild variations in clothes sizes can also have an effect on body image.
"When I have to buy a bigger size than I normally would, it subconsciously puts the idea in my mind that I'm heavier than I am, making me insecure, even though it's clearly the jeans and not me."
Kitty Wallace, Operations Manager of the Body Dysmorphic Disorder Foundation tells BBC Three: "Inconsistencies with clothing sizes are not helpful for anyone experiencing body image issues. Men's clothes are sized in inches or centimetres which is factual and accurate, whereas women's sizing – ie 8, 10, 12 – is hugely confusing and can be demoralising, particularly as some women overly worry about what size of clothes they are buying.
"Although inconsistencies in clothing sizes will not cause Body Dysmorphic disorder, it can be extremely unhelpful to women who are struggling with their body image or weight issues."
However, a new initiative is attempting to help solve the problem and create standardised sizes in the UK. A nationwide survey, sponsored by six major retailers and involving leading universities, is aiming to measure 30,000 adults via an app. Users upload two photographs of themselves and submit basic personal information including age, weight, height, gender and ethnicity in order to create a database for retailers, which they can use to update their sizing charts.
Richard Barnes, CEO and founder of the research company which is leading the project, tells BBC Three: "We understand the frustrations of customers regarding variation of sizes among different retailers. It would be difficult for retailers to have universal sizing across the board, but through the project we aim to allow retailers up to date data on their customers' body shape and size."
In the meantime, the tweet is a helpful reminder not to stress over what clothes size you are, or to worry if you're not fitting into your usual size at a different shop.
"I think that clothing stores need to make the sizes more consistent because women are being made to feel larger than we are," says Chloe. "Most high street stores target young women and the social pressures on us are hard enough without worrying about jean size."