N/A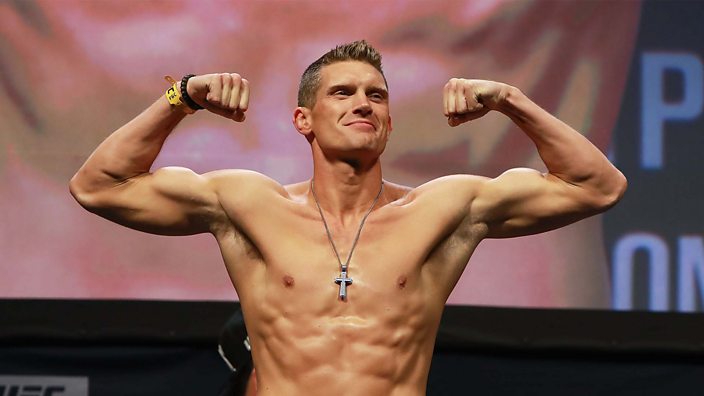 Getty Images
UFC Liverpool: 'I'm going into enemy territory - everybody's going to be booing me'
Stephen 'Wonderboy' Thompson expects Liverpool fans to be "on another level" for his bout with Darren Till
Two-time welterweight title challenger Stephen 'Wonderboy' Thompson is preparing to step into the lion's den when he faces Darren Till in the main event of UFC Liverpool on 27 May.
Thompson is known as one of the classiest operators in the sport, and is a popular figure with fight fans wherever he competes.
But the American knows that he's going to be arriving on Merseyside as the bad guy, despite his clean-cut image.
"I hear the Liverpool fans are really passionate about their fighters and about this sport, so it's going to be a pretty cool experience," he recently told Submission Radio.
"It puts a smile on my face that, hey, I'm really not a bad guy, but I'm gonna be a bad guy this time. I'm going into enemy territory, everybody's going to be booing me, and it's funny ... I'm going to go out there and do what I've gotta do."
Thompson, who hasn't competed outside of North America so far in his career, says he's expecting a red hot atmosphere in the Echo Arena when he steps into the octagon to face hometown hero Till.
"I fought in enemy territory before – I guess you can call it that," Thompson explained. "I fought Rory MacDonald in Canada, but I think the fans are going to be on another level in Liverpool.
"Darren Till, he talks, he backs it up and he's an awesome athlete. So it's kind of understandable that [the UFC] are going to be pushing Darren Till. Is it smart to have them push him against someone like me? I don't think so. I don't think that's a smart plan."
And while Thompson says he feels the undefeated Brit isn't on his level, he's training for the bout as if he's preparing to face a world champion in a title fight.
"Everybody in the UFC has the potential to beat you," he admitted. "It doesn't matter if they just got to the UFC, or if they've been there and they're in the top five: everybody has the opportunity to put you out, to put you away.
"So me going out there to Liverpool, I'm not taking this guy lightly one bit at all. I'm training as if I'm fighting for the title against Darren Till."
Both Thompson and Till have 17 bouts to their name, but so far Thompson has operated in higher company, having fought against ranked opposition for the past three years.
Two of three blemishes on Thompson's record came against reigning UFC welterweight champion Tyron Woodley. 'Wonderboy' fought 'The Chosen One' to a draw in their first meeting at Madison Square Garden at UFC 205, then lost out via majority decision in the rematch at UFC 209. Thompson had previously only lost once in 14 fights (against Matt Brown at UFC 145 via unanimous decision).
Most recently, Thompson returned to the win column with a unanimous decision win against Jorge Masvidal at UFC 217, and the American says he's in shape and ready to claim another shot at the UFC welterweight title.
BBC Three spoke to Darren Till in March this year.
"I think Till is going to come out very dangerous," Thompson has suggested. "I think he's going to pressure, I think he's got to put on a show in front of his people, in front of his hometown. So, you know, he's going to be money on that day, so I'm definitely prepared for that.
"I'm not giving up on that title, but [first] I've got to go out there and put on a show 27 May, man. He's my next opponent, I want to fight him as if he's got the title."