N/A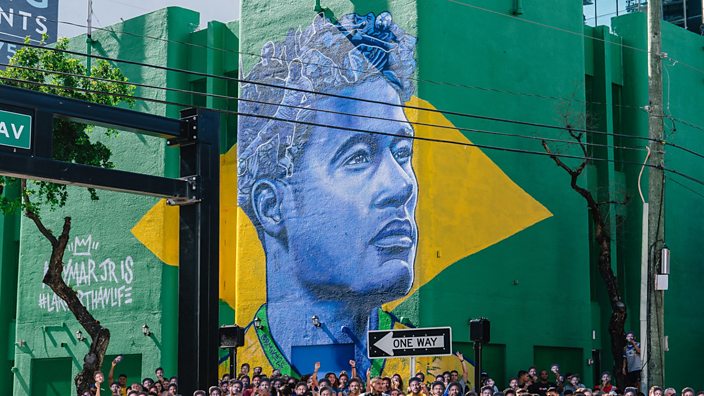 Bleacher Report
These World Cup murals are literally a work of art
Graffiti, murals, and India's secret love for South American teams
All aboard! The World Cup hype train is running at full-speed.
As excitement builds, so does the expectation of the competing country's fans. And what better way to show your sporting idol how much they mean to you than by creating a great big artistic tribute to them?
Yes, all over the world, murals of the tournament's biggest players are popping up, including ones of Messi, Salah, and Neymar. This might not come as much of a surprise, but the locations for some of the pieces of art may well do. It's not just the home nations that are backing the players.
Who'd have thought a small town in Russia would feature a masterpiece with Messi? Or hidden under the countless billboards of Times Square, you'd find a patch of wall with Mo Salah on it?
Behold some of the best artistic tributes to players at this year's World Cup.
Messi in Bronnitsy, Russia
A huge Lionel Messi skilfully painted across a five-storey residential building towers over a main road in the small town of Bronnitsy, located near the capital Moscow.
"When I was painting Messi, I was painting a legend of my time," artist Sergey Erofeev said after completing his Mess-terpiece.
Argentina are currently training in Bronnitsy and the Russian artist hopes Messi will spot his work during his travels in the country.
New Orleans-based artist Brandan Odums crafted the 10,000-square-foot image of the Brazilian maestro, capturing him in a focused expression in front of the bright green and blue of his national flag. Odums has actually painted three murals (see the others below) in conjunction with Bleacher Report ahead of the World Cup. 
So why Neymar in the sunshine state? 
"When you think about an American city like Miami, you think about the colour, the energy, the deep South American roots.," Odums said. "It just becomes a perfect canvas for a portrait of Neymar."
When he was painting the piece people who passed by would let him know just what they thought of it. "There were people who were excited and screaming, 'Go, Brazil!'" Odums added. Though he did acknowledge that there were a few people who weren't impressed by the star. "They would scream out what team they were fans of," he said. 
Brazil and Argentina in Kolkata, India
Paintings of Lionel Messi, Neymar, and Philippe Coutinho are scattered across the streets with Brazilian and Argentine colours making you question whether the images you're looking at are in South America or in India.
This all might seem a bit random, but it all started when Brazilian legend Pele played in a match at a Kolkatan cricket ground in 1977, with Argentina's Diego Maradona following suit soon after, starting a love affair between the western Bengal city and South American football.
"I don't smoke or drink. I have only one addiction, and that is Lionel Messi," said Kolkatan teashop owner, Shib Shankar Patra, who painted his three-storied building in Argentina's blue and white colours.
Local college student, Asit Ganguly, added: "For a month, it's like a carnival with people wearing jerseys, watching matches together, and discussing it the next day."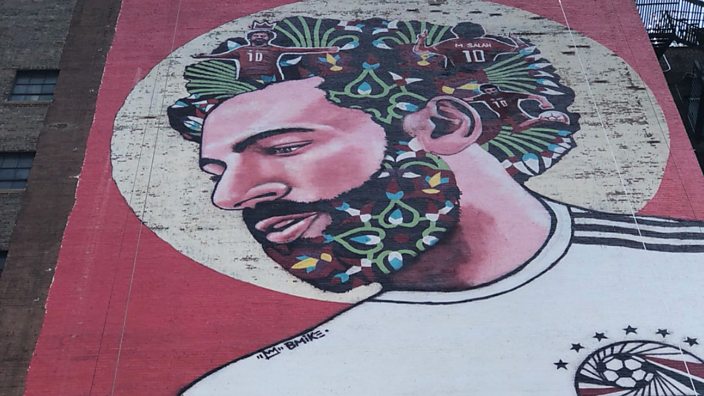 Amongst the bright lights and commercial adverts in New York's Times Square, you'll find a patch of brick wall with none other than the unofficial king of Egypt painted on it.
Mohamed Salah's humble expression has been etched on the wall with Egyptian patterns weaved into his hair, but judging from his reaction to the piece, he isn't used to seeing himself in art form.
"For me as a footballer, it's something different to see myself anywhere in street art," Salah said.
The artist behind the piece, Brandan Odums, who also crafted the Neymar mural in Miami, and Pogba artwork in his hometown of New Orleans (see below), said: "I wanted to show what he's celebrated for, so there's a lot of shots in his hair (of him) playing soccer."
Messi and Salah in Kazan, Russia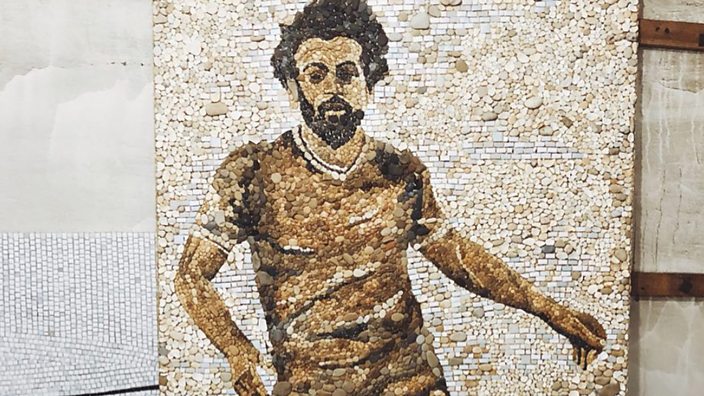 A group of Russian artists have crafted a pair of unique mosaics in honour of Lionel Messi and Mohamed Salah by painstakingly applying tiny stones to craft images.
Anna Solnechnaya was one of the artists who collaborated on the pieces, and although Messi and Salah won't be playing in Kazan during their time in Russia, she still wants to be a part of the World Cup buzz.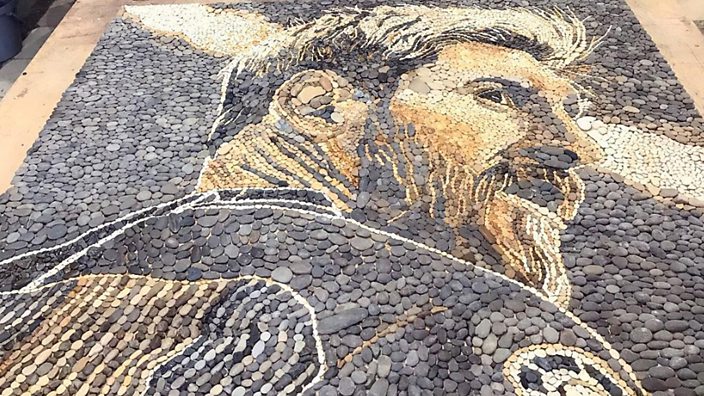 "These are our legendary footballers," Solnechnaya said. "Icons of the sport, admired stars: Messi and Salah. We chose them because they have gained a lot of popularity right now.
"They are not coming to Kazan, but we'll have a lot of fans here who know them and who would like to see them, take pictures of them, and our entire team did it for exactly that."
Ronaldo and Isco in Moscow, Russia
Moscow is probably the place to be as the World Cup unfolds over the next few weeks.
The city is currently hosting the 'Multi-coloured Moscow' festival in the city's Sokolniki Park, where breakdancers and street ball competitions regularly take place, along with graffiti artists who have a chance to show off their skills. This year, they've decided to focus on the World Cup, and players such as Portugal's Cristiano Ronaldo and Spain's Isco can be found etched on canvases.
Pogba in New Orleans, USA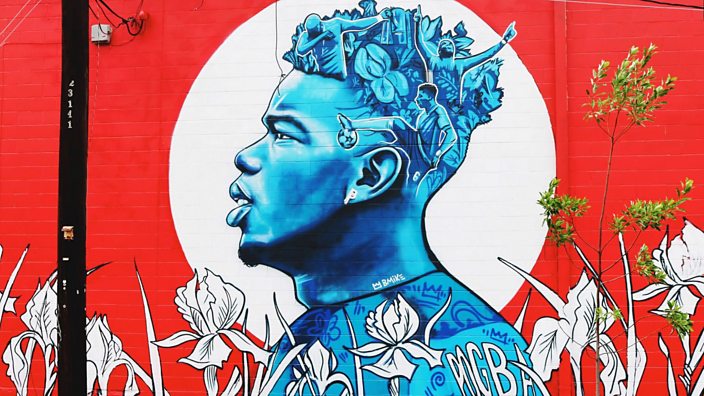 Artist Brandan Odums returned for a hat-trick when he crafted another masterpiece, this time in New Orleans featuring French superstar, Paul Pogba.
"Football and art, I think it's the same," Pogba said in an interview with Bleacher Report.
The piece is constructed around the colours of the French flag, and incorporates some of Pogba's iconic celebrations weaved into his hair.
"He (Pogba) uses his hair as his own canvas," Odums said, who also painted French lilies along the base of the image.