N/A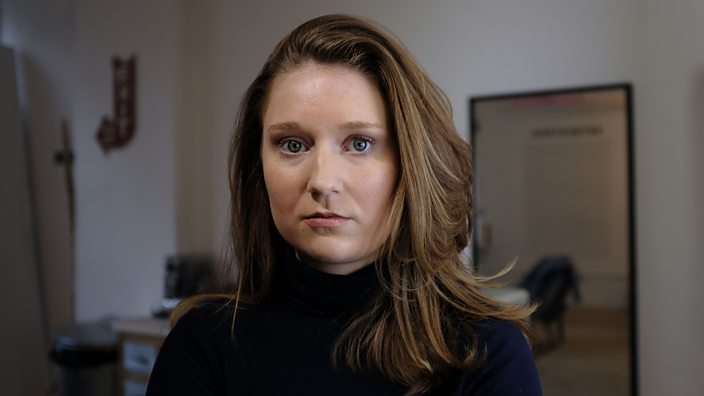 BBC / Wonderhood Studios / Emeka Onono
My 'terrifying' run-in with Donald Trump's Twitter
What happens when a private citizen gets caught up in Trump's social media?
Warning: this article contains graphic language. 
"It was truly just one of the darkest moments of my life."
When Lauren was 18 she went to a campaign event in her home state of New Hampshire.
It was October 2015 - towards the beginning of the presidential election cycle - and she was fascinated by politics.
She'd had the chance to meet many of the people running, from Democrats like Hillary Clinton and Bernie Sanders to Republicans like Marco Rubio. She'd even volunteered for a while with the Jeb Bush campaign - one of Donald Trump's Republican political rivals - as a chance to learn more about the political process.
At the event, Lauren - who now considers herself to be more left-wing - was especially looking forward to asking Trump about his record on women.
"Maybe I'm wrong but I don't think you're a friend to women," she said to the candidate in front of a boisterous audience.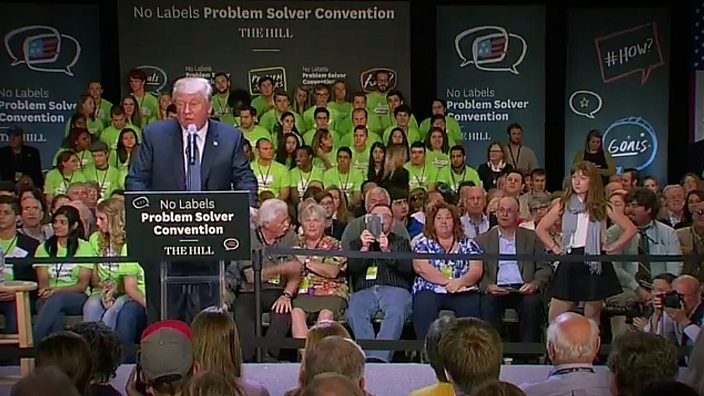 "I respect women incredibly," the candidate replied. "I have had women working for me in… so many different jobs.
"I have a daughter named Ivanka and a wife named Melania who constantly want me to talk about women's health issues because they know how I feel about it. And they know how I feel about women.
"I respect women. I love women. I cherish women."
Lauren took the mic again and added: "I want to get paid the same as a man and I think you understand that.
"So if you become president will a woman make the same as a man and do I get to choose what I do with my body?"
"You're gonna make the same if you do as good a job," Trump said. "And I happen to be pro-life."
After the exchange, Lauren felt like she'd achieved her goal - and then didn't think much more about it.
"I had asked questions of candidates in the past and so I just didn't think this was anything out of the normal," she says. "I just thought it was another day."
However, the back-and-forth ended up getting a lot of attention in the media and online. The next day, candidate Trump tweeted about her.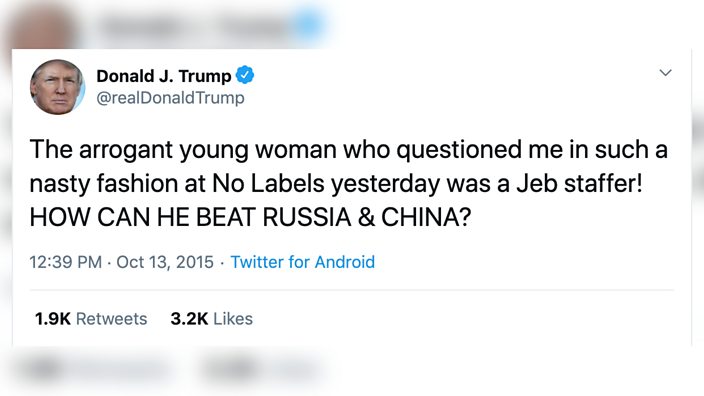 Lauren - who appears in a new BBC Three documentary, Trump in Tweets, about how the US president came of age on Twitter - says seeing the tweet about her was like an "out-of-body experience."
"I just never in a million years expected that this would ever become a thing," she says. "I'd come there to ask a question and, naively, I never expected that was the way it was going to go.
"The second the tweet came out everything really piled on."
Both Lauren and the Bush campaign deny she was a plant. But very quickly she was bombarded with hundreds of menacing, violent and sexual messages on social media. Some threatened to rape or kill her.
"I remember a woman messaged me on Facebook saying, 'I know where you live. I'm going to smash your head in and I'm going to pee all over your dead body.'"
Another person left a sexually aggressive voicemail on her home phone number, which had been spread on the internet, and someone even sent a box filled with excrement to her home.
Lauren, herself a victim of a sexual assault, says it all had a big impact on her mental health.
"I definitely had a constant fear of, 'is someone behind me?'
"There wasn't an end. There was no expiration date.
"When I thought it was over I would open my messages and there would be 100 more. It was awful."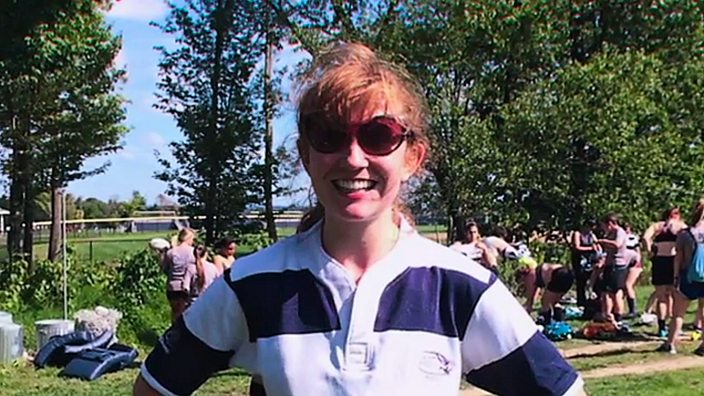 Things got so bad that Lauren considered dropping out of university. "To suddenly go from a private citizen to a public figure, it's absolutely terrifying," she says in the documentary.
Years later, Lauren still finds herself looking over her shoulder. "Trauma doesn't follow a stopwatch," she says.
But she is passionate about talking about online bullying and the impact it can have on a person's mental health.
Lauren says that reading about Monica Lewinsky's story, in particular, and her anti-cyberbullying campaigning was a source of comfort. 
"She was almost my support system because I think when you go through dark times the only way to get through it is for someone to say, 'Oh, me too.'"
Monica Lewinsky, a former White House intern who had a relationship with President Bill Clinton, has regularly spoken out about cyberbullying.
"I think that social media companies are not doing enough," Lauren says. "I think that people in power are not doing enough."
Lauren says she doesn't feel any lasting anger towards President Trump or the people who harassed her - but she hopes they can change for the better.
"You cannot heal when you're angry.
"I think in order to truly move forward I had to forgive all these people.
"I think that Donald Trump can change and that's really my hope."