N/A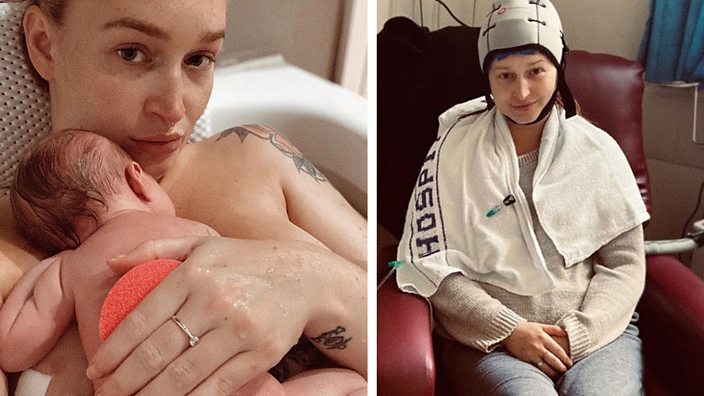 Instagram / emmyrhiannon
'I found a lump in my breast when I was 28 weeks pregnant'
Emmy, 29, is a beauty therapist and make-up artist from Frome, Somerset. She was diagnosed with breast cancer while pregnant and she's been sharing the difficult steps of her journey on social media ever since, in the hope that she can help other young mums going through illness and childbirth.
Last night when I was washing my hair I pulled out clumps and clumps from my head. My hair's a lot thinner and patchier now.
And towards the last two cycles of my chemo I've lost my eyelashes and my eyebrows, too, which I've found particularly hard. Nothing really prepares you for that feeling.
It's just this thing of looking in the mirror, getting a glance of myself and not really recognising the person that's there.
I'm a make-up artist and until recently I ran a beauty salon, which I've had to close down because it's all too much for me to manage.
But what I'm passionate about is making people feel as comfortable as possible in their own skin. So losing some of my hair and my eyebrows has been hard. Your whole face is made up of structure from your eyebrows - and your eyelashes really do enhance your face.
I now have to wear more makeup to make myself look human.
Not only am I a new mum trying to navigate my way through the feelings of still wanting to be who I was before the pregnancy but now so many more things have changed in my life. I feel a great sense of loss about my identity.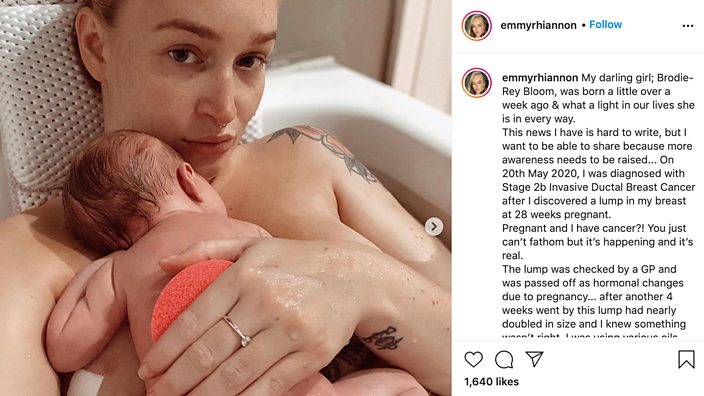 I first found a lump back in May, when I was in the bath. One day it was just there. It took me totally by surprise.
Within a few days I decided to go and get it checked out. But unfortunately, because of the Covid pandemic, the woman who looked at me had on full PPE and she didn't really examine me at all.
She told me to go home and put cold cabbage leaves on my chest and said the lump was due to hormonal changes because of my pregnancy. I went away believing her because you just do, don't you? You take what experts say as important.
Over the course of four or five weeks this lump had pretty much taken up the top of my whole breast.
It was just growing and growing so I really needed to get it checked again. I called the doctor's surgery back and they got me into my local breast clinic within 24 hours.
They did a biopsy there and then because they could see something wasn't right. They scanned my underarm as well.
I was in complete and utter shock. It was like the floor had been removed from beneath my feet.
When you're pregnant you just feel like you have this kind of invincibility and like nothing's going to harm you or your baby. To think that I had breast cancer while I was pregnant, I'd never even heard about such a thing.
'Cancer takes away your choices'
My daughter, Brodie-Rey, was delivered three weeks early via induction and I was able to breastfeed her only once.
Being able to do something so natural and not having cancer take that away from me was the most peaceful, beautiful moment I can remember in all that whirlwind.
But the next day doctors gave me some medication to stop my milk coming in, so I couldn't breastfeed after that.
I recently finished my last chemo round and I'm recovering at home and resting as much as possible. I'm about a third of the way through my treatment and I'm due to have surgery in four weeks. 
I'm feeling quite wiped out. It all takes its toll.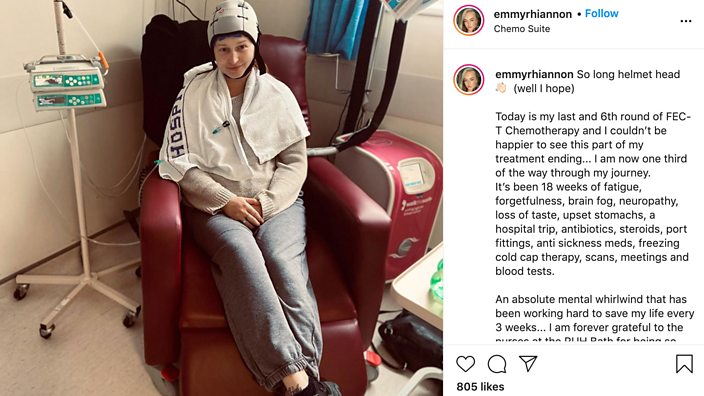 Having breast cancer has meant I don't have many choices and I don't get to make many decisions.
I was told my treatment schedule, when my baby would be delivered and that I wouldn't be able to breastfeed. And I was put into an induced menopause to protect my ovaries from chemotherapy.
Now if my ovaries don't wake back up after the chemo then I might have lost my fertility. It's just another thing that cancer has potentially taken away from me.
I don't like looking in the mirror at the moment. It's something I try not to do.
I've been wearing these magnetic eyelashes, though, which are quite funny. I wear them when I want to make myself look really presentable and when I'm going "out out."
I've also found an amazing brow pencil that you can use to create the look of hair strokes. All these little products have helped me along the way to regain some of what I've lost.
And throughout my pregnancy and treatment I've been supported by so many amazing groups, like the Triple Negative Breast Cancer Foundation and Mummy's Star.
'I feel like the luckiest woman alive to have my daughter'
I didn't really know how I was going to feel being a new mum - but it's something I'd dreamt about for a very, very long time. So I couldn't believe this was all happening at what was supposed to be the most beautiful time in my life.
I was wallowing for a while thinking, "why me?"
But looking at my daughter every single day has brought me an incredible feeling of luck. If I didn't have her now I might never have had children.
I feel like the luckiest woman alive to have her in my life. She is such an amazing, incredible light in all of this.
And I think my cancer has deepened our relationship because she's going to grow up and realise how important she was.
She's the happiest little girl in the world and she's so smiley. I think she's smiling way before she should have been. She just completes me.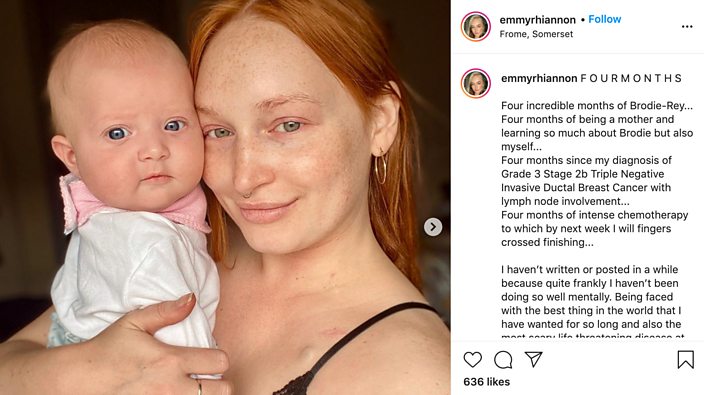 I would absolutely encourage all other young mums, even during the pandemic, to pressure their doctors into getting seen.
When I was turned away the first time I felt like I wasn't really listened to. So with Covid restrictions getting tighter again you just have to trust your intuition and your instinct.
If something doesn't feel right, you must go back and you must push and push to be seen.
I have a very fast-growing, aggressive cancer, so who knows what kind of position I would have been in if I didn't trust that something didn't feel right?
This is something that is killing young women.
It's so important that we check our breasts and sign up to monthly reminder services. Early detection is so important.
Cancer is one of the most horrendous things anyone should ever, ever, ever have to go through but I've been sharing my story on Instagram to raise awareness and to hopefully help other people.
Lots of women have come to me saying they've been newly diagnosed because my story has made them check their breasts, which is all I've ever wanted.
In a statement, a spokesperson for the doctor's surgery told the BBC they are unable to comment about this particular case due to patient confidentiality, but added: "We are sorry to hear about the experiences that you describe [and we] will want to share learning from this incident fully to improve the care of all our patients."
Sources of support related to cancer can be found on the BBC Action Line here.
Find out how to do a breast examination here.