N/A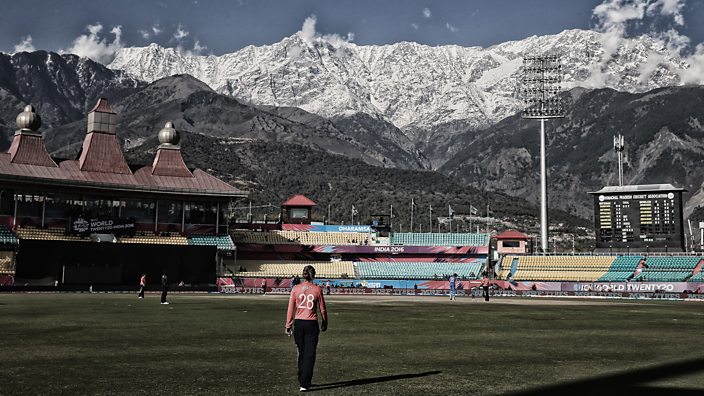 Getty Images
10 of the world's most beautiful sports arenas
Michael O'Neill's Northern Ireland completed an incredible feat on Monday night when they beat the Czech Republic to go five wins in a row and move even closer to World Cup qualification.
However an even more remarkable thing happened off the pitch...
Sometimes sport can be beautiful. And we're not just talking about the undeniable glamour of Jonny Evans scoring in front of the home crowd.
It's not the first time the surroundings of a stadium eclipse the sports taking place on it. Here are 10 of the world's most jaw-dropping sporting arenas...
1. Estadio BBVA Bancomer, Monterrey, Mexico
It's no wonder. We haven't seen anything so attractive anywhere near a footballing arena since David Ginola retired.
The Bancomer AKA the Estadio de Futbol de Monterrey, is the largest and most modern football stadium in Mexico. It was only completed in 2015, just in time for C.F. Monterrey's 70th anniversary...
Ironically, it's not actually located in Monterrey, but in nearby Guadalupe.
2. HPCA Stadium, Dharamsala, India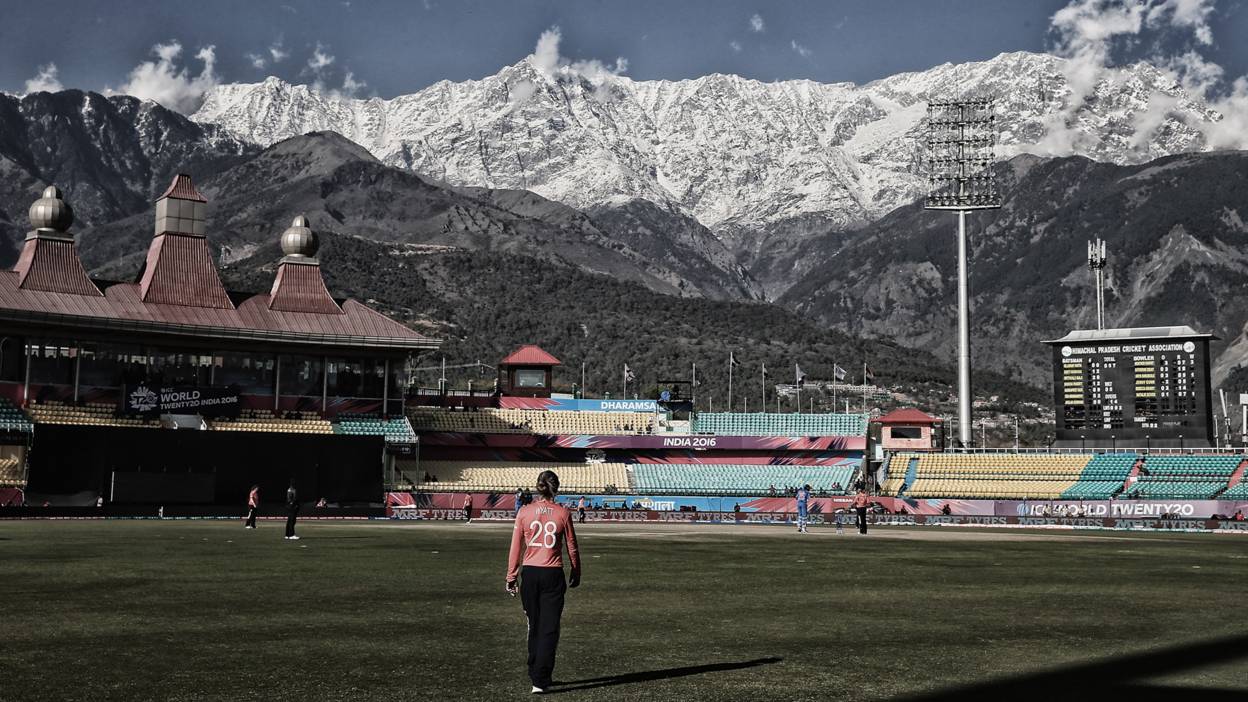 Getty Images
Himachal Pradesh, where the Dalai Lama of Tibet has his headquarters – is also home to those lucky swines the Himachal Pradesh cricket team and has also hosted some international matches too…
A lovely spot, but not the easiest of spots to get to, and heavy snow and rain in the winter occasionally getting in the way of regular play.
3. Big Sky Golf, Pemberton, Canada
Yeah, that's right, 'Big Sky Golf'. The most North American thing you've ever heard. How could you not just wander round having lofty thoughts and ambitions, marvelling at the overwhelming grandeur of mother nature at Big Sky Golf Club!
4. Estadi Comunal D'Andorra La Vella, Andorra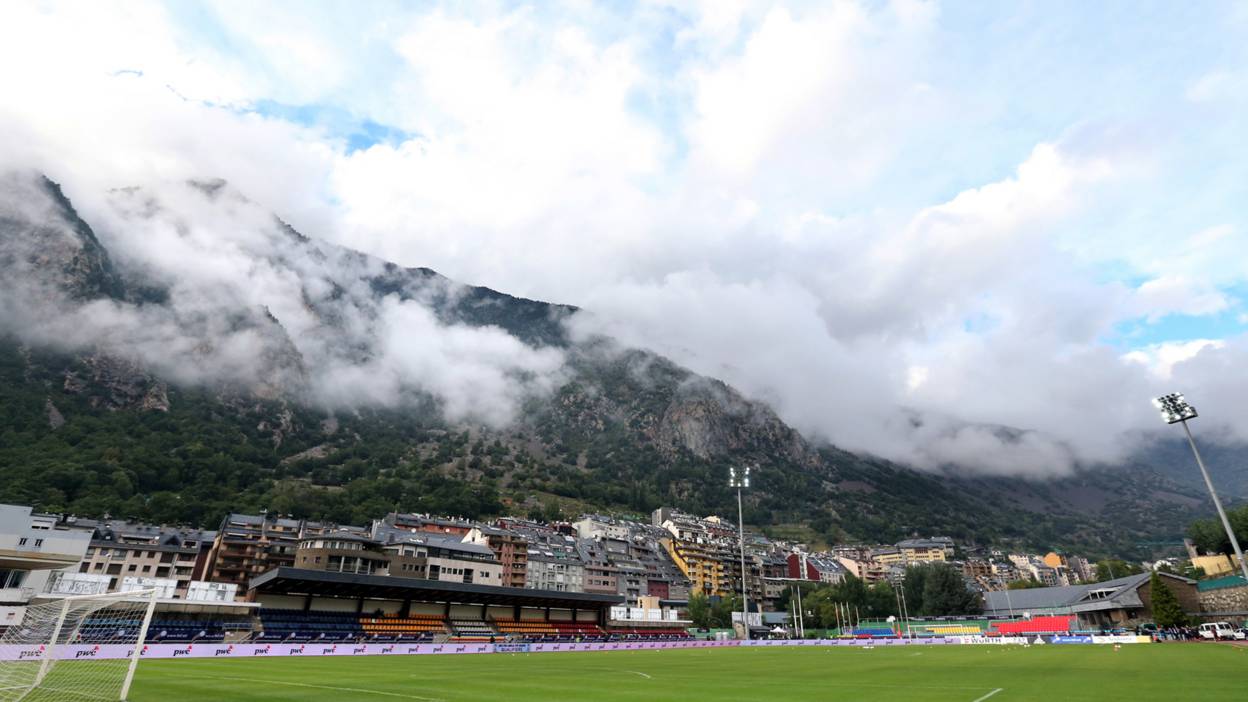 Getty Images
The Estadi Comunal D'Andorra sits snug in the Pyrenean Mountains, between Spain and France. It has a capacity of 1300 so don't expect a raucous atmosphere, but just look at it!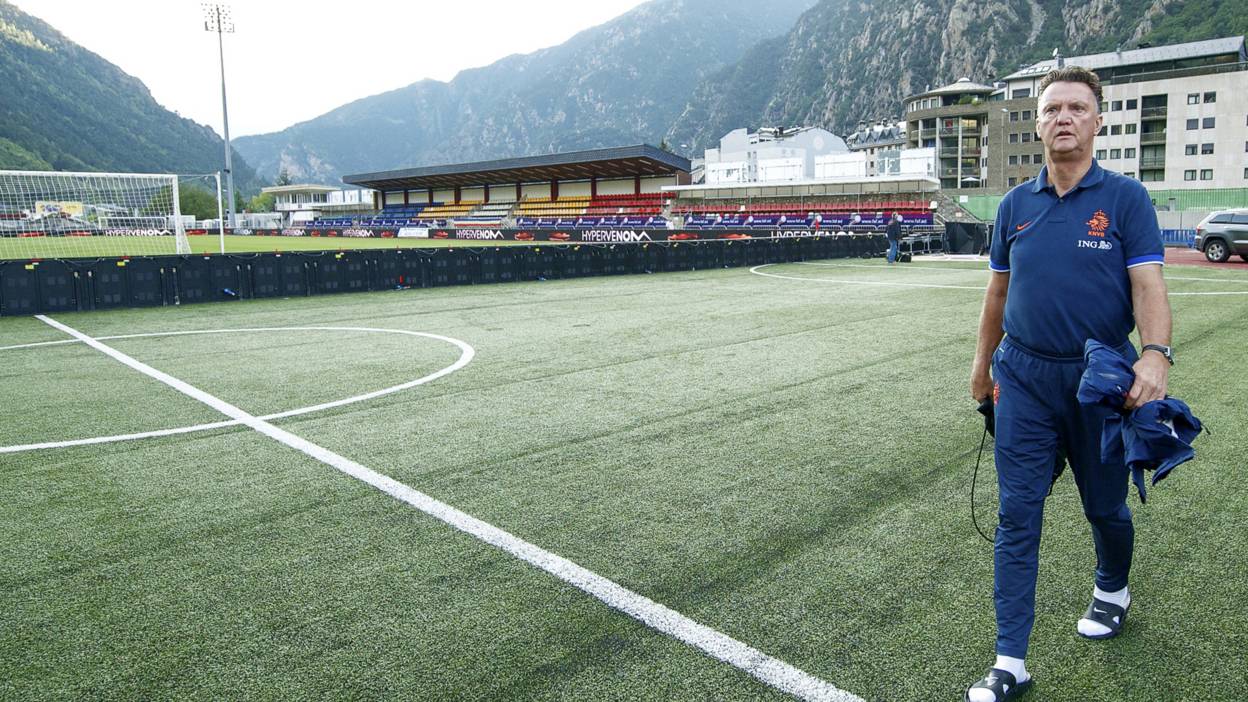 Getty Images
Not even the sight of LVG wandering around its environs in socks and sandals, trying to remember what he came out the house for can spoil the view…
5. Queenstown Event Centre, New Zealand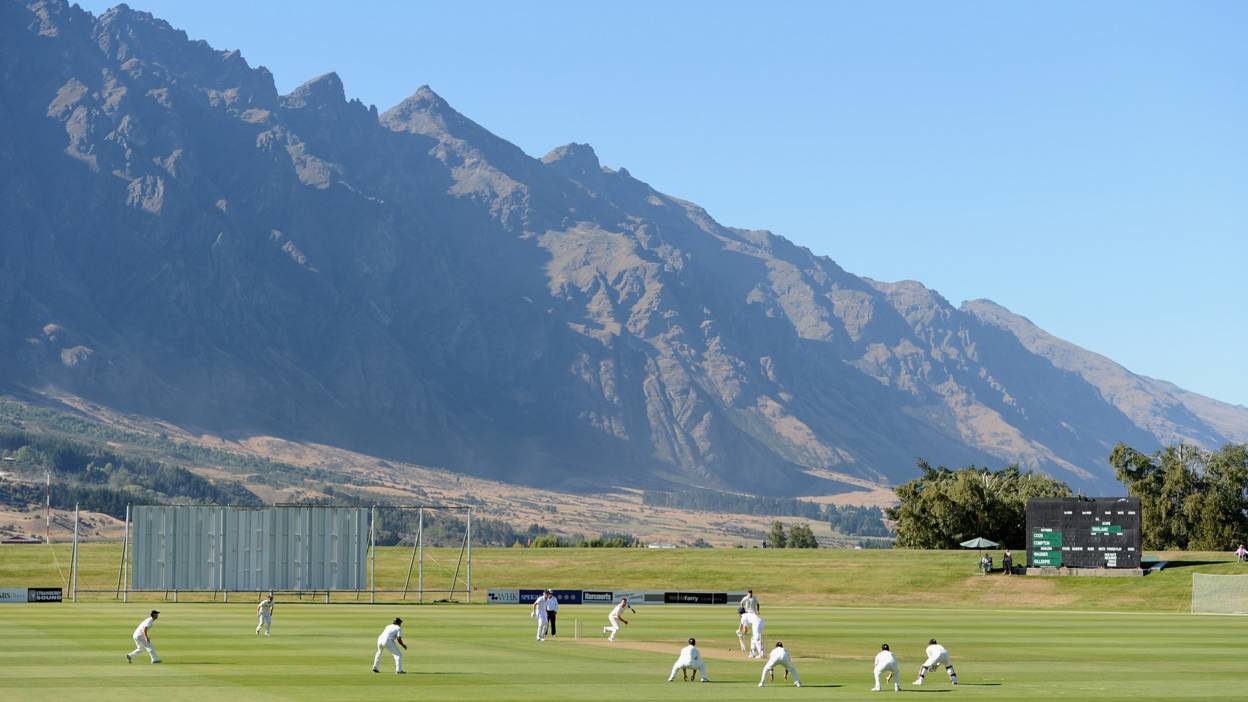 Getty Images
One of the most outstanding international cricket venues in the world, laying at the feet of 'The Remarkables', which is neither the name of a DC Comics band of super-heroes, nor an erstwhile league-winning Arsenal side. It is in fact a mountain range – and one that deserves the name.
Also the setting for New Zealand's Corey Anderson to set the record for fastest One Day International Century, which he did in 36 balls in 2014. Frustratingly for him, South Africa's AB de Villiers broke the record in January 2015, reaching his century in just 31 balls.
6. Stadion Gospin Dolac, Croatia
It seems like the whole of Croatia was designed with Instagram in mind, so it should be no surprise that the country hosts this straight-out-of-a-dream football stadium on the Croatian/Bosnian border.
Built into a natural valley in the late seventies, the Gospin has a capacity of around 4000, but - and disclaimer: we're definitely not suggesting you'd do this as it would no doubt be incredibly dangerous- we're betting some people have clambered up that natural rockface and enjoyed the action for free.
7. CenturyLink Field, Seattle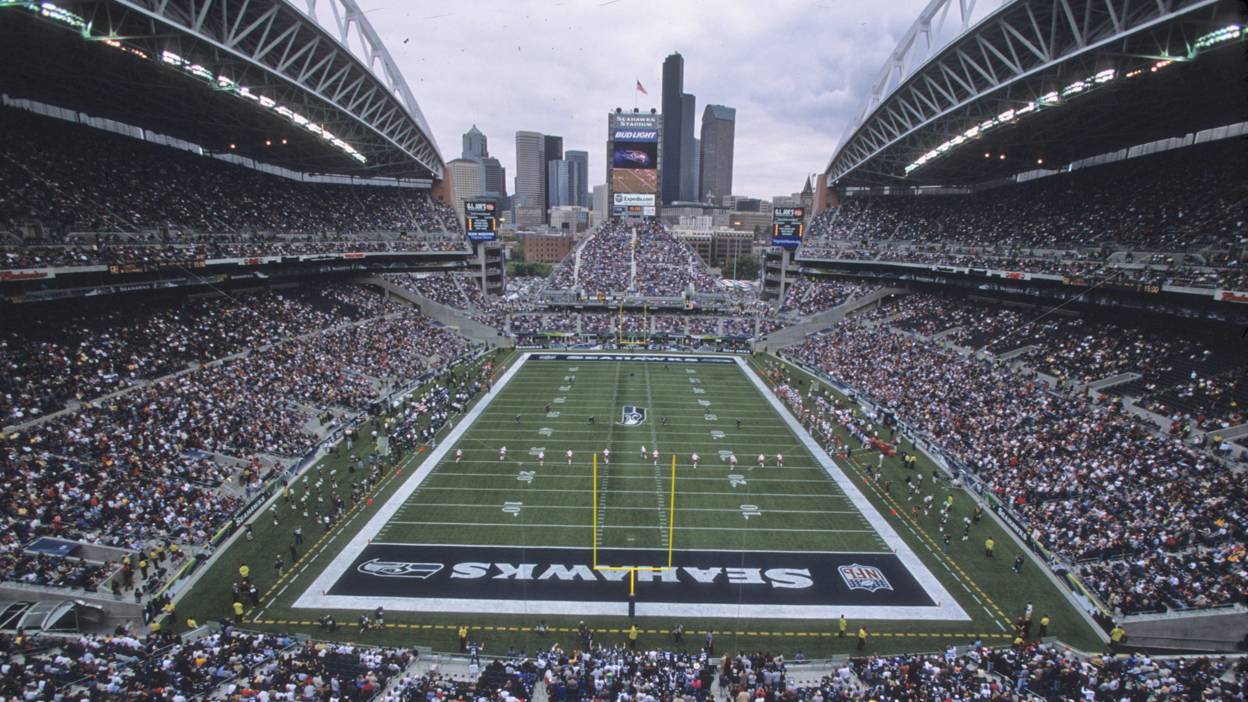 Getty Images
Seattle, where peak capitalism sits beside grunge culture.
The Washington State city is also home to the American football team, the Seattle Seahawks.
CenturyLink Field, where the Seahawks play, perfectly frames that skyline popularised by Frasier in the nineties. It's also a notoriously raucous venue – the place has twice held the Guinness World Record for loudest crowd roar at an outdoor stadium.
8. The Floating Stadium, Singapore
The real heroes here are the ball-boys and girls at The Floating Stadium, Singapore, who must have to perform some amazing feats of athleticism and aquatics in order to keep stoppage time at a minimum when balls go out of play.
9. Hasteinsvollur, Iceland
You probably recognise it as the gaff where (SPOILER ALERT) Brienne of Tarth almost murdered The Hound*, but it turns out they've stuck a footie pitch in there too.
It's a multi-use venue, but chiefly home to Íþróttabandalag Vestmannaeyja, which, as names for football teams go, probably isn't the easiest to adapt into a catchy chant.
10. Circuit de Monaco/The Monte Carlo, Monaco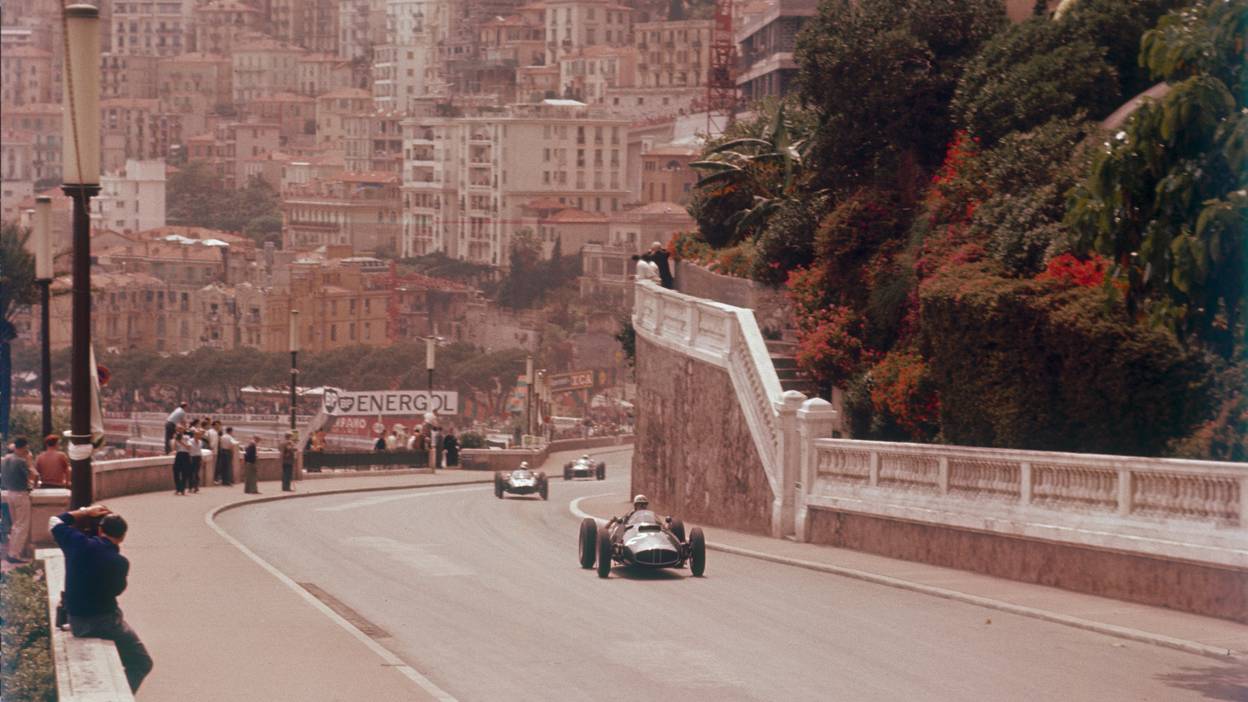 Getty Images
Alright, not really so off-the-beaten track (yes, pun intended) as the other examples, but it would just feel a bit remiss not to include the Monte Carlo in a list of the world's most beautiful sporting venues. As dangerous as it is beautiful, the Circuit de Monaco is synonymous with class and style and, unlike lots of other things – say, a life partner – doesn't seem to get any less beautiful the more you look at it.
Not for the slight of wallet though.
Well, what have we learned?
1. That sports can be really, really beautiful sometimes.
2. That football is better when you put massive big mountains in the background.
3. That we need to get our annual leave booked now...