N/A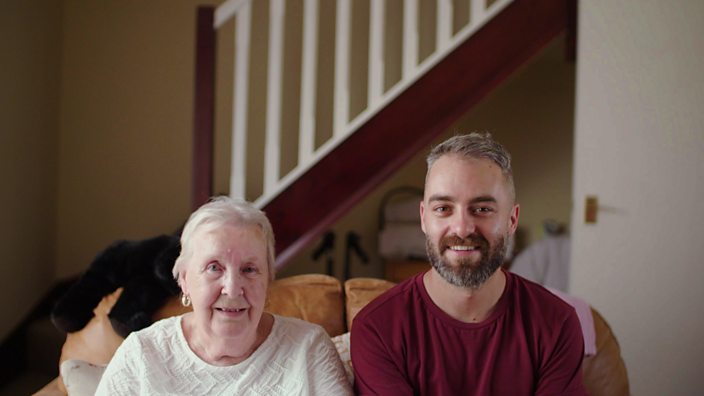 BBC Three / Amazing Humans
This 32-year-old is on a mission to end loneliness
I'm Mike. I'm 32. I'm single. I live with my parents in Doncaster. And I hang out with old people.
Recently, a woman in her 80s told me I'd saved her life. It was the same woman who, when I first met her, had cried to me for two hours saying she'd never felt so lonely. Fast forward a year to July 2018, and Cath was laughing and dancing at a Bollywood-themed party I'd organised. It felt a world away from my former high-flying career in London – but it's a moment that'll probably stay with me forever.
I moved to London in my mid 20s after studying journalism at university. I was so excited and convinced city life was right for me. But after a while, I started to feel isolated. I had friends and colleagues but London can feel like the loneliest place in the world – no matter how old you are.
I ended up going to gigs on my own as my mates were too busy. So I looked for ways to meet new people and a friend mentioned a charity in North London, which matched young professionals with their older neighbours to help one another out. I loved the idea of connecting with someone older who had lived their whole life in London, so I went along and got paired with 73-year-old Mitsi.
I was bricking it on our first meeting and wasn't sure what we'd find to talk about. But Mitsi and I hit it off straight away. She loved rap and hip-hop, and told me stories about how she used to hang out in edgy East London bars with all sorts of characters. Every week, I'd pop in on my way home from work for a cup of tea and, gradually, I saw her confidence grow.
She went from feeling totally cut off from the world, to reconnecting with her friends. And, it wasn't one way: Mitsi also had a positive impact on me. Over the next few years, I changed jobs, flats and girlfriends a lot – but Mitsi was my constant. Mates would give me friendly banter about going to see my "old lady friend" but Mitsi had become my friend. She was really grounding and gave me advice on everything, including break-ups. She also helped me through the death of a close friend.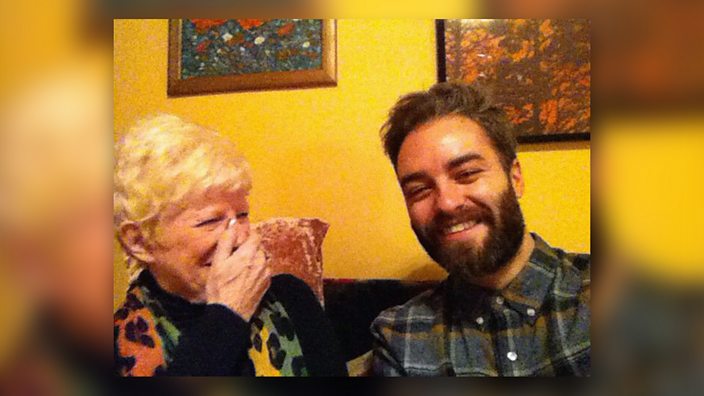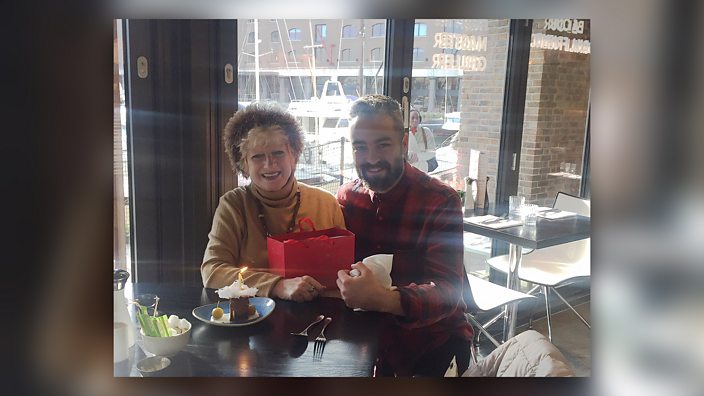 During the summer of 2016, I felt like I'd hit a wall with my career. I'd worked doing social media and marketing for different charities and well-known brands, but I couldn't shift the feeling that I was a small cog and that I had more to give. Then, one day, everything came to a head. It was the day MP Jo Cox was brutally murdered. Reading the news about her death sucker-punched me and that night, I broke down. It might sound extreme but I was feeling increasingly unsettled and I guess the tragedy of that day jolted my perspective. I remember thinking "there's a reason I'm feeling like this; maybe I'm not happy here". That weekend I went home to be with my family – and on Monday morning, I quit my job.
I had no idea what I was going to do. I just felt I needed to be back home in Doncaster – even if I didn't know anyone my age who lived there. I kept thinking about Mitsi. I knew I was passionate about helping people overcome loneliness, so I looked for similar projects to the one in London, but there was nothing. It got me thinking that perhaps I could start one. I contacted national charities for older people, the local council and the NHS for advice. But let's face it, I was just a random guy with no training or expertise in this field.
The reaction was mainly: "Yeah crack on if you want to give it a go". It was disheartening but some people did take me seriously and agreed that if it worked, it could make a huge difference. I just thought if I could find someone like Mitsi who'd appreciate some friendly chat, then that was a starting point. So I decided to go for it.
I moved back in with my parents in October 2016. My mum was really happy but I found it tough at times. Occasionally it would hit me that I was 31, unemployed, single and living with my mum and dad. It wasn't exactly something to boast about and my dating life ground to a halt. But that wasn't my focus at the time.
I'd go out once a month with my mates back in London but apart from that, I just kept my head down, working from my parents' garage to get the project off the ground. When they asked more about what I was doing, I'd say: "It's basically befriending an older person" – and that's where the name, b:Friend, came from.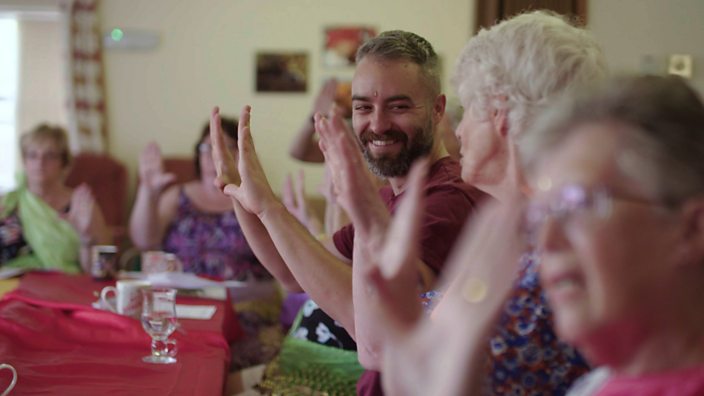 I researched loneliness further - what fuels it and how to treat it. We all have times when we're desperate for some downtime on our own and, yes, research says that's good for mental health. But think about someone who is forced to be on their own, all the time - it's a completely different and often crippling level of isolation. The more I read about the detrimental health effects loneliness has on old age, the more passionate I was about doing something to help.
I did training which taught me how to spot the signs of depression and dementia, and started working with local GPs. They told me they try to prescribe alternatives to anti-depressants for issues such as loneliness. I got referrals though them, and word spread about my service. Within three months, I was supporting 10 people in the area. I built a simple website with a sign-up form for volunteers, as well as a Facebook page, and then posted call-outs for anyone wanting to hang with their older neighbours. I wasn't expecting a big response but the applications came flooding in, so I decided to register the service as a charity.
It wasn't all smooth sailing though. Last November, I thought I'd have to give up. I was helping people, but I didn't have enough money to staff or grow the charity, let alone pay myself. I said I'd give it until January 2018 and then, just like the best Christmas present ever, a month later I was awarded £250,000 of lottery funding over three years. It was a total game-changer and meant I could afford one full-time and two part-time members of staff. Suddenly it felt like we had momentum.
Today we have 50 volunteers and support about 150 older people a week. I've also had interest from other towns in Yorkshire who want to start up something similar. It feels amazing to know I'm making a difference but the issue is so vast – there's always someone else to help.
To me, it seems so simple. Spending an hour a week after work with an older person who's lonely – or even calling them on a lunch break – is nothing to me or you, really, is it? Especially when you realise how much time we spend on social media. But the difference it makes to that person is massive.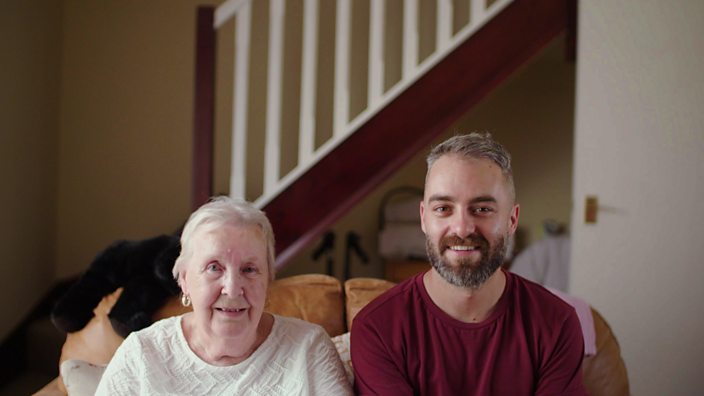 I think some young people struggle to say they're feeling lonely, like I did. But it's remarkable how open older people are about it. People like Cath, who get to a point where there's just no other word for it, and say: "I'm on my own. I am lonely. And I don't want to be." It's nothing to be ashamed of. When we get referrals from young people who feel isolated, I try to get them involved from a volunteer side – and I've seen it help their confidence, too.
Ultimately, I'm passionate about breaking stereotypes. Our social events aren't about bingo and bunting, we do everything from street dancing and cheerleading to wine tasting and film clubs – anything that goes against the clichéd gran and grandad grain. And it's about more than having a quick chat. It's building a meaningful connection with someone over a long time – not just for a few weeks. Some people say things like AI assistants are the solution to loneliness, but I think that's rubbish. This is about an older person knowing someone out there cares and truly values them, like Mitsi and me. Older people have so much to give – and a little time with them goes a long way.
Originally published 14 August 2018