N/A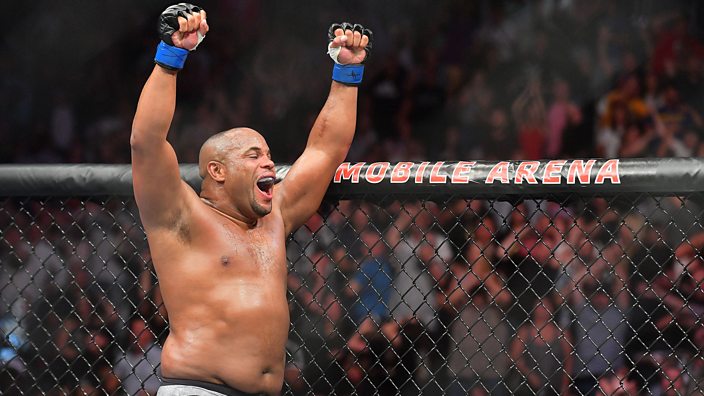 Getty Images
UFC 226: Daniel Cormier knocks out Stipe Miocic, then clashes with Brock Lesnar
FC light-heavyweight champion claims stunning knockout to become a two-weight world champion in Las Vegas, then calls out WWE superstar for his first title defence
Daniel Cormier sensationally knocked out Stipe Miocic in the first round to capture the undisputed UFC heavyweight championship of the world and potentially booked himself into a heavyweight title superfight with Brock Lesnar in the process.
UFC light-heavyweight champ Cormier moved back up to heavyweight to take on reigning champion Miocic at UFC 226 in Las Vegas.
And, after an exhilarating start to the bout that saw both men trade heavy leather, Cormier made the crucial breakthrough in the final minute of the opening round.
The pair clinched in the centre of the octagon and, as Miocic looked to break, Cormier came over the top with a short right hand that landed clean behind the champion's ear, sending him crashing to the canvas.
It meant that Cormier became a two-weight world champion, and gave the former US Olympic wrestling captain the biggest moment of his sporting career.
"I am 39 years old and I've been second many times," he told co-commentator Joe Rogan after the fight.
"But today I have accomplished everything I ever wanted."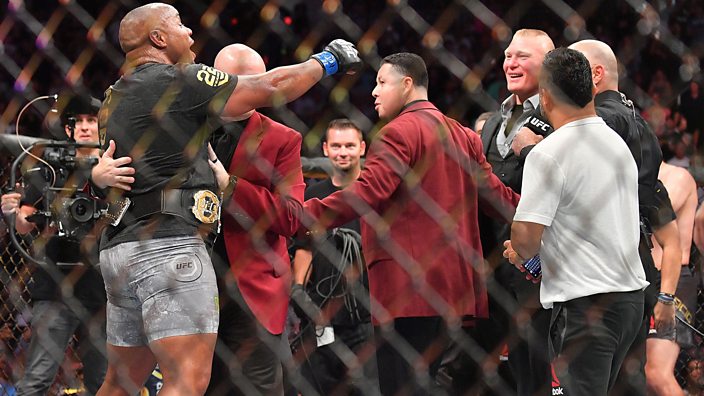 Former UFC heavyweight champion and WWE superstar Brock Lesnar was in attendance at the T-Mobile Arena in Las Vegas to watch Miocic and Cormier do battle for the belt at UFC 226.
And, after Cormier had finished his post-fight interview with Rogan, the newly-crowned heavyweight champion took the microphone and proceeded to cut a pro-wrestling style 'promo' as he called WWE superstar Lesnar into the octagon.
"Now there's a guy who I've known for a long time," he began.
"I never thought I'd get to fight him. He's another wrestler, another All-American. Brock Lesnar! Get your a** into my octagon!"
The pair briefly faced off, before Lesnar firmly shoved the newly-crowned champion backwards.
Cormier grabbed the mic and declared: "You can shove me now and go to sleep later!"
It was pure pro wrestling promotion, but it starts the hype ahead of a potential matchup between the pair, with rumours circulating that they will meet at UFC 230 at Madison Square Garden in New York on 3 November.
Speaking to the press after the event, UFC president Dana White wouldn't confirm the date or the venue, but he did confirm that Lesnar would indeed be Cormier's first UFC heavyweight title defence, saying: "We're definitely going to make that fight."
Ngannou and Lewis deliver a damp squib
The night's heavyweight co-main event between contender Derrick Lewis and former title challenger Francis Ngannou was expected to deliver an exciting clash, and possibly an early knockout finish. Instead it delivered one of the most boring contests seen inside the octagon.
Both men were overly wary of the other's punch power, with French contender Ngannou noticeably backing away whenever Lewis attempted to engage.
The American had some limited success with kicks and at least appeared to be trying to push forward at points, but overall the bout was a crashing disappointment as the octagon was showered with boos from the nonplussed Las Vegas crowd.
Lewis took the unanimous decision with scores of 29-28, 29-28, 30-27, but the victory will have done nothing for his world title hopes after one of the worst UFC fights in recent memory.
Action all the way down the card
While the co-main event proved to be a dud, the fans were treated to a host of exciting bouts further down the card, with a host of remarkable performances and stunning finishes.
Welterweight slugger 'Platinum' Mike Perry and short-notice replacement Paul 'The Irish Dragon' Felder served up an incredible three-round war in their main card bout.
Perry edged the fight via split-decision after a non-stop, drag-out affair, but Felder's coach Duke Roufus confirmed to press row after the fight that his man fought almost all of the fight with a broken arm after sustaining an injury early in the first round.
It was also big night for former UFC lightweight champion Anthony 'Showtime' Pettis, who bounced back from his TKO loss to Dustin Poirier last November with a stunning submission finish of fellow lightweight contender Michael 'Maverick' Chiesa.
And there was a huge shock in the opening bout of the main card, as former K-1 kickboxing legend Gokhan Saki was stopped in just 96 seconds by Las Vegas light-heavyweight Khalil Rountree Jr.
Prelim stars claim big wins
The preliminary card saw a host of decision wins, but there were standout stoppage wins for lightweight Dan 'The Hangman' Hooker and middleweight Paulo 'The Eraser' Costa.
Rising Kiwi star Hooker produced a near punch-perfect performance to stun, then finish three-time Brazilian jiu-jitsu world champion Gilbert Burns in the first round of their lightweight contest.
And Brazilian powerhouse Costa engaged in a wild back-and-forth war with Jamaican-born New Yorker Uriah 'Primetime' Hall.
After finding himself on the wrong end of Hall's rangy jab for much of the opening round, Costa walked down his opponent in the second and unleashed a vicious combination, landing a left hook to the chin, then a powerful right to the body, to finish Hall mid-way through the second round.