N/A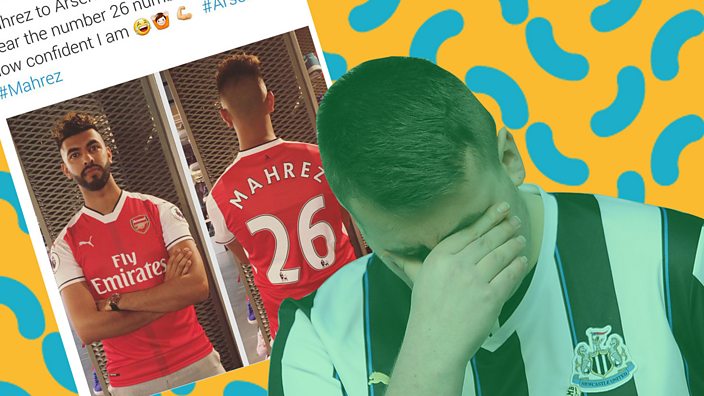 gettyimages
When fans fail during the football transfer window
Imagine getting a tattoo of your favourite player and then he goes and signs for another club. Yeah, that.
So the January transfer window has closed, and fans have quite a bit of transfer news to digest.
And if you're a Manchester City supporter who considered pre-ordering a replica shirt with Riyad Mahrez's name on the back, then you'll feel for some of the prematurely excited fans featured here.
Of course, it's never nice when a star player leaves your team in the transfer window. Especially if you've just paid to have his surname and shirt number permanently inscribed onto your left buttock. Painful. In every sense.
And then there are those moments when when a deal breaks down on the last day of the window, just as you're leaving the club shop with that player's name printed on your brand new home replica shirt. Ouch.
Here are just a few cautionary tales of times when fans jumped the gun before the deals were done. 
No Turkish delight for this Everton fan
After an inauspicious start to the season, the signing of Turkish striker Cenk Tosun from Besiktas spelled new hope and potentially more goals for the Toffees. Shame that, in his excited rush to get that new shirt printed, this fan didn't take the time to check he'd spelt the striker's name properly.
In fairness, the club shop could probably have helped him out.
Arsenal fan in embarrassing moment of cocksure haste pt. 1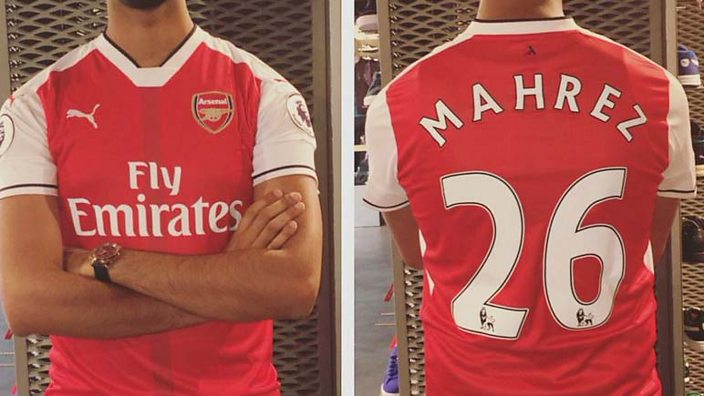 Back in Summer 2016, following Leicester City's famous Premier League title win, one Gunners fan was so sure his team would persuade Foxes star Riyad Mahrez to come to North London that he sent his home shirt off to the printers to get the Algerian's name embossed on it.
For reasons upon which we wouldn't like to speculate, he's since deleted the post that featured him proudly sporting the shirt, but was still keen to make some good out of a pretty bad situation.
Arsenal fan in embarrassing moment of cocksure haste pt. 2
Philippe Coutinho eventually got his dream move to Barcelona this transfer window, after months of speculation.
Phil's proposed Anfield exit was a bit like the Brexit negotiations in microcosm. Negotiations between European officials getting bogged down over the size of the 'divorce bill', and threats of 'no deal' emanating from the UK. Nevertheless, to many, the conclusion seemed inevitable.
Not for this chap in North London though, who clearly felt he knew something we didn't.
In the meantime, Liverpool FC's marketing department were left a little red faced earlier this month after they released the club's official calendar. Any guesses who was 'Mr. January'? Still, they got six days out of him.
At least neither of those Arsenal fans went and got a player's name permanently tattooed onto a body part, before the expected transfer deal eventually broke down.
This Manchester City fan was so sure that City were going to land Kaka in January 2009 that he got the Brazilian's name inked on his chest.
This was back when City were very much 'nouveau riche', having just been bought by Sheikh Mansour in 2008. That summer they splashed out on the likes of Robinho, Vincent Kompany and Pablo Zabaleta - but, the following January, when the club put in a bid of roughly £108 million for the Brazilian playmaker, it was rejected by AC Milan.
Kaka stayed in Milan, with City's chief exec Gary Cook claiming the Italians had 'bottled' the deal. That was little consolation for this poor fella, though. 
That Manchester City fan wasn't the first fan to fall foul of the tattoo artist's needle during a transfer window.
In 1995, this Newcastle fan got a tattoo of his hero Andy Cole, and the ink had barely dried before Cole put pen to paper to join Manchester United for £7 million.
He then managed to turn it into a tribute to Les Ferdinand, who, of course, went on to leave for Tottenham Hotspur in 1997.
At the other end of the scale, this was certainly a new approach to trying to force through a transfer.
To be fair to the lad, when Arsenal did go ahead and sign Lacazette during the summer, he didn't renege on his word. Just a shame that it turned out more like Darren Bent.
P.S in case you were wondering, yes, that is his bottom. Even so, a certain someone appreciated the gesture.
Well, we're glad that all worked out nicely in the end.
In the meantime, though, if we've learned anything here, it's the virtue of patience, humility, and not getting too attached. Players come and go; tattoos don't.
This article was originally published on 30 January 2018