N/A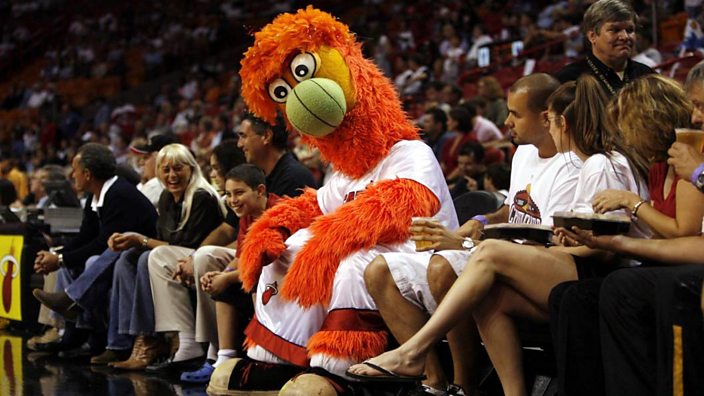 Getty Images
The world's weirdest sports mascots
Team mascots are usually fluffy and loveable incarnations that inspire and entertain the crowds at sporting events.
But some of these strange beasts have taken advantage of their adorable status to unleash their inner badass - veering away from family favourites to choose the thug life.
So, from the dodgiest designs to rebellious troublemakers, here are some of the strangest mascots you'll ever see in sport.
Derby County fans were cheered up during the half time break of a 2-1 loss to Blackburn Rovers when a visiting big-headed fish in a basketball jersey charged on to the field.
The trouble-making sea creature appeared to have an issue with one of the goalkeepers warming up, so of course he gobbled him up and swallowed him whole.
Not fancying his fate as fish food, the reluctant goalkeeper fought his way out of the mackerel with just his underwear to keep him company.
Basketball fan Mackerel Jordan may well have picked up the trick from the NBA.
During a game between the NBA's Brooklyn Nets and Toronto Raptors, one cheerleader appeared to cement her role in the next Jurassic Park film with a convincing performance as she was swallowed whole by the Canadian team's mascot.
No signs of a merciful regurgitation in this instance though.
Partick Thistle's Kingsley
Scottish football team Partick Thistle chose Turner Prize-nominated artist David Shrigley to design what has to be the most frightening mascot in sports.
Shrigley's terrifying vision of Kingsley, the Partick Thistle mascot, is based on the team's American sponsors and was trending worldwide when it was unveiled in 2015.
Managing director Ian Maxwell claimed that at the time it was "the biggest amount of publicity from a sponsorship launch in Scottish football history".
Although others claimed Kingsley looked like "Lisa Simpson after years of mind-bending drugs". Ouch.
Staged or not, this is brilliant.
May it serve as reminder of the perils of not paying attention during 'kiss cam' and that when you insist on taking your girl to the game, be nice to her - else a giant bull might step in and steal her.
This Japanese baseball team Chiba Lotte Marines introduced their new mascot in the shape of a fish with pink lips, green fins, blue skin and yellow scales.
But it also appears to be able to turn itself inside-out.
A mascot for an NBA's developmental league team, The Fort Wayne Mad Ants, was casually watching his team play the Austin Toros when a bat flew into the arena above the players' heads.
The Mad Ant's animalistic instincts automatically kicked in and the mascot stooped to capture the intruder using the team's flag.
Part-time mascot and part-time pest controller.
The Indianapolis Colts' horse mascot, 'Blue,' showed off his moves alongside the NFL's Odell Beckham Jr at the NFL Pro Bowl.
Who knew horses could twerk?
Wolves' Wolfie fights the three pigs
Wolverhampton Wanderers' Wolfie was roaming the field in a game at Bristol City, when the Wolves mascot got into a scuffle with three little pigs, who were only at Ashton Gate on the day to promote a double-glazing firm.
Obviously, Wolfie huffed and puffed, before he eventually exchanged blows with one of the pigs, while Bristol City's City Cat looked on.
Wolves fans chanted "come on Wolfie," as the mascot brawl began, and all were eventually sent from the pitch in disgrace.