N/A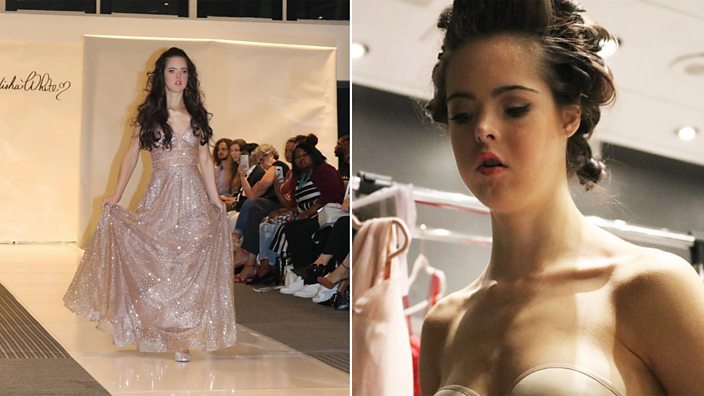 Instagram/@MarianAvilaModel
This model with Down's syndrome is breaking barriers at New York Fashion Week
The fashion world just got a bit more real
It's no secret that the fashion world is lagging behind when it comes to diversity.
And then there's disability. To judge from the make up of most mainstream catwalks and magazine spreads, you'd think that differently abled people didn't wear clothes.
But things could be moving in the right direction, with a new group of talented catwalk models taking part in New York Fashion Week.
Marian Avila, a 21-year-old model from Benidorm in Spain, has Down's syndrome.
"I felt really happy and I really loved the runway," Marian told Associated Press after one show. "I wanted to show the world that there are no barriers."
"I'm studying modelling and to become an actress," she said, adding that she "practises every day" at home.
Marian got the gig after another model saw her story on social media. That model told the American designer, Talisha White, 25, about Marian's dreams, and the two of them got in touch with her on Facebook.
As well as Marian, Talisha featured two other disabled models in her show – wheelchair-user Tae McKenzie from Charlotte, North Carolina, and another young girl who has Down's syndrome.
"I wanted to show not just one type of girl is beautiful," Talisha says. "I like to showcase all types of girls, from pageant girls to models in wheelchairs, models with Down's syndrome, models who are four feet (tall) and told they can never be a model. They are my 'it' girl."
And while the fashion world definitely has a long way to go, this isn't the first mainstream fashion show to feature models with disabilities.
In May 2017, American designer Derek Lam held a show that was entirely modelled by disabled people, working with fashion students and graduates across New York to design the clothes.
He told The Cut at the time: "We are talking about very serious things like diversity and gender and empowerment – but I feel like the conversation never really comes up about a large segment of the population, which is those with disabilities."
And in February that same year, amputee models Kelly Knox and Jack Eyers walked for high-end womenswear brand Teatum Jones at London Fashion Week – the first time models with disabilities had ever appeared at the event.
Earlier this year, Kelly told BBC News that she felt like disability was "the last taboo" in the fashion world.
"Our bodies are not an apology," she said. "We should not feel ashamed or guilty about them. We are not going anywhere, and we deserve representation."