N/A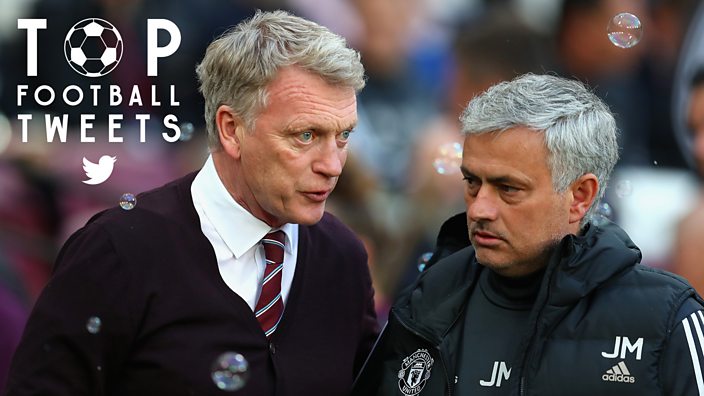 Getty Images
Moyes and Mourinho are being mocked (and it's unrelated to football)
When you fall down there will always be people to point and laugh. Bit mean.
It was the international break this weekend, and we're not sure if England fans like it now that their national team are quite good?
Among the international friendlies, teams competed in the Nations League, which sounds a lot like either a military alliance or a Marvel franchise.
Forget all of that though because, in more important news, David Moyes has been shamed for using transport.
1. How the mighty have fallen, pt. 1
That's the thing with modern football men though, isn't it? They're not detached enough from the ordinary, working people who love the game. 
2. How the mighty have fallen, pt. 2
Yes, that's correct. A man has literally fallen over and football Twitter just can't get over the symbolism of it all.
Perhaps Jose was just trying to topple another record.
3. A new TV format is born
Sergio Ramos got quite a bit of stick from England fans during the match against Spain on Saturday night, which is a pretty remarkable thing in that he seems to be the one thing that could have brought together Liverpool fans and their rivals. 
4. Giving back to the fans
Maybe it's a nice gesture, but a marketing company throwing wads of money from a chopper at football definitely has a slightly end of days feel.
A nice moment as Peter Crouch is reunited with his son at a signing for his new book, How To Be A Footballer.
6. A genuinely touching story
Sometimes, if you can get beyond the cynical money-pumping, cash-being-chucked-out-of-a-helicopter aspect of the modern game, football can still be alright. 
A lesson from the Northern Ireland Football League in playing it on the ground.
8. Absolute scenes in the Tajik cup
That wink to camera at 0:47 has absolutely killed us off. Pure Lucille Bluth.
9. The housing crisis in one picture
Klopp moved into Brendan Rodgers' vacant house when he joined Liverpool and joked last week about meeting his 'landlord'. Who's laughing now, Jurgen?
10. Always a difficult place to travel to
A hostile atmosphere in the top 'flight' of Finnish football.