N/A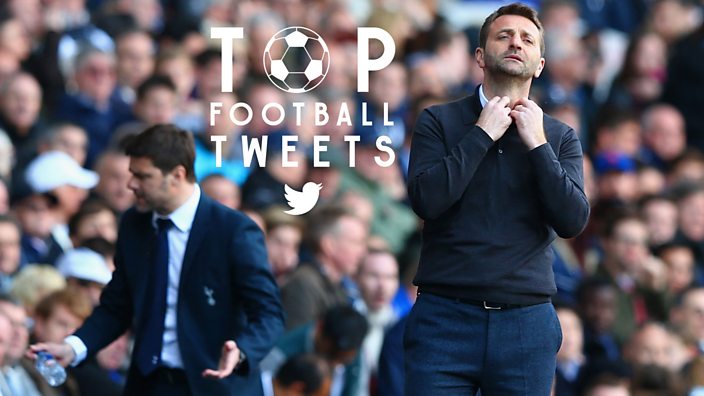 Getty Images
The peculiar Spurs stat that has fans thinking of Tim Sherwood
Meanwhile, there's a 1998 picture of how people thought David Beckham would look in 2020. It's erm, quite something...
It's impossible to deny that as entertaining as this season has been, it's also been very strange and no team sums that up better than Tottenham Hotspur.
It's been a bit of an all or nothing season for Spurs (so far) and the fact that Mauricio Pochettino's men have drawn just one, but lost 11 of their 34 Premier League games so far, has led to some pretty peculiar comparisons.
In case you were wondering, they finished that season in sixth place behind Everton.
Meanwhile, while they lost to Manchester City on Saturday there was of course last week's mid-week game to look back upon...
Spurs aren't the only team to have some strange stats racking up. As Manchester City's title challenge rumbles on, they are creating some ridiculous ones...
Christian Benteke bagged his first goal in almost a year to help Crystal Palace beat Arsenal on Sunday, which is great news if you're a fan of stats and a Palace fan who remembers 1995 all too well. 
4) Nice guys finish first
Barring a miracle (or disaster, depending on how you look at it) Norwich will be back in the Premier League next season.
While most clubs look to create a hostile environment for their opponents, the Canaries are a little more welcoming.
Forget your special Easter roast because Pedro Santos served up the meal of the weekend with this delicious chip for Columbus Crew against Portland.
If only Portland had Adam Davies in goal, maybe he could have stopped Santos' chip.
Luckily for Barnsley, he was in between the sticks at Oakwell to keep the Tykes in the League One automatic promotion spots.
If you've felt like the gulf between the top and the bottom of the Premier League is getting wider this year, you might be on to something.
8) Who defends the defenders?
The honeymoon period is over for Ole Gunnar Solskjaer at Old Trafford and Sunday's 4-0 defeat to Everton was an unfortunate reminder of the problems that have plagued the club since Alex Ferguson retired six years ago.
Phil Jones was signed by Fergie himself to be the next great England defender, but it hasn't quite worked out like that.
Just one game into the second phase of the Scottish Premiership and St. Johnstone have already asserted their dominance as the top dogs in the bottom half of the table.
As they cruised to their fourth win of the season over relegation favourites Dundee, the Saints showed little sympathy for their opponents' struggles.
With more than half of 2019 yet to run, there's still a slim chance David Beckham packs it all in and shows us his true form.
While most fans find it tough to perform away from home, Port Vale are relishing their role as villains, spoiling the home crowd's fun as they have conceded just 17 goals in their 21 away games this season.
But that stellar record on the road hasn't translated to as many points as you might think, with the Valiants languishing down in 19th in League Two.
Well, there's a simple explanation for that...
With just 13 goals scored in those 21 games, it's probably best to give it a miss if you see Port Vale coming to town.