N/A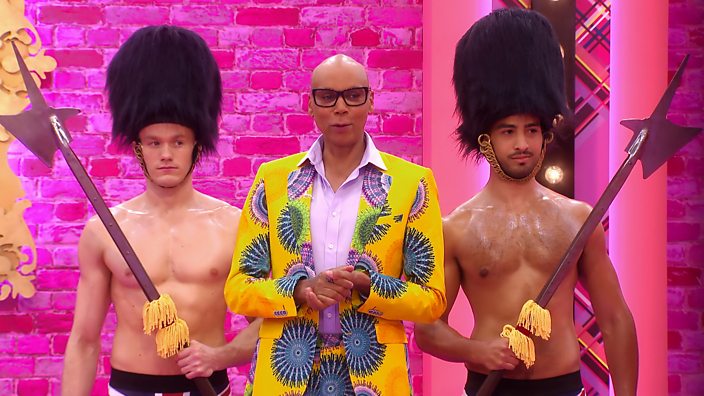 BBC Three/World of Wonder
RuPaul's Drag Race UK: Episode one recap, best moments and fan reaction
And the very first eliminated queen reveals what she would do differently if she had her time again
*WARNING: This article contains serious spoilers for RuPaul's Drag Race UK*
*SERIOUSLY. You have been warned*
The filthy, hilarious, gloriously gay RuPaul's Drag Race UK is finally here. The first ever episode, God Shave The Queens, was made available on iPlayer from 8pm - and it's filled with fresh catchphrases, the new-look Brit Crew and some truly sickening looks. Here's a recap of the week's most shocking moments, all the best fan reaction and a debrief with the very first queen to sashay away.
1. The queen who *isn't* gay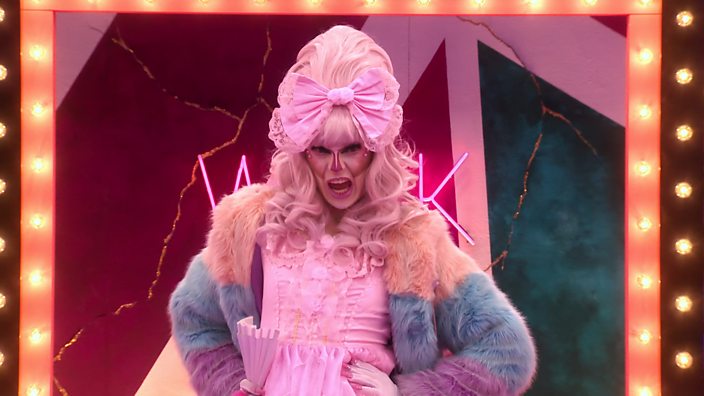 RuPaul's Drag Race UK kicked off in time-honoured tradition, with each queen strutting into the Werk Room hoping to make a splash with their finest looks and funniest one-liners - and it's the first chance we get to meet the queens. Nineteen-year-old Scaredy Kat, from Wiltshire, had the other queens gagging with his introduction when he dropped the bombshell that he's not gay.
"I've got a girlfriend. I'm not actually gay," Scaredy said, before explaining that his girlfriend is a drag queen, too. "She's called Pussy Cat."
Drag really is for everyone!
RuPaul's Drag Race has given birth to so many now-beloved catchphrases - "Backrolls?!" "Flazéda", "Halleloo!" to name just a few. And now, thanks to Drag Race UK, we've got one more to add to the list: "Her Majesty already done had herses."
I, personally, love it and will now be slyly dropping it into all my conversations. Thank you.
3. The barely-dressed Brit Crew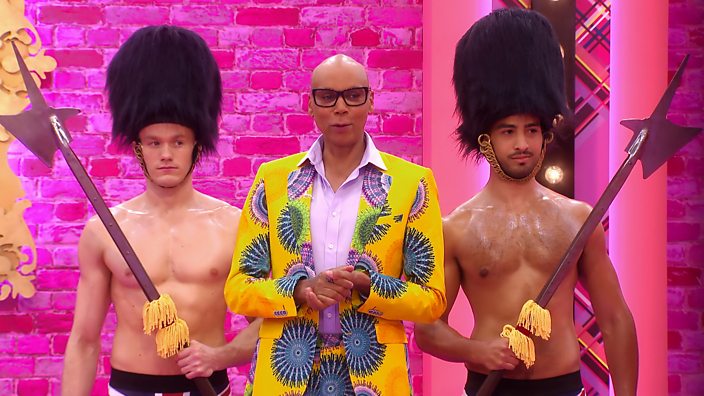 We were very pleased to see that the muscle-bound, underwear-clad Pit Crew survived the transfer across the pond, but with a distinctly British twist. The Brit Crew – decked out in Union Jack boxers – marched into the Werk Room clutching Beefeater-style axes with bearskin hats on their heads, to the delighted gasps of the queens. "Nice helmets!" shouted competitor Vinegar Strokes.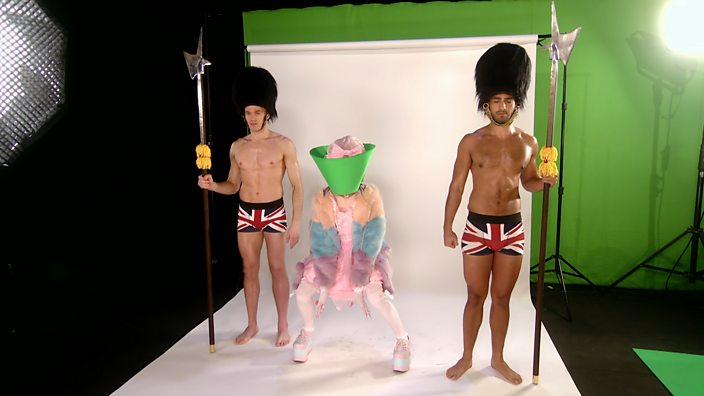 This season's first mini-challenge, inspired by the gory history of beheadings at the Tower of London, called for the queens to pose in a green screen photoshoot with their own CGI-severed head. And the first mini-challenge winner? Scaredy Kat, who came up with a truly revolting (and very funny) pose that involved her pushing her own head out of a certain part of her body. We have no further comment but insist that you go watch this moment right now.
5. Andrew Garfield's so-bad-we-absolutely-loved-them puns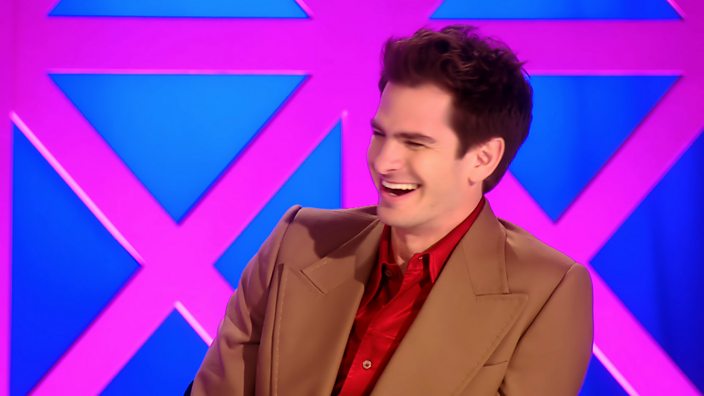 Celebrity guest judge Andrew Garfield, who has long been obsessed with RuPaul's Drag Race, was positively glowing as he finally got his chance to sit on the judges' panel. "I feel like a competition winner and the prize is a day in gay heaven," the 36-year-old Spider-Man actor said.
What we weren't expecting though, were the cringeworthy dad jokes he cracked as he critiqued the queens walking down the runway, including:
• "She puts the sex in Essex"
• "She takes the man out of Olivia Col-man"
• "This is less Dame Helen Mirren and more DAMN Helen Mirren"
Never change Andrew. Never change.
6. Baga Chipz as Amy Winehouse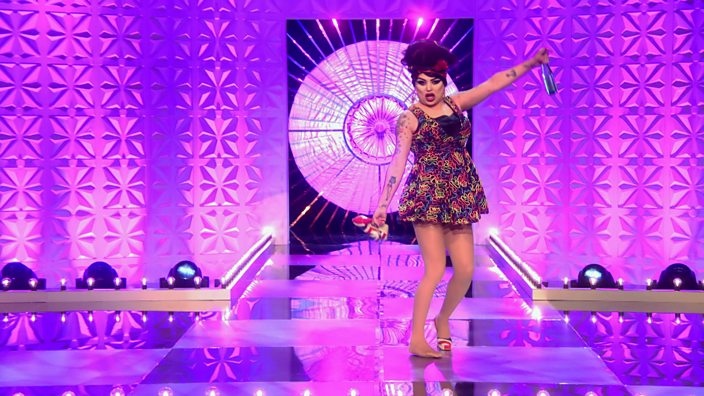 When the queens were tasked with creating a look that represented their hometowns, 29-year-old Baga Chipz, from Camden, settled on one of the borough's most famous former residents: Amy Winehouse. Baga's homage to her idol Amy, which saw her dress up like the late Back to Black singer, was a definite hit with Andrew Garfield.
"I live very near Camden so we're round the corner from each other," he said to Baga. "I love the Amy Winehouse thing because I understand the way of honouring Amy for us Brits is by doing that. It could be sacrilegious in other cultures but to us Brits, that's the way to do it."
Fellow judge Alan Carr agreed with that approach to honouring the star, calling out "Amy Housewine!"
7. Sum Ting's stamp of approval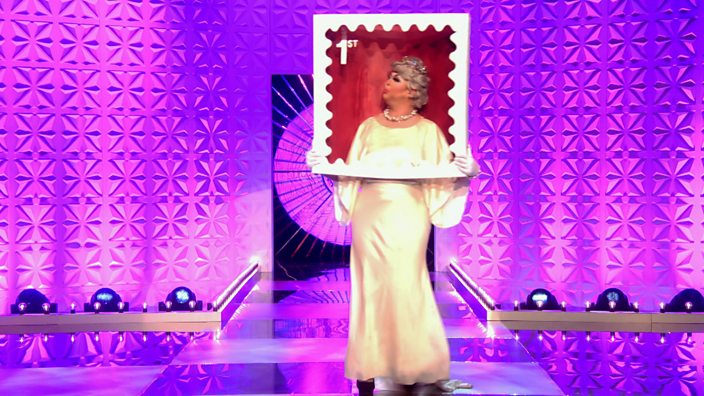 Next, the girls were challenged to create a look inspired by Queen Elizabeth II. And 30-year-old Sum Ting Wong, from Birmingham, opted for a creative spin on a first class stamp (complete with the words "lick me" written on the back) which was a real hit with the judges.
"Some of the other queens could take some inspiration from you," said judge Alan Carr. "It was costumey but fun!" Michelle Visage added.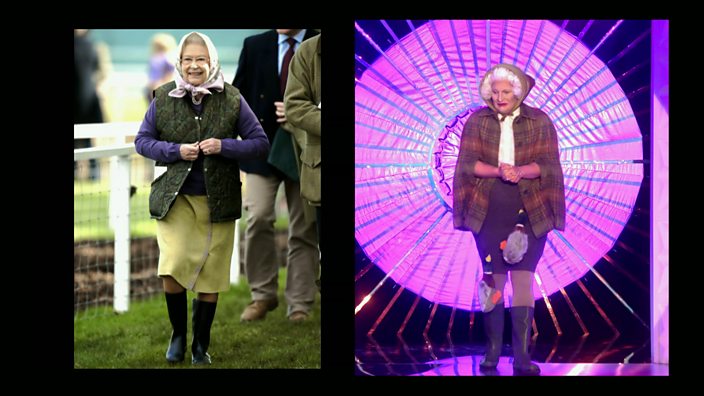 Another effort that stole the limelight was The Vivienne's take on a dressed-down look the monarch might wear while she's pottering around Balmoral, the royal family's Scottish holiday home. The transformation was so amazing that Michelle even thought 27-year-old The Vivienne, from Liverpool, had applied a prosthetic nose… which she hadn't. "This is just my face!" The Vivienne screamed.
RuPaul was impressed too, saying: "The Vivienne had the biggest transformation on the stage".
9. WHERE DO I GET A RU-PETER BADGE?!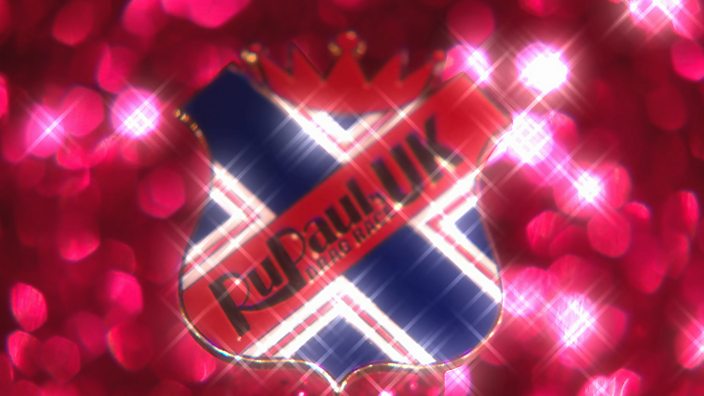 In the end, it was The Vivienne who snatched victory. "This is legendary," she said after her win. "I've just made history."
And what was her prize? A Ru-Peter badge! This tribute to the classic BBC kids show was a masterstroke, bringing something quintessentially British to the first UK series of Drag Race.
Fans up and down the country will no doubt be scrambling to get their hands on one of these coveted pins. I, for one, am already leaning on my BBC insider contacts to nab one for myself (Please guys?).
"Wear it with pride," Ru said.
The queen who wins the whole contest, it was also announced, will be crowned the UK's first drag superstar and will get to go to Hollywood to star in a digital series produced by the same team behind RuPaul's Drag Race.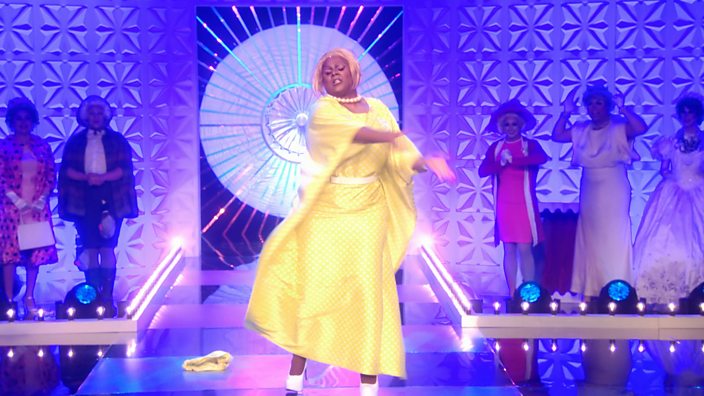 RuPaul decided that it was 21-year-old Gothy Kendoll and Vinegar Strokes, 35, who turned out the night's weakest looks - and it was these two queens who were forced to lip sync for their lives.
Performing to Dua Lipa's 2017 hit New Rules, Gothy, from Leicester, put in a good effort but it was Vinegar who really wowed the judges with her glitter-filled wig reveal. Vinegar, from London, was ultimately saved from elimination and Gothy, sadly, was the first queen to sashay away.
But Gothy made the most of her final moments by doing an expert impersonation of Miss Vanjie's famous exit, saying: "Miss Kendoll. Miss Kendoll. Miss Kendoll."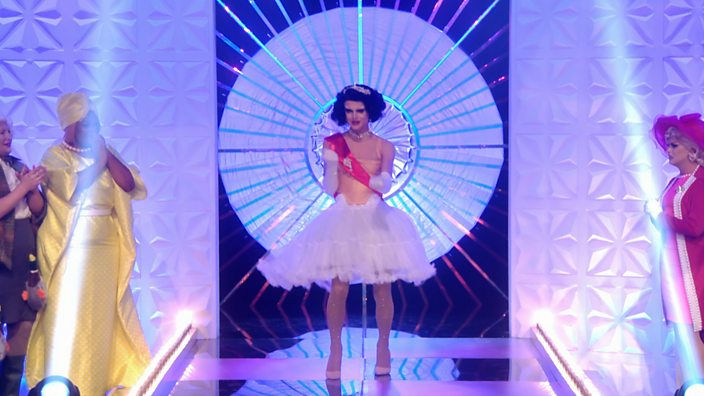 We hardly got to know you Gothy but we'll definitely miss you!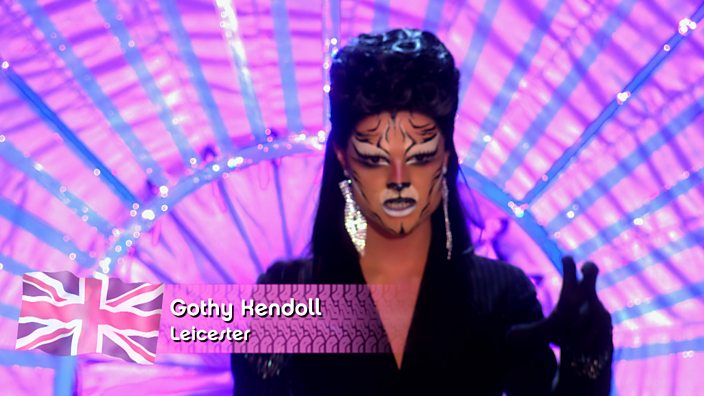 Alan Carr on Gothy Kendoll's tiger make-up:
"She looks like an estate agent who's gone into Regent's Park Zoo and said: 'Can you face paint me face for 50p?' And then she's gone back into work and gone: 'What do you think girls?'"
The Official Sashay Away Interview
Gothy Kendoll, 21, from Leicester speaks to BBC Three about her time on Drag Race UK and what surprised her most about the show.
You're the UK's Pork Chop (the first ever contestant to be eliminated in Drag Race US)! How does it feel to be the first queen off the show?
"Obviously I hadn't intended it to go this way and I'm gutted I didn't represent my drag to the best of my abilities - but I think my nerves just got the best of me. Having said that, I have no hard feelings. Everything happens for a reason."
Could you tell us your real first name? And do you have another day job aside from drag?
"My real name is Sam... definitely a name missing out on that drag fabulousness. Drag is my full-time job now!"
If you had a drag time machine, what would you do differently?
"Prepare better. Those three weeks before filming are crucial and preparing yourself and your looks is so important. At the time, I was relatively new to drag and didn't have as many contacts as I do now to get my looks prepared.
"I would have also told myself to enjoy it more. Looking back it was so much fun!"
Which celeb were you hoping to play on Snatch Game?
"I'd taken two looks with me, Ozzy Osbourne and Nigella Lawson."
Your Miss Vanjie impression was great! Do you have a fave Drag Race gif or meme?
What was the most surprising thing about your time on Drag Race?
"The amount of red bulls the cast and I were getting through. Being a drag queen is so unhealthy!"