N/A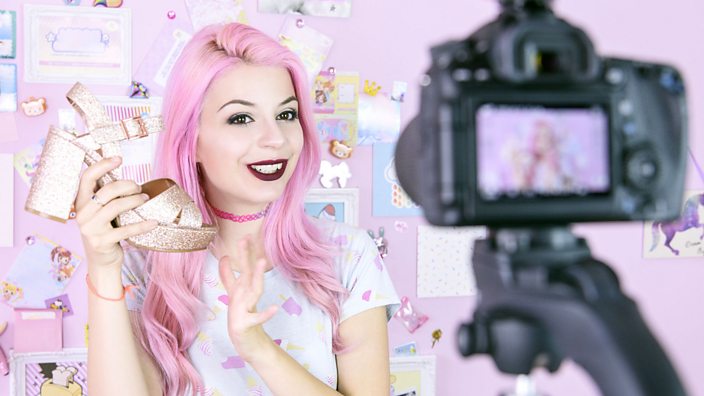 iStock
How 'influencer' became a dirty word
Why are social media stars rejecting the label?
It was once considered one of the most enviable labels on social media: the "influencer" was someone associated with status, popularity, and money, thanks to their large and engaged social media following.
But a raft of bad press has led to a revolt against the tag – and now some of the top names that depend on YouTube or Instagram for a living are distancing themselves from the influencer label.
"I try to avoid using the term [influencer] – it's not how I describe what I do," lifestyle blogger and podcaster Lily Pebbles tells BBC Three. Lily, 31, identifies instead as an 'online content creator' and has a combined reach of 1.27 million people across her social media platforms.
"When I think of an influencer, I think of someone on Instagram with a very large following based on their success elsewhere – for example, an ex-reality TV star – whose main goal is to be paid to sell things to their audience," she says.
"A content creator is someone whose full-time job is to create free content for their audience across different platforms."
The argument that 'content creators' like Lily are making is that there should be a different word for people who put thought and care into their creative and brand work on social media, and people who, in their opinion, use the platforms primarily to advance their celebrity and status, leveraging their large followings to secure marketing deals.
"I wouldn't class us as influencers," says Mark Hoyle - better known as LadBaby – whose funny parenting videos have earned him more than 3 million followers on Facebook, half a million fans on YouTube, and last year's Christmas number one single, We Built This City...On Sausage Rolls. "I quite like the term 'creators'. I feel like we create uplifting content. We don't necessarily say, 'Buy this toothpaste'."
Mark was speaking on a panel at VidCon 2019 – a kind of unofficial YouTube Convention – which took place in London last weekend, where industry insiders agreed with him.
"It's awkward, really, to say that to a creator," said James Hancock, founder of a talent agency, who manages LadBaby. "It's a little bit insulting. I don't think they necessarily start a channel to influence people. They start it to be creative."
But there might be another reason social media stars are distancing themselves from the influencer tag - it has become increasingly toxic.
Lucy Loveridge is the founder of a talent agency representing what its website calls "digital-first talent". Speaking on the same panel as Mark Hoyle at VidCon, she criticised the way the term 'influencer' is being used in the media.
"Mrs Hinch is a cleaning influencer we've recently taken on. She's grown really quickly by using Instagram stories and everybody's calling her an influencer," she said. "But she's an entertainer. She happens to use Instagram to sell a cleaning product. But people don't follow her in order to buy that cleaning product."
Polishing the tarnished reputation of the term 'influencer' could be tricky. New terms like "influencer fraud" have been invented to describe social media stars who have bought followers, comments, or likes, usually for the purpose of appearing more popular than they actually are in order to secure lucrative marketing deals.
"It's giving us all a bad name," said Mark Hoyle, aka LadBaby. "Because I don't think there are many of us that are actually doing bad things. When people are bad it sort of reflects on everybody."
Consumers seem to agree. A 2018 YouGov survey of 500 Instagram users saw 57% of responders say that they don't trust influencers who post about products or services not relevant to their channel.
New guidance for influencers has been introduced by the Advertising Standards Agency and the Competition and Markets Authority (CMA) in the last six months.
As part of the CMA's campaign, 16 famous personalities, including singer Rita Ora, Made in Chelsea cast member Louise Thompson and vlogger Jim Chapman, agreed to change how they post online to show more clearly the presence of paid partnerships or advertising campaigns. 
Such initiatives are an attempt to encourage more transparency in an area clouded with consumer mistrust. But regulation is not a straightforward solution to the problems facing the digital content industry – in part because of the global nature of social media platforms.
"I'm based in Germany and I need to stick to the German regulations," Verena Papik, the chief marketing officer of content creation platform TuneMoji told another panel at VidCon. "So what happens if I do a post in the US?
"It's really difficult. There needs to be a global general alignment. Is it the responsibility of the social media platform or is the responsibility of the government?"
In the meantime, some of the people formerly described as influencers may continue to be the most vocal critics of the current system.
"[The distinction between influencer and content creator] is important to me because the word [influencer] devalues what we do," says Lily Pebbles. "I started blogging in 2010 and for years worked hard – while in full-time employment – on something everyone doubted was worth investing time in.
"I'm over the moon that we've created this fantastic industry, but it's being tainted by people who are in it for the wrong reasons, don't take it as seriously, or don't value their audience or credibility as much as we do."
This article was originally published on 22 February