N/A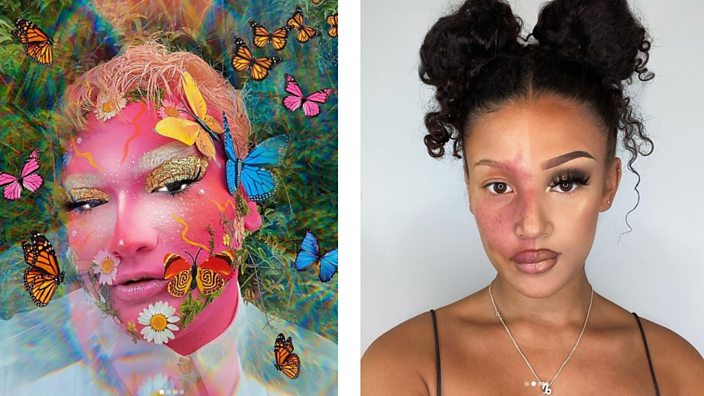 Instagram
Glow Up: 'I use make-up to celebrate being different'
In the first episode of Glow Up series three, the contestants are given a creative task to complete a look using make-up that "shows what makes you unique". BBC Three speaks to contestants Ryley and Xavi about how make-up has helped them accept their own differences.
"All the girls [in my school] started wearing make-up in Year 9. That's when I really started to question my appearance."
Everyday before school Ryley would get up at 6am to put a full face of make-up on.
She was born with a birthmark across the right side of her face - she says that her insecurities led to her starting to try to cover it when she was 14: "at secondary school it was all about being popular, being beautiful, having everyone like you, and I felt like I didn't quite fit in."
At first, she started by using her mum's make-up.
"It was too light for me. I would literally just put it on my birthmark and dot it around other places on my face. I looked like a ghost, it was a hot mess."
Ryley tells us she soon learnt how to make her birthmark invisible, but this meant wearing heavy make-up and getting up really early to apply it.
"I was using it to completely cover up who I was and it got to the point where I genuinely believed I didn't have a birthmark because I would cover it 24/7.
"I only let my close family and friends actually see my birthmark - which is actually really sad."
Towards the end of Year 11 as Ryley's GCSE exams approached, waking up early to apply make-up got too much for her, and for the first time in three years she went into school without any make-up on.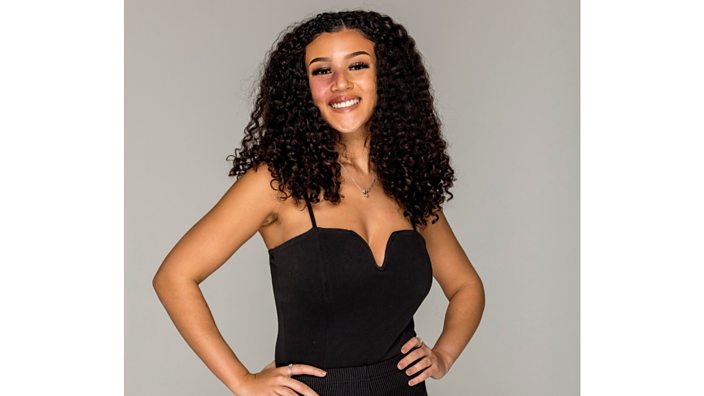 "No one said anything," she recalls.
"I was kind of like right, so I just wasted years putting all this effort in and no one actually cares? So I think that moment was kind of the realisation for me. 'What are you doing?'"
A friend encouraged her to post a picture on Instagram of her natural face, "I think I was just so lost – I needed something – I needed to just figure out what I was going to do because I was going to get rid of the birthmark surgically with laser."
Eventually she decided to upload a photo and the positive comments flooded in.
"That was the transition then, where I started using make-up to make me feel good instead of hiding who I am."
"Now I use make-up as a form of celebration of my difference and I do make-up for me - which I feel like everyone should do, you should never try and change yourself or your appearance for anyone else - that's a massive no."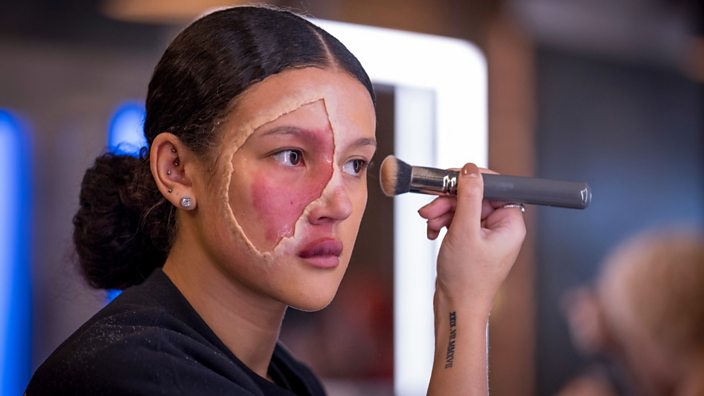 'I use makeup to illustrate what it's like to have Asperger's'
At school Xavi started experimenting with make-up in secret. He was 16 and his friends would order the products for him and have it delivered to their houses.
"I'd do looks in the middle of the night, take pictures and put it on Instagram."
"You never really know how your parents are going to react if you're a guy wearing make-up, or a guy even doing make-up. Men wearing makeup wasn't such a big thing [then]."
Once he had grown his following, from creating looks inspired from runways and fantasy-based characters, he decided to tell his parents. He says they were supportive and were able to see that make-up is an art form and not something to be embarrassed by.
In episode one's creative brief the task was to create a look using make-up that shows what makes you different.
"I chose to do the look based on my Asperger's Syndrome, just because one of my biggest reasons for applying for Glow Up, and going on the show, was to be a representation for someone like me…. I wish I had someone to look up to on TV when I was younger."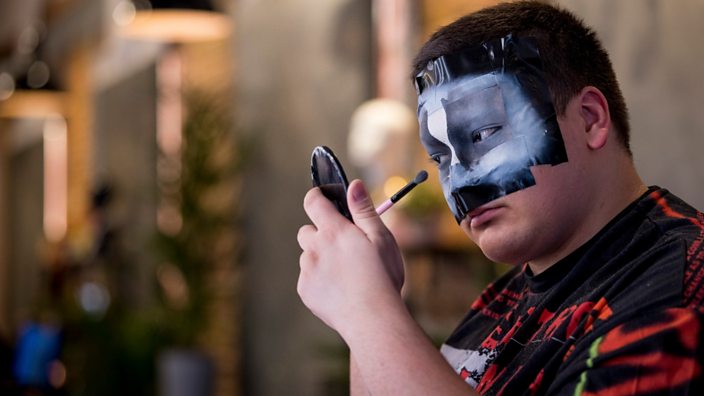 Asperger's is a condition on the autistic spectrum that affects how someone sees, hears and interacts with the world around them.
Make-up became a way for Xavi to express himself and a medium of relaxation for him, things he says he had always struggled with as a result of his Asperger's.
"With Asperger's Syndrome and autism you can have triggers, you can have episodes, some days are really good and some days can be really bad – growing up I was really embarrassed by that and I wouldn't want to talk about it.
"Make-up and my Asperger's has definitely gone hand in hand. It was extremely liberating to be able to put how I feel in my head onto my face, my canvas, because using make-up is one of the first times that I've been able to illustrate how my brain works."
Xavi says being able to create a look that represented his Asperger's on the show was one of the best experiences of his life.
"I've realised that just because I see the world in black and white, whilst everyone else sees it in colour, and I need things done a certain way because I'm different - it doesn't make me any less of a person."