N/A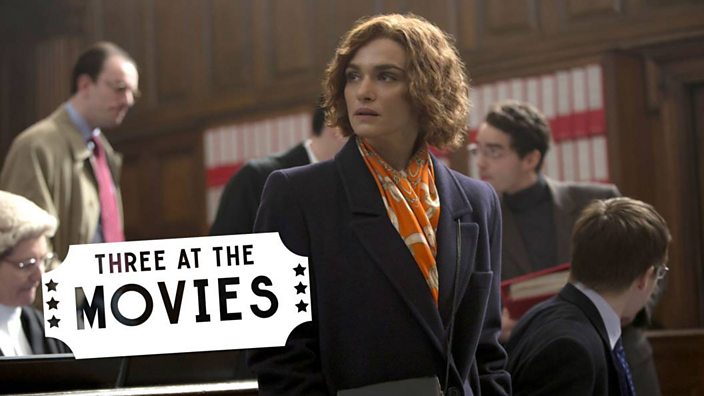 2016 Bleeker Street
Small but perfectly formed? The best alternative cinema to look out for in January
It's a quiet week for riotous, rollicking, bombastic blockbuster action, so here at Three we've decided to cast our net a little wider than usual and seek out January's most interesting alternative and indie offerings.
One of them even has subtitles...
Starring: Rachel Weisz, Tom Wilkinson, Timothy Spall and Andrew Scott
The low-down: Historian Deborah Lipstadt (Weisz) is sued for libel when she describes David Irving - a man who denies the existence of gas chambers at Auschwitz - as a Holocaust-denier. In British law, the burden of proof falls on Lipstadt to prove that her description of Irvine is true and that involves a trip to the concentration camps of World War Two.
Fans of courtroom dramas may well love the intricacies of the case. Also anyone who's read Lipstadt's book on what it was like to face off against a man like David Irving will want to see what the impressive cast have come up with.
"Incendiary subject, inadequate movie – that's the deal with Denial, a wobbly but well-meaning docudrama ... Luckily for the film and audiences, the movie has been cast with acting giants, who bring out the subtext of the story." Rolling Stone
"Verbose, very watchable but blunt ... Denial makes a compelling case, and the performers plead it persuasively. But you might have a few objections." Time Out
"[Denial] often feels hurried—you tend to wish BBC Films, which co-produced Denial, had made it into a three-part miniseries instead, which would have allowed more space to examine the exhaustive effort that went into discrediting Irving, not to mention Irving himself." The Atlantic
Yes, it's an emotive and controversial subject worthy of coverage and with an impressive cast to boot. Just don't expect it to be the movie of the year.
Starring: Hrithik Roshan, Yami Gautam, Ronit Roy
This much-anticipated action flick is from Bollywood director Sanjay Gupta, whose inspirations include Quentin Tarantino and Stanley Kubrick. Rohan and Supriya (Roshan and Gautam) are a couple who love to dance and go out together. They're also blind. So when Supriya is kidnapped by baddies and the police show no signs of seeking justice, Rohan is forced to respond in the classic action-movie style - cue sinister phone calls and a series of bone-crunching confrontations.
There are rumours it's an unofficial remake of the Korean revenge thriller Broken, and of course there are parallels with Daredevil, so if you're a fan of those (or love the Taken franchise) you won't go far wrong with this flick.
"The trailer of Kaabil is a piece of pop-art, gleaming with a glorious retributive fuel, sparkling with an implosive energy that flows out Hrithik Roshan and saturates every frame." DNA India
"Overall, the trailer makes a great impact with sweet chemistry between Hrithik and Yami, meaningful dialogues and effective performances. The thunderous background score only makes things better for the viewers." Times Of India
"Kaabil's trailer packs a punch. From start to finish, the audience doesn't even get a chance to blink. It's also interesting to see how the two protagonists are visually impaired. This intrigues the audience to see how they'll face the harshness of life." Desi Blitz
If you like your heroes hunky and your action brash, this could be a good bet.
Starring: Rebecca Hall, Michael C. Hall, Tracy Letts, Maria Dizzia
Christine Chubbuck (Hall) is a TV reporter with a focus on happy human-interest stories. She also struggles with depression. So when her boss asks her to cover more lurid and bloodthirsty items in the hope of higher ratings, it's a challenge she finds increasingly upsetting. As she becomes more remote from colleagues and family, things escalate towards a tragic conclusion live on air.
If you're aware of the true story the film is based on, you'll want to see this dramatic retelling of events. Equally, if you like dark, psychological stories with moments of genuine humour, this could be for you.
"[Director] Campos invites empathy in his portrait of a woman on the verge ... In Hall, he has the perfect actor to convey Chubbuck's internal struggle in a manner that's devastating." The Guardian
"Christine doesn't quite add up ... and its commentary on the tabloid-ification of the news is not original or new. It ends on a tepid note. Since we know, going in, where the story is headed, there's a feeling of rubbernecking at a tragedy as the events mass up against her ... Hall's performance is so authoritative, however, that it justifies the film's existence. She's something to see." RogerEbert.com
"Hall's ferocious, precise performance allows us to occasionally grasp Chubbuck's intensifying psychological crisis, but the filmmakers largely fail to animate her inner turmoil, focusing instead on broad, blunt externalities." Slant Magazine
Without a doubt worth seeing, if only for Rebecca Hall's pitch-perfect performance alone.