N/A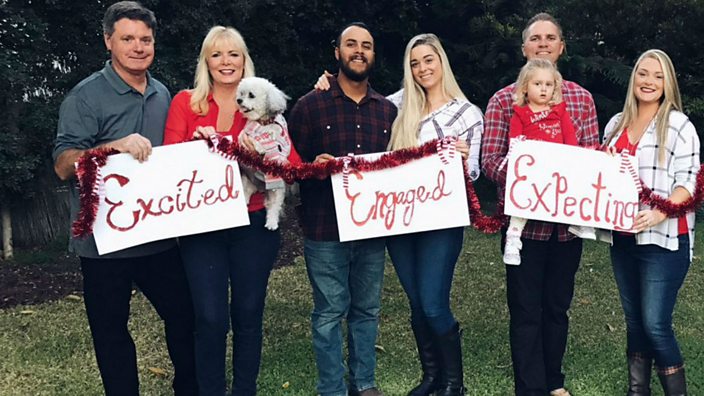 Twitter/@cantseawright
Single people really love this family's Christmas card joke
"We are all Emily"
Christmas is the most wonderful time of year – unless your family is constantly hounding you as to why a catch such as yourself is still single.
But, as one Twitter user's photo shows, the most important thing is to be able to laugh at yourself. During the Thanksgiving weekend, Emily Seawright posted her family's hilarious Christmas card online, where it was met with a resounding cry of "same," and made her a hero overnight.
While her siblings may be 'expecting' and 'engaged', and her parents 'excited' for them, Emily is, well… just 'Emily.' 
The brutally honest image went viral on Twitter, where it currently has over 300,000 likes and over 50,000 retweets.
It's no wonder then that Twitter users are finding the situation so relatable – Emily clearly isn't the only one who's lacking groundbreaking news to share with their family during this holiday season. Many joined her in celebrating their single-hood in the replies with messages of solidarity, such as:
"My daughter came up with it and we thought it'd be funny," Emily's mother, Diane, told ABC News. "We have so much going on in our lives as you can tell by our signs that we were just too busy to think of something else. Reluctantly, we all took part in the signs and here we are."
She added that Emily is "happy being single", and that "she just has a great sense of humour."
Given how quickly Emily stole the hearts of Twitter users with her extremely relatable message for the holiday season, perhaps she won't be single for much longer?
Well, Emily told BBC Three that since her tweet went viral, she has been inundated with both people asking her out and also thanking her for showing that there's nothing wrong with being single.
"People have actually messaged me saying thanks for making them feel better about also being single during the holiday, which I think is pretty cool!" she said.
"And, a couple of dating apps and websites have also reached out - offering me free access to create an account to help me find a match which is really funny to me. Many people have asked me out publicly on Twitter and also privately in my messages on other social media accounts of mine, It's all really flattering but I haven't reached back to these offers!"
Emily's self-deprecating Christmas card idea is an homage to another viral hit that became known as 'Egg Salad Man'.
While another Twitter user revealed that she did something similar to Emily.
Last week, a slightly different take on the Christmas card also went viral. Three roommates (and their dog) paid homage to a Death Row Records promotional picture from 1996, featuring their pooch in the place of Snoop Dogg.
In a more sassy attempt, the Labour Party released a holiday card design referring to Theresa May's speech at the Conservative Party conference in October.
But remember, if you find yourself having to explain your single status to nosy relatives over Christmas, just tell yourself: 'Be more Emily.'