N/A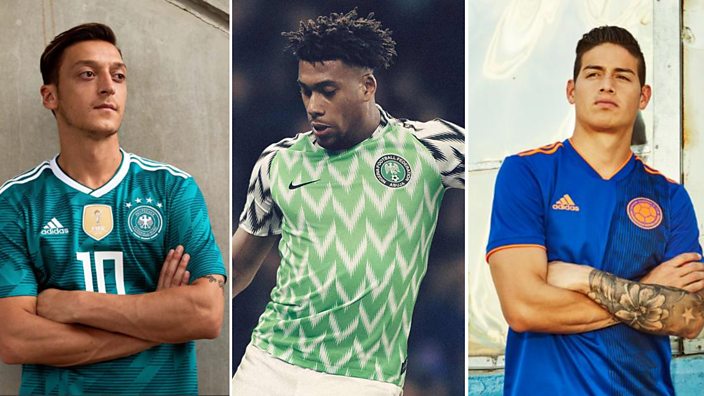 adidas, nike
World Cup kits: Russia 2018 is going to look pretty retro
Designers have released more kits for Russia 2018 and there's a heavy old-school feel
Whether the tournament turns out to be a classic remains to be seen, but we do know some of the outfits at Russia 2018 have vintage written all over them. 
Germany invoke the spirit of Italia '90
Germany bring back two classic home and away kits that tells of a famously successful tournament.
These are sure to send chills down the spines of older England fans. Why? Die Mannschaft knocked out England in the 1990 semi-final dressed in almost identical gear.
Nigeria pay homage to inaugural World Cup '94
This has to be a strong contender for fave kit of the tournament, and it's modelled here by Arsenal's Alex Iwobi. The vivid design pays homage to Nigeria's first qualification for a World Cup at USA '94.
Brazil stick to the rulebook
Classic Brazil. Ain't broke? Don't fix it.
Colombia resurrect Italia '90
Like Germany, Colombia have also gone back to World Cup Italia '90 for inspiration with a design famously worn by the hirsute Mr Valderrama.
The away kit is also an absolute beaut - as modeled by James Rodriguez at the top of this article.
Argentina pay homage to their '93 Copa America squad
These two classics draw a lot of inspiration from the squad that won Argentina's last major honour at the 1993 Copa America tournament. 
2010 World Cup winners Spain recreate a classic jersey worn by the likes of Pep Guardiola and Luis Enrique at USA 1994.
A clear recreation of Belgium's mid-eighties European Championship kit. Not a particularly successful tournament for them that one, but they looked great. And just look at the fun the boys are having here. 
Russia go for an Olympics '88 golden oldie
Hosts Russia here, recalling the kit worn by the USSR team, who won gold at the 1988 Olympic Games.
Mexico channel early '90s swag
In the early nineties, Mexico were always a good bet for an outlandish motif and a shimmery design, and this year's home edition, while a bit more conservative than some of their offerings over the years, definitely owes something the their 1993 and 1995 home kits, whilst the away is perhaps nothing to write home about, but fairly solid.
Just in case you'd forgotten that England actually won the World Cup once, you know - the 2018 Three Lions have gone for two kits that are reworkings of their classic summer of '66 look. Glory days indeed.
And even the shirt the players will wear for their warm-ups in Russia is throwing it back to the summer of 1982.
Glenn Hoddle absolutely loves an emoji.
Some we'll sadly miss this summer
Poor Gigi and co won't be boarding the Trans-Siberian express next year, which is a shame, because they looked lovely in this classic, simple Azzurro blue number from Puma, which celebrated a 20-year partnership. We hope it's absorbant, because it'll only be good now for mopping up tears.
The boys in green will also be staying put this year, but a notable mention deserved for their loyalty to this font, only seen elsewhere in novelty pub signs...
Alright, not technically a World Cup kit since they didn't qualify, but this piece of beauty just wins everything. 
Article first published 15 November 2017