N/A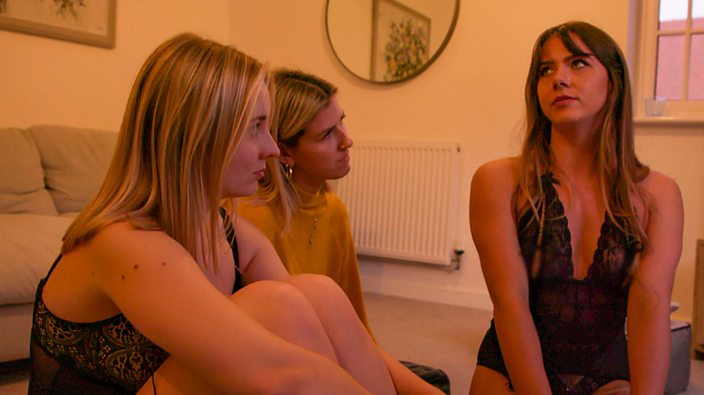 BBC THREE
The hidden danger of selling nudes online
Selling explicit content online can be a lucrative business, but platforms that allow such content may not be doing enough to ensure their users aren't underage
"My biggest fear is going back into an office and being normal again."
Almost two years ago, Lauren quit her office job to work full time on her OnlyFans profile – posting semi-nude and nude images on the subscriber-based social network. She says it's been exponentially more lucrative than any "normal" job.
OnlyFans describes itself as a social network, where anyone who creates content can set a monthly subscription fee for their followers. It isn't aimed primarily at people who sell nudes or explicit content – but a large amount of users are doing exactly that.
"I used to make £20,000 a year, and now I make a lot more than that every single month," Lauren says coyly, scrolling on her phone through the page on OnlyFans that shows how much money she's earning.
A new BBC Three documentary, Nudes4Sale, meets Lauren, 23, and others like her, who say their income from sharing adult content on the site far surpasses what they could earn in regular employment. But there's a dark side: the documentary found evidence of the age verification process being circumvented, meaning under-18s were able to illegally sell explicit content of themselves on the site.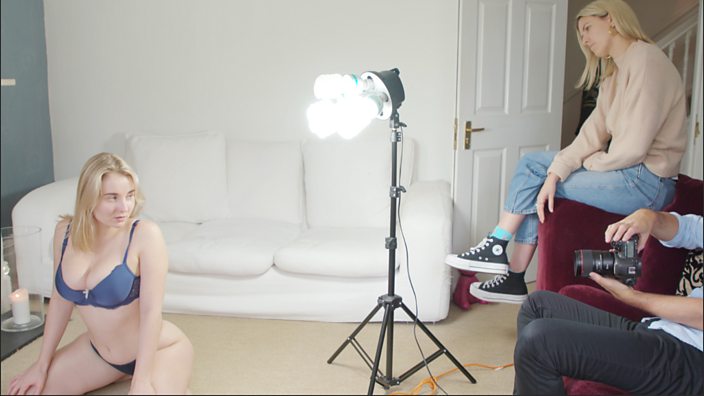 OnlyFans users often use other social networks, like Twitter and Snapchat, to advertise their OnlyFans profiles and direct followers to them. Research conducted by the BBC found that, on a single day, a third of all the Twitter profiles analysed for the study could have belonged to an underage person. The research looked at 7,728 profiles advertising "nudes4sale" or similar on various platforms, not just OnlyFans.
Snapchat told the BBC: "We strictly prohibit accounts that promote or distribute pornographic content. We do not scan the content of private accounts, but we continually look for ways to find and remove these accounts, including discussions with other platforms like Twitter."
Twitter said it has "zero tolerance for any material that features or promotes child sexual exploitation," and asked for further information on the accounts found in the documentary that may have been linking to such content.
Seventeen-year-old Hannah* says she signed up aged 16 – although it took her several attempts to set up a profile after it was repeatedly reported and shut down. She used the ID of an older friend, even though they didn't look alike, and managed to use OnlyFans for seven months using various profiles.
She claims that selling nudes on social media was extremely lucrative. "I was making like, £15,000 to £20,000 a month," she says. "I wanted to be quite big and successful and make money, it was a big thing for me."
Hannah says she hasn't attended school for the past couple of years. "I used to get a lot of hate at school and I was bullied. I got pushed out of school when I was about 13, 14. I was like, I'm not going to school, it's not happening."
Turning to the internet after refusing to continue her education, she says: "I was 14, turning 15, when I started gaining followers [online]. A lot of them were around my age because they knew me in person."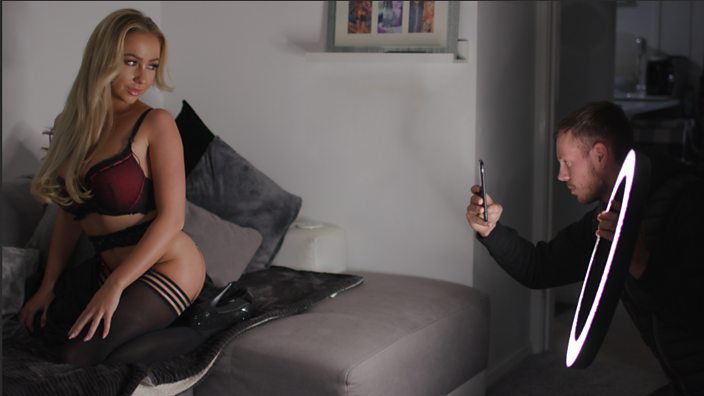 On Hannah's situation, OnlyFans told the BBC: "When we were alerted in August 2019 to an allegation that an individual was potentially underage and gained access. We took proactive, swift measures to suspend and limit functionality and activity of the account. She actively conspired with a number of adult accomplices. They all intentionally, knowingly and repeatedly tried to cheat our age verification checks."
While the Crown Prosecution Service (CPS) announced last year that it was relaxing its approach to obscene material in England and Wales providing the creators and viewers of the content were over 18, the actual process of policing users' age is more complicated.
There is not currently a legal requirement for online platforms to monitor explicit content that could have originated from underage users – this means that the creator of the content and the person that buys it would face criminal liability if any action was taken.
A Home Office spokesperson told the BBC that there were plans to introduce such a legal requirement. "Our Online Harms White paper sets out our plans to introduce world-leading legislation to tackle harmful content online," they said. "Plans also include putting a legal duty of care on online platforms backed up by an independent regulator to hold them to account."
Laws on soliciting – the sale of sexual services – don't include any clauses about advertising online. Instead, that's covered by other laws around obscene material. The OnlyFans users featured in the documentary don't exchange sexual services for money with their followers. While Lauren tries to reply to as many of hers as possible to maximise her profits, she says she's never been tempted to go any further.
Recalling the kind of messages she's received, Lauren says: "'Will you sleep with me, I'll give you five grand?' I'm just like, no."
There's another kind of negativity Lauren has to deal with, too. "I get a lot of messages saying I'm shaming my family, which is really sad and horrible to hear," she says.
But she insists it doesn't stop her enjoying what she does: "I like the freedom it gives me, and the celebration of the female form."
In the UK it's an offence to make, distribute, possess or show any indecent image of anyone under 18. However Journalist Ellie Flynn, who reports on the issue in the documentary, thinks that because there is little regulation on the internet, coupled with the law of consent being 16 it's "A kind of grey area."
"The law does state you have to be 18 to distribute adult content but because the age of consent is 16 and there is very little regulation on the internet, it becomes this kind of grey area," says journalist Ellie Flynn, who reports on the issue in the documentary.
"Hannah was reported to the police after some of her peers found her OnlyFans account and they checked in with her, but she claims their view was, 'We're not going to prosecute you for this.'
"Because she made the content herself, she was the victim and the perpetrator all at once."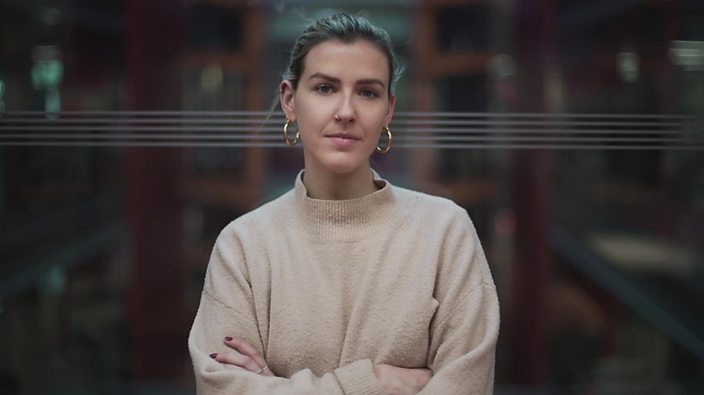 Ellie thinks the onus needs to be on the platforms to perform stricter checks on the ages of people signing up to the platform, but says that it's important to remember many women are actively choosing this line of work.
"We shouldn't be censoring adults who want to work on something like OnlyFans – we're not saying it's awful and no one should do it. But it's difficult, I don't want to sound like an old woman who's way out of touch with 16-year-olds, but I don't want to say 'yeah, cool, crack on and do OnlyFans'."
"If a 15-year-old thinks they can make a huge amount of money from selling a couple of nudes, some might try it. It should be on the adults who run those platforms to ensure they don't succeed.
"A lot of these women are doing it genuinely because they want to. It is important to have an open discussion without stigmatising sex work, but also saying it can be dangerous, and it's important to think about whether it really is the right thing for you."
In a statement sent to the BBC, OnlyFans said: "We constantly review our systems to ensure they are as robust as possible, to ensure that OnlyFans operates in line with all legislation and guidance. If we are alerted to any underage individual who has gained or tried to gain illegitimate access to the platform we will always take immediate steps to investigate and suspend the account.
"We would like to stress that we have since fortified our Support and Compliance protocols on dealing with these potential issues. We have significantly changed and upgraded our age and identity verification process, making it far harder for underage persons to abuse the system and gain access without specific assistance from an adult.
"In late May 2019, we introduced an extra safeguard into our account verification process so that a Creator now has to provide us with a 'selfie' headshot with his/her ID in the image in order to prove that the ID provided belongs to the account holder."