N/A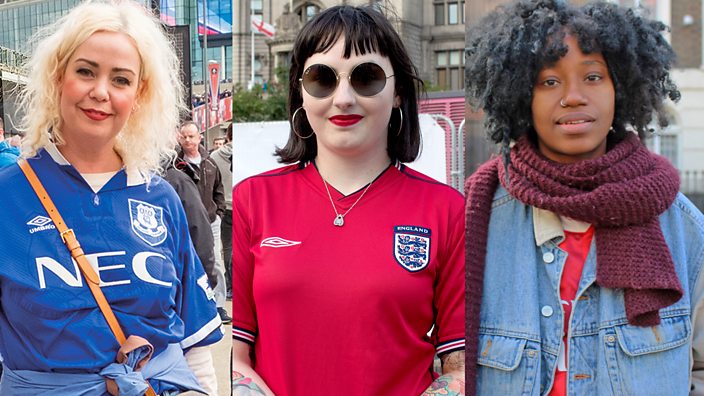 Girlfans, This Fan Girl
What it's like being a modern-day female football fan
Sick of stereotypes and being sidelined, female football supporters are trying to change assumptions made about them
Women like football. And some even like going to watch matches. That will come as a surprise to absolutely no one.
Yet the way female fans are sometimes portrayed in the media - and in football circles themselves - can be more 1980 than 2018. And it's prompted a group of like-minded women to start tackling certain stereotypes head-on.
Tired of being left out of the footballing conversation and sick of the stereotypes, three women - Amy Drucquer and Laura Blake from This Fan Girl and Jacqui McAssey from Girlfans - felt they had to take a stand to prove female football fans should not be pigeonholed.
Amy, a Leicester City fan, says this World Cup brought the problem into the spotlight. "It's disappointing that media partners who you should be able trust are still telling that same old boring story," she says.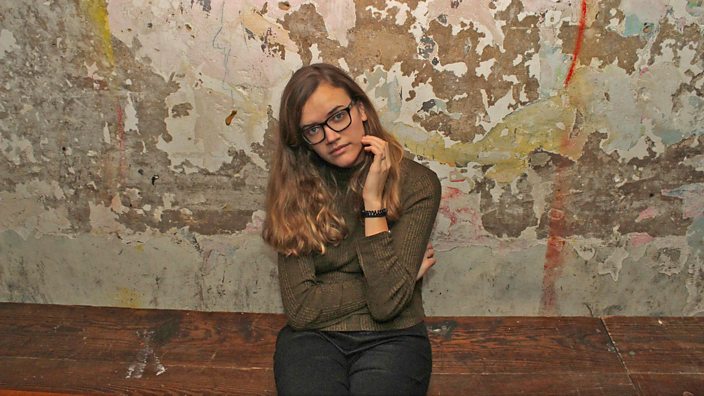 Plus, it's not just one-off events that bring out these stereotypes. If you put "female football fans" into a search engine, most of the results will still show images of women in shirts that appear to have shrunk in the wash.
Then there's the assumption female football fans wont have a 'real' understanding of the game. Or that they must have received their footballing knowledge from a male loved one. They couldn't possibly have formed their own opinions, could they? 
With all this in mind, Amy and her friend Laura Blake started fighting back against the cliched images with which they were bombarded. Two years ago, they came up with a simple, albeit time consuming plan: Amy intended to travel across England and photograph female fans from clubs all over the country. She has gone on to develop This Fan Girl into a digital community for female football fans to share thoughts and showcase voices and stories.
Yet the two weren't the first to take on this battle of perceptions. Jacqui McAssey – a Liverpool fan and lecturer in the Faculty of Arts Professional and Social Studies at Liverpool John Moores University – had a similar idea in 2013, with her campaign evolving into female fan-centric publication Girlfans.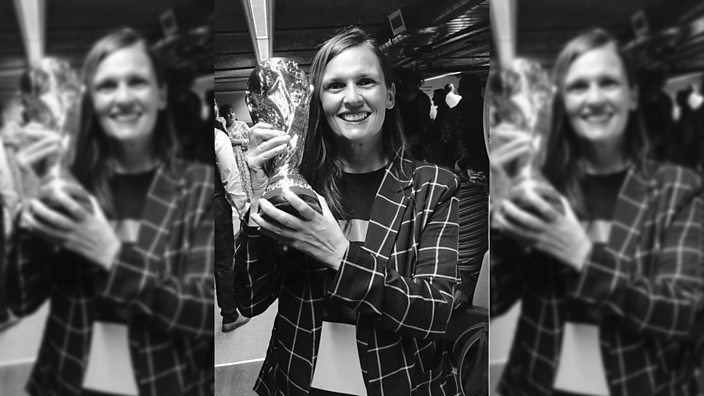 Her idea of capturing photographs of 'real' women at football (and not simply those who appear in image searches) came about after taking her camera to a game at Anfield during one of Liverpool's most successful recent seasons.
"The original idea was just to take pictures of fans generally, but I started to notice a lot of women who looked really smart, and I felt I had to capture them," Jacqui says.
Having read that attendance at Premier League games was roughly one-quarter female, Jacqui said she was surprised this wasn't reflected more in mainstream media. While the FA have confirmed there are no stats available for the last few seasons, we do know that in the 2014/15 season female attendance at Premier League matches reached an all-time high, with 26% of match attenders being women. It would be surprising if that number had not continued to grow.
And it's not just women watching men's football that has increased over the last decade. Viewing figures for the Women's Euros peaked last year with four million people (regardless of sex) tuning in, beating previous records, and pointing to an upsurge in the popularity of the women's game.
So what do female football fans really look like, as captured by Jacqui, Amy, and Laura? Here, they give us just a snapshot of some of the people they've encountered.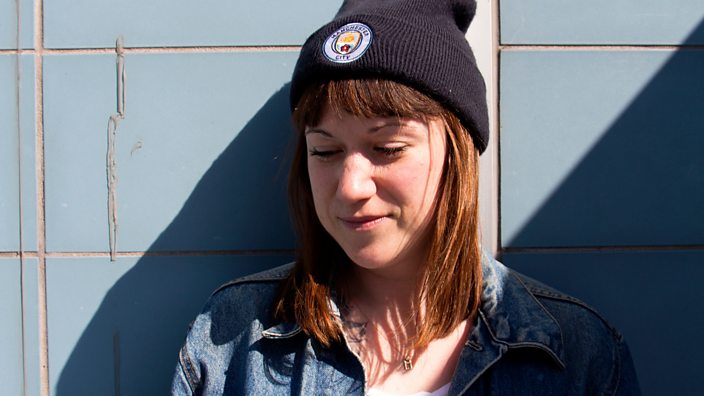 "Helen went to her first City match when she was nine with her dad," explains Jacqui. "He bought her a teddy, named Quinny [after City striker Niall Quinn], which she took to matches. She lost Quinny at the 1999 Second Division play-off final against Gillingham."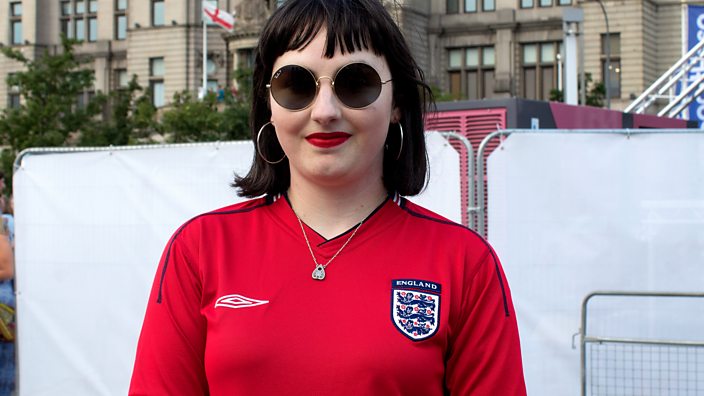 Jacqui adds: "I also started photographing female England fans during the World Cup. Natalie is actually from Ireland (she described herself as one-quarter English), so being Irish, she obviously feels the tension when supporting England. But she thinks she should be able to celebrate whichever country or club she wants and that football should be about inclusion, for everyone to enjoy."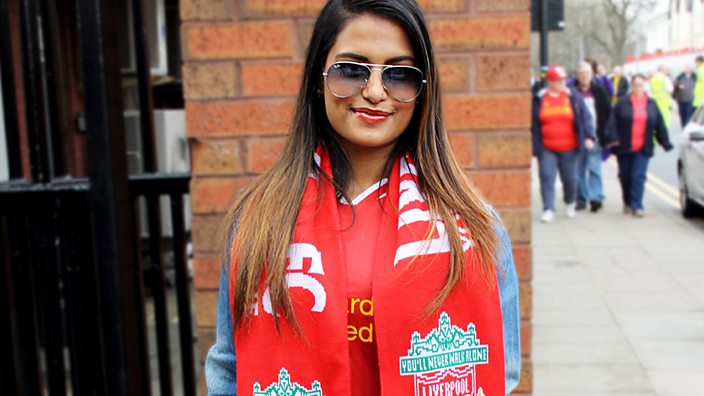 "I took this photograph of Melissa Reddy, a senior football correspondent for JOE.co.uk (but I didn't recognise her at the time!). It's difficult to photograph people nearer kick-off, everyone wants to get into the stadium pretty quickly," says Jacqui.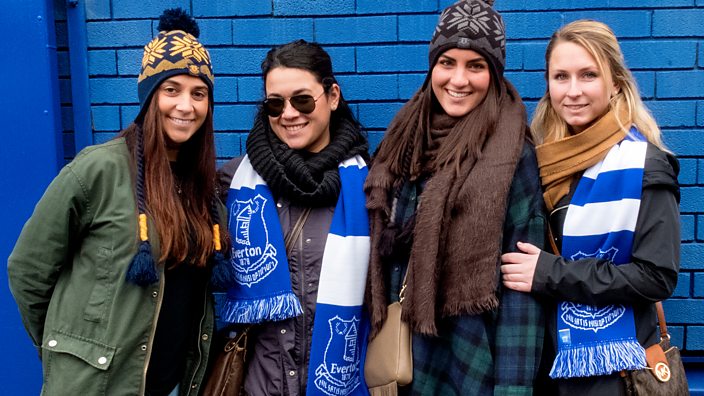 "These Everton supporters travelled from New York to Goodison," says Jacqui.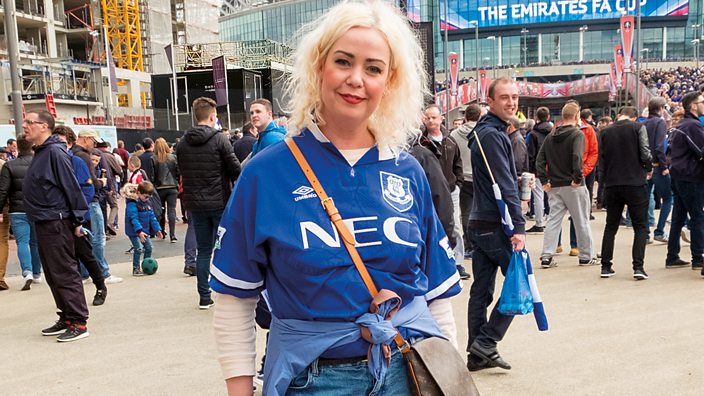 "I spoke to Lisa outside Wembley at the FA Cup semi-final in 2016. She was wearing an original match shirt signed by 1995 FA Cup final goalscorer Paul Rideout," explains Jacqui.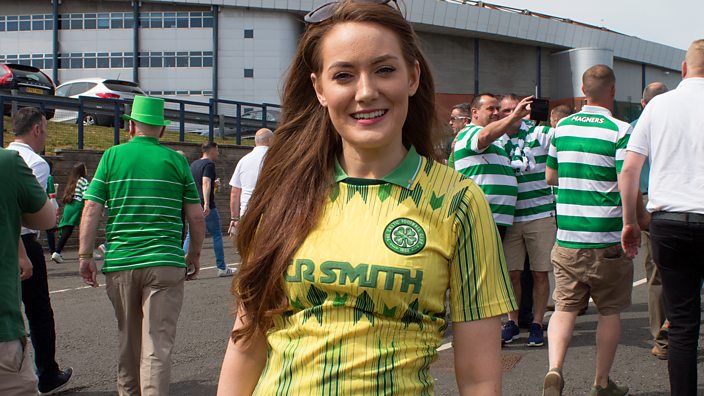 "Mikaela contacted me in 2017, inviting me to Celtic, a club I had always wanted to visit. Along with Erin Slavin and Orlaith Duffy she successfully petitioned Celtic to provide free sanitary products inside the stadium. Tranmere Rovers are also implementing this for the new season," says Jacqui.
Amy, from This Fan Girl, along with her friend Laura, took photos around clubs in England throughout 2016. The results were as diverse as they'd come to expect.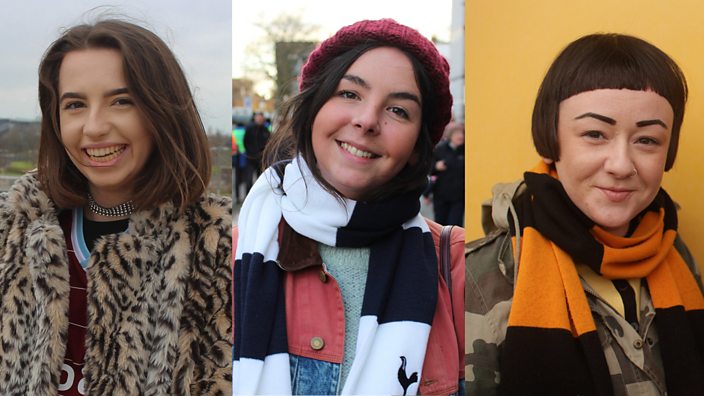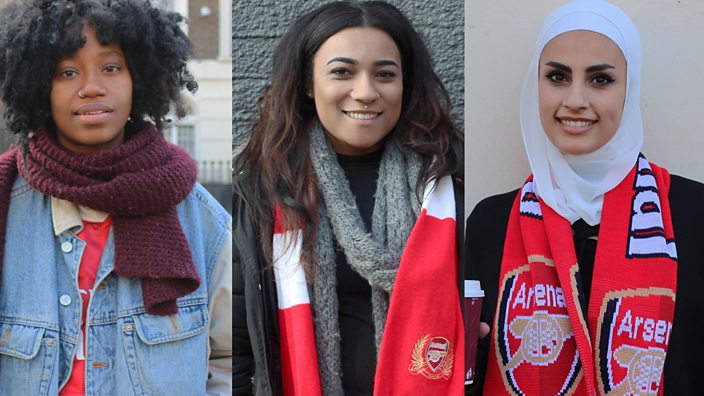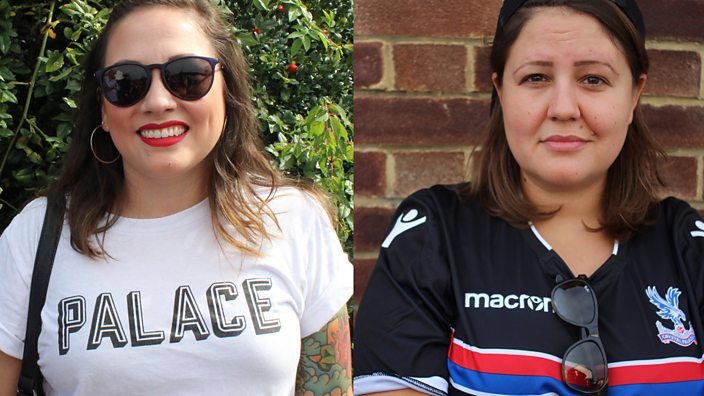 "These are Palace fans, including Emma (right), from Proud and Palace, a group for LGBT supporters, alongside another Palace fan," explains Amy.
For Amy, up until her early 20s, football was typically something enjoyed with family – largely with her dad in Leicester. When she moved to London, she says she started to meet other women who enjoyed football too, and realised how fun it could be to enjoy games together.
"We get a lot of messages through [the site] from other women, telling us how great it is to be able to talk about football together."
"The idea is really simple. We just go to the pub and watch football together. It's a space to share ideas – getting that sense of camaraderie."
She says the issue is not about women feeling safe to go to games, so much as about the wider culture outside the stadium.
"The FA has done a lot of work to make that very safe," says Amy. "It's more about getting involved in conversations outside. I used to go on to Leicester City forums – as soon as people saw my name was Amy, it would be, 'What does this woman know?'"
Jacqui became more interested in football as an adult, but she wants to challenge the notion that fandom has to be passed on through the father. Many of her photographs feature older female fans.
"I'm interested in these [older] women," she explains. "I feel you don't really hear their stories very often, but they play an important role and are just as much a part of the fabric of clubs."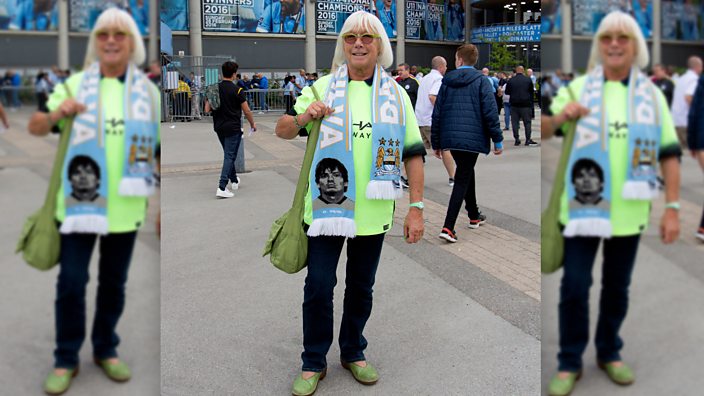 "Joy is a retired art tutor, I saw her on several occasions around City Square at the Etihad; one time sitting reading a book just before KO. In this photograph everything she wears co-ordinates perfectly with the 15-16 third shirt," says Jacqui.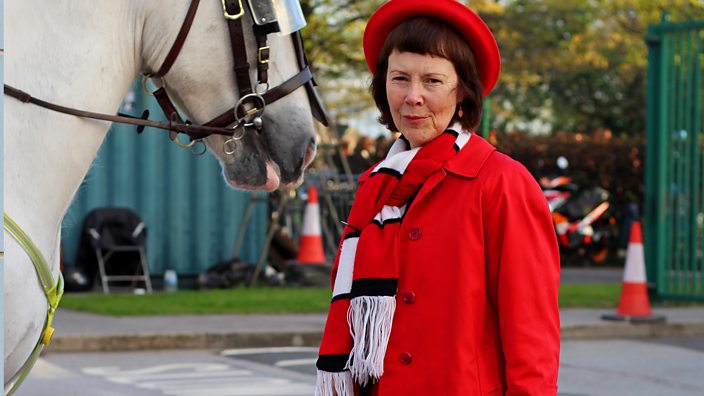 She adds: "I met Honor at an event in London, and had a great chat about football (and our Liverpool-Man Utd rivalry). She contacted me ahead of the Manchester derby and I managed to get into where the away supporters coaches arrived to photograph her. She is wearing her regular match-going outfit - a red Burberry mac and red bowler hat."
Jacqui is planning to keep exploring fandoms around different clubs. Meanwhile, This Fan Girl has become a space to communicate too, with a closed group for discussions around football and plans to host events around the country.
"I think we've done a great job in capturing the faces of female football fans," Amy says. "But there's still more to do in capturing the voices of these fans."