N/A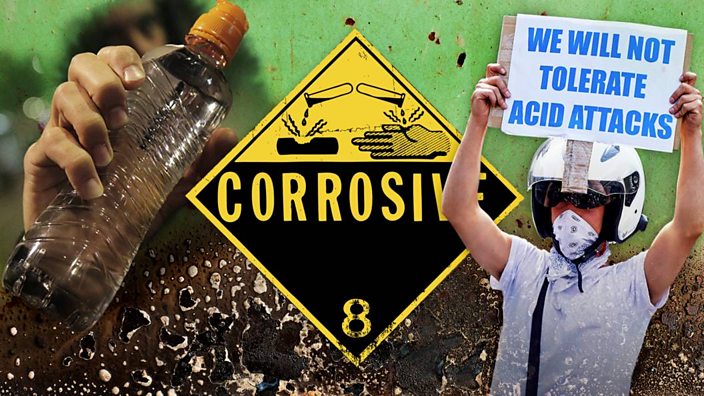 BBC Three
Everything you know about acid attacks is wrong
There is a common understanding of acid attacks in the UK that goes something like this: the attacker is male; the victim female. Both are South Asian, and the violence has something to do with the man's so-called 'honour'.
But the most comprehensive set of data yet on acid attacks in London paints a different picture.
Statistics released by London's Metropolitan Police to the BBC provide a breakdown of every recorded acid attack over a 15-year period by age, gender, ethnicity, borough, hate crime and outcome. It's the fullest picture yet of the capital's suspects and victims.
The suspect was male 74% of the time and victim was male 67% of the time
Just 6% of suspects were Asian
Only one so-called 'honour' attack was recorded in 15 years
Four out of five violent offences never reached trial
The figures appear to contradict a belief that a relative majority of acid attacks involve the South Asian diaspora.
"Definitely not," said Detective Superintendent Mike West, the Metropolitan police lead on acid attacks, who has reviewed the figures. "That does not ring true. It's very mixed from various religions, backgrounds, different victims, different offenders."
The UK has one of the highest recorded rates of violent acid attacks in the world.
The figures show that after a 10-year decline, they surged between 2012 and 2016 by more than 500%. Just 73 were recorded in 2012; four years later, they hit a high of 469.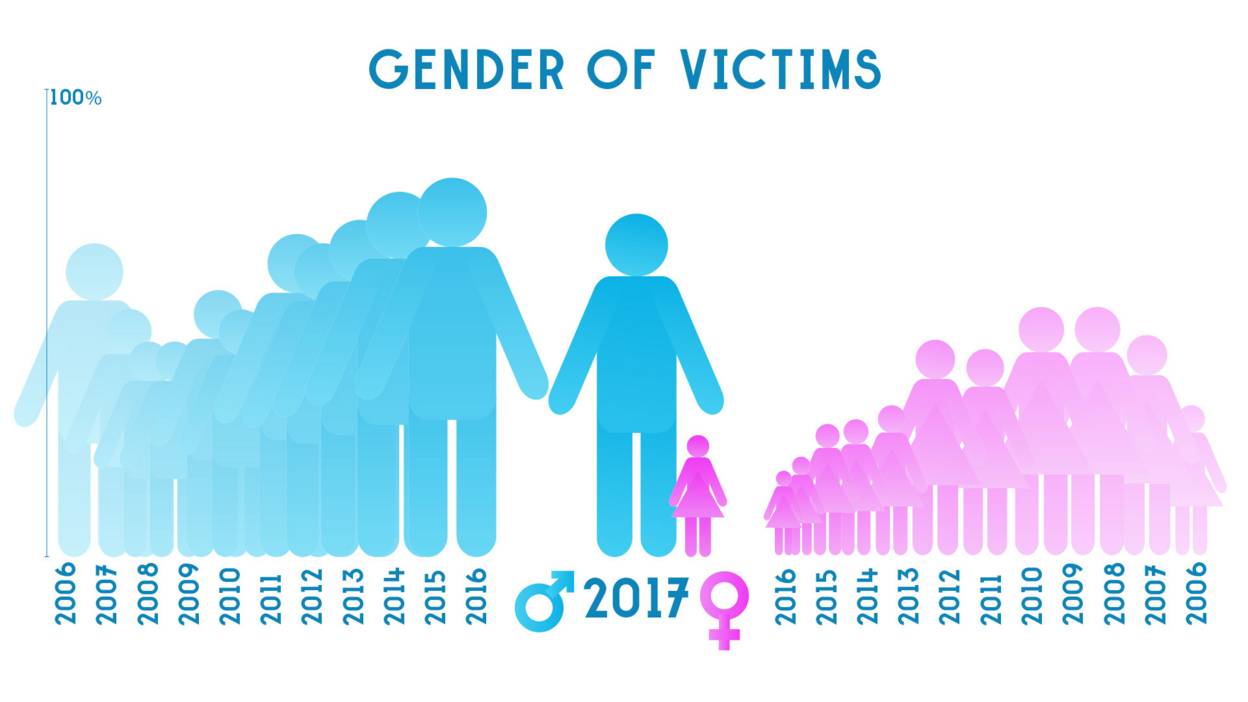 BBC Three
The victims of London's violent acid attacks are overwhelmingly male. Four out of five victims in 2016 were men, according to the statistics.
From 2007 to 2011, around 50 men and 50 women were attacked each year. Since 2012, however, the number of attacks on men has increased dramatically each year, peaking at 352 in 2016.
The statistics paint an unusual picture, according to experts familiar with acid attack data around the world.
Jaf Shah is the executive director of Acid Survivors Trust International (ASTI), a charity that seeks to end acid violence.
In the 15 years since his organisation was established, he has noted a familiar pattern to acid attacks around the world that is outlined prominently on ASTI's website: "Acid violence is a form of violence that has a disproportionate impact on women."
"In many regions of the world, most attacks relate to gender violence," said Shah. "These attacks are often linked to rejected sexual advances, or marriage proposals."
"However, this does not appear to be the case in the UK."
When it comes to suspects, men have consistently made up the majority, accounting for nearly three quarters over the whole of the last 15 years, and 77% in 2016. The proportion of female suspects has collapsed from around 20% ten years ago to just 2% last year, while the proportion of unknown suspects has doubled in the last 10 years to 20%.
This is likely to be related to a rise in moped gangs, according to Dr Simon Harding, associate professor in criminology at the University of West London.
"The assailant may be wearing a mask, balaclava or moped helmet so [the victim] might not see them," said Dr Harding.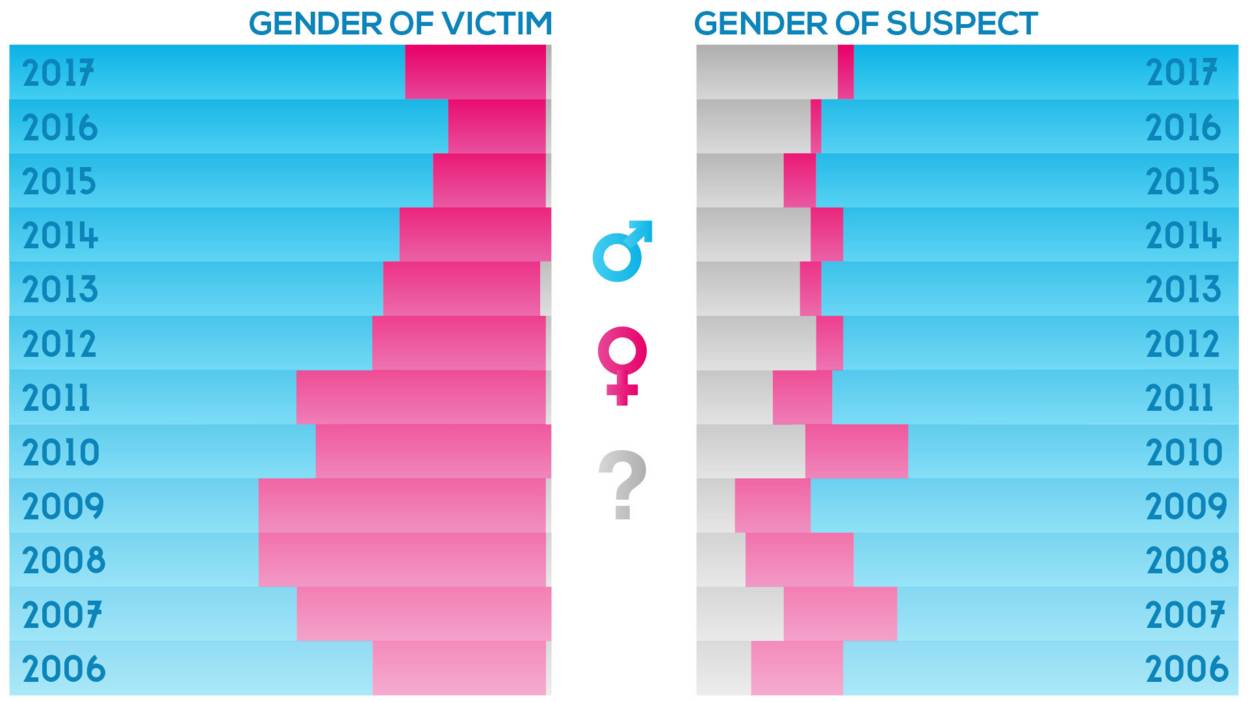 BBC Three
"The [2012] Oscar-winning documentary Saving Face raised awareness of acid violence at a global level," said Jaf Shah. "And as a result many people, at a sub-conscious level, may associate acid attacks with Asians generally and Pakistanis in particular."
Globally, most attacks occur in South Asia, according to Shah – and this may have contributed to an assumption that London's Asian diaspora is involved in a majority of UK attacks.
"There has been a fairly relentless rise in the number of alt-right sites and blogs linking acid attacks to Muslim, Asians and migrants, and this has clearly gained some traction," said Shah.
Type "Asian acid attacks" into Twitter and there are hundreds of people conflating acid attacks with London's Asian population.
In reality, just 6% of all suspects in London over the last 15 years were Asian.
For the same period (2002-16), 'White Europeans' comprised 32% of suspects, and African Caribbeans 38% of suspects. About one in five suspects remain unknown – either because they can't be identified, or because the victim has refused to identify them.
"The figures do suggest a lower number of Asian offenders," said Dr Tara Young, a Criminal Justice and Criminology lecturer at the University of Kent. "However, there is a growing proportion of unknowns – and we don't know if these contain a significant number of White European perpetrators or Asian perpetrators."
The number of Asian victims is 421 – around one fifth of the 2,196 total for the 15-year period. Almost half the victims (987) are White European, and one quarter (557) are African Caribbean.
"With the adoption of acid throwing by younger, gang-orientated people, it's being used to incapacitate victims so you can steal their moped, phone or laptop," said Dr Simon Harding.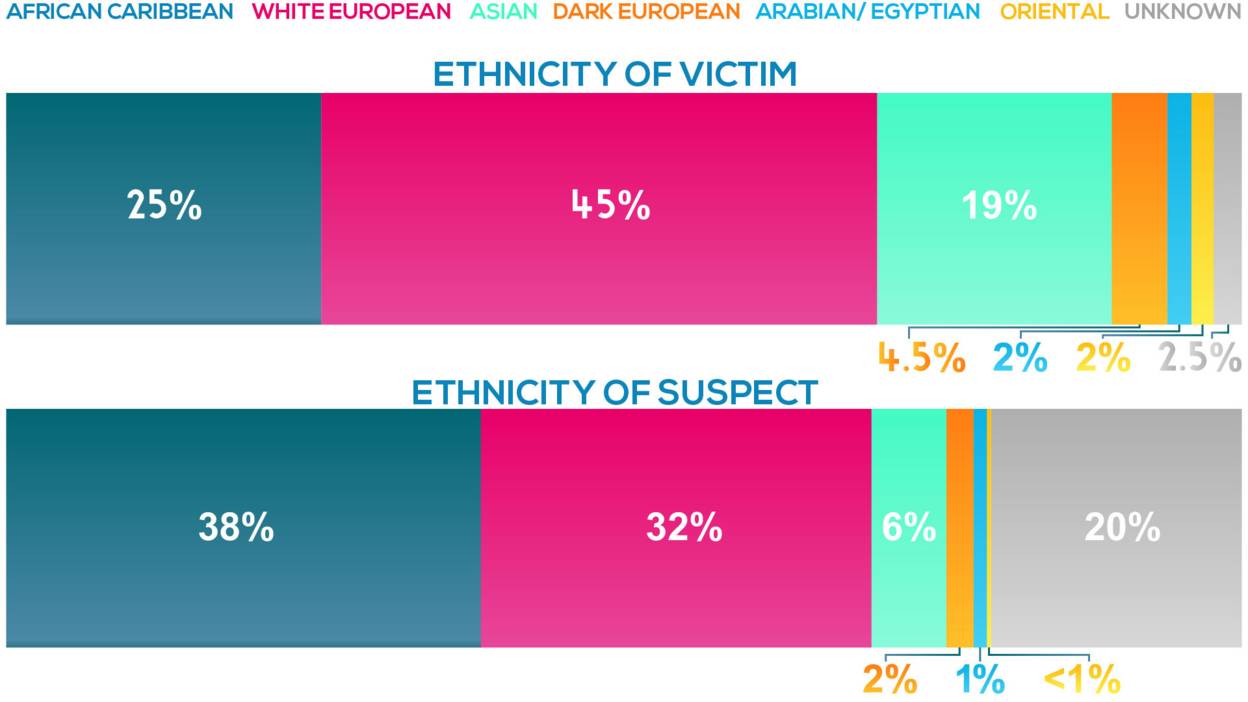 BBC Three
Acid attacks have not only been characterised as being perpetrated by Asians. They have also been increasingly associated with hate crimes against Asians.
On 21 June, aspiring model Resham Khan and her cousin Jameel Mukhtar were sprayed with acid through their car window in Newham, East London.
The attack was labelled a hate crime on social media, and concerns were immediately raised that Newham's Muslim community was being targeted.
Comment pieces and news stories speculating that white supremacist acid throwers were targeting Muslims all over the UK began appearing on news sites and blogs.
"We've seen no evidence of it – not only in the data, but obviously in the [community] intelligence as well," said Detective Superintendent West.
Between 2002 and 2016 there were 32 racial incidents, four anti-Semitic racial incidents, and two other faith-related hate crimes.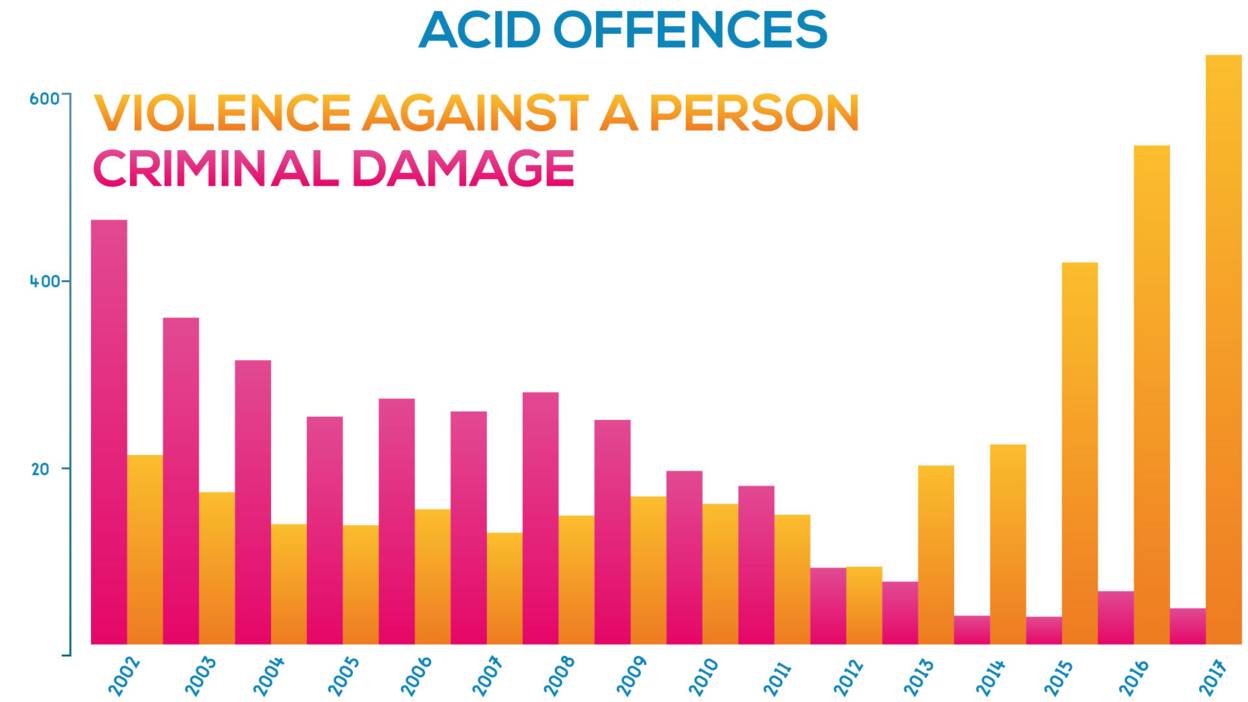 BBC Three
Acid attacks in the UK are frequently linked to honour crimes by the media – and occasionally politicians.
In July, Minister Sarah Newton, who has recently been moved to the Department for Work and Pensions from her previous role as minister for crime, safeguarding and vulnerability, told BBC 5 live: "These substances are used in so-called honour-based violence."
The statistics from London's police record just one attack – in 2011 – as an honour crime.
"It's not something that we're seeing," said Detective Superintendent Mike West.
Jaf Shah urged caution, however. "It's quite possible that honour attacks in the UK are simply not being reported for fear of reprisal," he said.
Police recorded 284 'domestic incident' related acid attacks in the 15-year period from 2002-16 – just 11% of the violent acid attack total.
This low rate, coupled with a decline in the average age of suspects to 21, suggests that acid violence is increasingly gang related, according to Dr Harding.
"A lot of it is youth criminality more than things occurring in a domestic setting," he said.
Acid throwing dates to Victorian times, he added – and Britain is witnessing a "new phase" of the violent attacks.
"We've had acid throwing in this country for over 200 years, and there's been a new development of it," said Dr Harding. "But it's not new and it's not imported."
All graph data acquired from London Metropolitan Police