N/A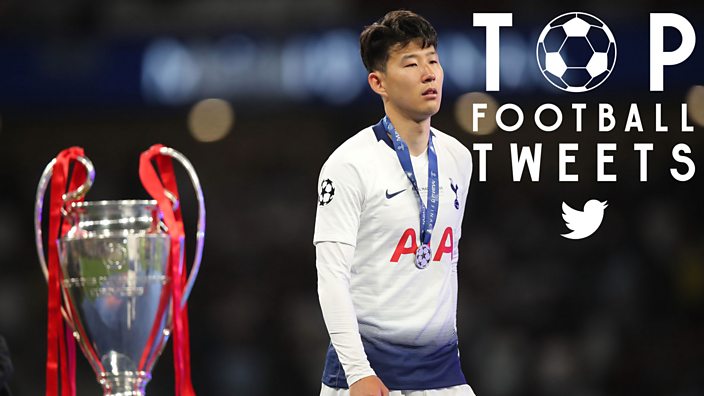 Getty
These Spurs fans pulled off the greatest dad joke of all time
A small consolation for losing the Champions League final
Considering the domestic season has ended, it's been quite the footballing weekend. Liverpool's men are the champions of Europe while England's women didn't exactly have the best preparation for this summer's World Cup, losing to New Zealand.
Most importantly, everyone's still talking about football. 
Let's get this one out of the way early. Liverpool's Champions League final win over Spurs was hardly a classic for the neutral but we don't think the players will care all that much.
2) The father of all dad jokes
Spurs may have lost the game but these Tottenham supporters have undoubtedly won the 'Best Dad Joke On The Back Of A Football Jersey' award for 2019.
While Arsenal fans breathed a sigh of relief that their north London neighbours did not lift the European Cup before them, there's not a lot to celebrate at the Emirates Stadium at the moment as they face another season in the Europa League.
But hey, at least they stopped short of teasing their rivals for their loss. Who would do that?  
Things are going a lot better for the women's team at Arsenal, with players including Leah Williamson guiding them to a league title this season. England will be hoping that the 22-year-old can have a similar effect at this summer's World Cup in France after she was given the nod as part of Phil Neville's squad.
If you've ever wondered how it feels to get your first call up for a World Cup, the BBC cameras were there to film Williamson's reaction as she got the news from an Arsenal and England legend.
5) We ain't got no history
Elsewhere in London, West Ham's preparations for next season are already under way in a typically West Ham fashion. New signing Roberto didn't exactly seem overwhelmed by the history of the Irons in his first interview for the club.
6) Tuscany is the Aberdeen of Italy
This week in confusing club connections, we're still trying to figure out how the link between Aberdeen and Italian side Fiorentina is strong enough to require someone to print out stickers celebrating it.
If anyone can explain this, please let us know.
7) Sir Alex? Never heard of him
Look, we've all made a bad decision at work one time or another. But no matter how badly you screwed up, we doubt people are still talking about it more than 40 years later. Unfortunately for the panel who decided to sack Alex Ferguson as St Mirren manager, we doubt we'll ever stop hearing about this one.
8) I just don't think you understand...
The season is barely over but if you're already itching for it to get started again, you're not alone. Regardless of the frustration and heartbreak our teams put us through, we can't help but think that this year will be our year...
They've just gained promotion back to the Premier League so we're sure Birmingham's hot spots are celebrating Aston Villa's success. But, well, isn't that a Christmas tree at the front? 
Regardless of whether the above picture was an accurate representation of what was happening in Birmingham, it seems just a few days earlier, Aston Villa's strip was definitely on show in London.