N/A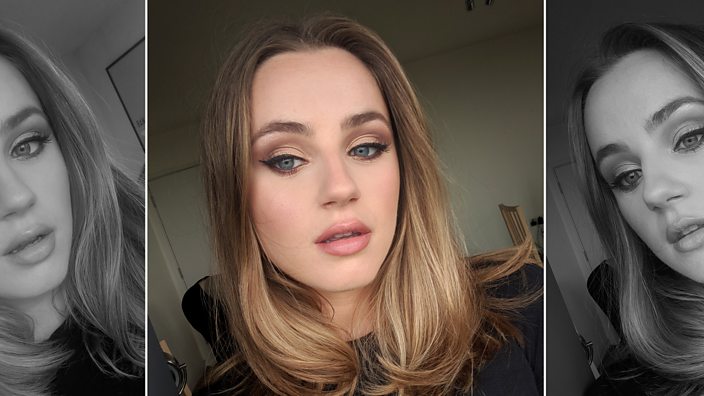 Alex Jones / BBC Three
'I tried 'Instagram face' for a week and here's what happened...'
The rise of selfie make-up and our quest for hyper-perfection
"It looks 3D," is not how I'd generally like my make-up to be described. I feel a deep blush spread up my chest and onto my face. If I wasn't wearing full-coverage foundation, concealer, bronzer, setting powder, two types of contour, highlighter and six shades of eye shadow, I'd be worried that the old colleague I'd just bumped into would spot my cheeks going red with embarrassment.
I had envisaged this turning out very differently. In pictures I looked flawless - I'd just spent more than an hour photographing myself and from every angle, flawless. Picture after picture, no matter the lighting, my face was reflected back: chiseled and oddly doll-like. I looked sultry, sexy. I. Looked. Hot. "You've created a monster," I told the make-up artist who'd just spent 90 minutes painting this face on. "I can't stop taking pictures of myself."
The old colleague stifles a laugh as she scans my face, "it's just...it's very...it's different." Admittedly, my usual make-up routine consists of five products (applied in four minutes and 37 seconds) on the bus on the way to work (yes, I've timed it). But I wouldn't call myself 'low maintenance'. On the contrary, I love trying, buying and putting on make-up. And, so, I'd assumed this experiment would be a doddle.
See, I've decided to spend the next week in full 'Instagram Face' - the make-up look that has dominated social media for the past three years, and judging by my first interaction, it's going to be harder on my ego than I thought.
Search the make-up hashtag on any social media site and you'll come across it. The unique flaws that make us who we are, that make humans so attractive, have been replaced by one face. The Face.
Photo-perfect skin and sculpted, contoured cheekbones, wide almond-shaped eyes which taper up into a feline point, and that full, inescapable mouth. This look is what Twiggy's lashes were to the 1960s and what Kate Moss' dewy skin was to the 1990s. 
Popularised by the Kardashians (who else?) and copied by everyone from Love Island's Megan Barton-Hanson…
...to myriad beauty influencers such as NikkieTutorials (10.6m subscribers on YouTube), Patrick Starrr (4.5m followers on Instagram) and Sonjdra Deluxe (1.1m followers on Instagram). Increasingly, it's also appearing on the faces and social feeds of regular people like (for a week), me (about 850 followers on Instagram).
"You're going to find it difficult to wear outside, in daylight," explained Zoe Moore, the make-up artist who transformed me into The Face using no less than 25 different products. "It's about erasing imperfections [think layers of foundation and concealer, all 'baked' into place using pressed powder] and, as much as possible, taking out the texture of the skin," she explained. She's been a professional make-up artist for almost 10 years and has seen the impact of The Face on her work and the world at large. "I see a lot of girls in their late teens or early 20s in this look. And it's such a shame because to recreate it, you're not emphasising a certain feature, you're not even trying to create something fun and unique. It's very homogenised, you're re-drawing a person's individual features to fit a narrow mould."
The nose, she explained, has to be dainty – an effect achieved by contouring the sides and tip to change its shape like an optical illusion – and the eyes and lips have to be huge. "I really feel for the young girls who're deep into this Instagram world," she continued, "because it's a lot of pressure for them."
IRL, in the middle of the afternoon, on a busy street in London, I actually feel I look like an older woman (I'm 29) trying to be younger. The layers of foundation, contour, blush and highlight all sit thickly on my skin (3D thick, apparently). The eye shadow looks big and vampy. And none of it fits with my clothes, which look far too casual alongside The Face. I walk to meet my friend with my head down, not daring to make eye contact with anyone and feeling more ridiculous with each step. To cheer myself up I take a few more selfies and am instantly filled with a warm sense of satisfaction. Those pictures, so far removed from how I actually, really look, are like hot chocolate for the soul.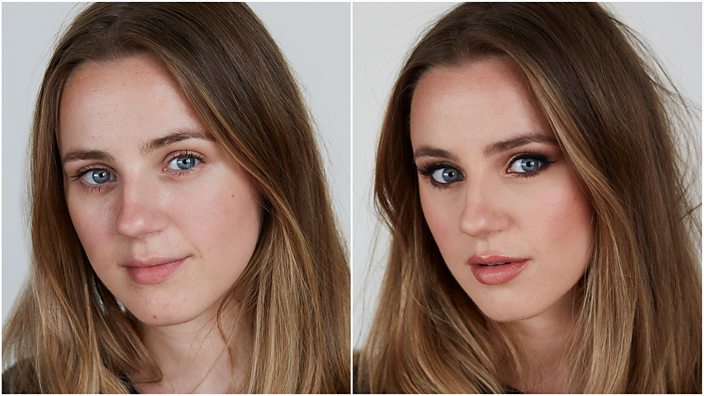 I quickly upload one to Instagram, with a note that I'm trying out a new look. The double-taps start to roll in almost immediately, every few seconds more and more. I'm taken aback, my followers are largely just friends and family, my posts generally get about 40 likes in total. I refresh and refresh. I'm already at 35 just 10 minutes later. It's addictive. I'm hooked.
That evening at dinner, my friend leans over and stares intently at me, "I just can't stop looking at your face…" she mutters. "It's just that every single feature is popping out at me." As it gets darker, though, and the sheer amount of product that I'm wearing becomes less visible, she starts to nod, "I'm quite liking it now, it's like you, but sexier." Perhaps that's the trick to wearing it outside, I think to myself, low lighting.
I think back to Zoe's claim that it would be hard to wear everyday. It's a sentiment echoed by Anita Bhagwandas, beauty director at STYLIST magazine. She tells me: "It's really a look for pictures; the techniques are similar to those used in old Hollywood, where faces were, effectively, painted-on for a dramatic on-screen effect. Things like contouring are what artists would do on photoshoots or for TV; nowadays everyone has access to those skills via YouTube and Instagram." Developed in the period of black and white film to add definition to actors' faces, contouring was never really meant to migrate into real life. But then, how real is Instagram?
The next day I feel bouncy from the reaction The Face has gotten on the 'gram - more than a hundred likes, so many comments of praise. Fire emojis, "you look amazings", and almost 20 new followers. All from one picture.
My brain is dopamine-drunk; the neurochemical is released whenever we have a positive social interaction, it makes us feel good and reinforces our desire to do whatever we just did again (the same physical response that causes addiction). From an evolutionary perspective, it's meant to help form habits which keep us alive (like, you get a hit of dopamine when you have sex; it makes you want to do it again – and the species is secured), but in a world of double-tap instant validation, scientists are warning that our dopamine systems are going haywire. I've never experienced it before, but the buzz of getting so much love, and so many likes is very real. Real enough to make me wonder whether I shouldn't make The Face a regular fixture on my feed.
That morning, I attempt to recreate it myself for the first time. I gather a bagful of make-up - largely old birthday presents and one expensive pallet gifted by an old boss - and set to work. Unfortunately, I only wake-up 20 minutes earlier than normal. Which, it turns out, is nowhere near enough time. I also realise there are a number of essential products I actually don't have: liquid eyeliner, a contouring palette and a lip liner. I'm going to have go shopping at lunch.
Though the look originated with The Kardashians, and a handful of YouTubers who'd upload tutorial videos for people to copy, as Anita points out, "nowadays make-up brands, often ones aimed at Gen Z and younger millennials, like Too Faced, Anastasia Beverly Hills, NYX and those owned by the Kardashians themselves, are driving the popularity for it."
"The brands champion it, and put out tutorials on Instagram teaching people how to recreate it, because it requires a lot of product," agrees Zoe. "For them, it's just good business isn't it?"
At lunchtime I search out the cheapest products I can find but still spend £35. It's little wonder that earlier this year, Forbes featured Kylie Jenner on the cover of its issue dedicated to female billionaires. She's made a reported $900m in just three years much of which was earned through selling lip kits and, later, other make-up items. Her Instagram is almost like a showroom for her products. Huda Kattan (26.6m followers on Instagram) has a similar story. In five years, she went from a beauty blogger to turning over a reported $550m with the online make-up brand she sold through her website (in July Forbes revealed she's now the most viewed beauty blog on the internet). She specialises in Instagram Face and sells more than 140 products.
That evening I watch video after video of people creating different iterations of The Face. Statistics show that we watch literally billions of hours of make-up content on YouTube each year. One with glitter, one with yellow eyeshadow. Dark lips, heavier brows, freckles that disappear with foundation and then are drawn back in with a special freckle pencil. They all look different but also, somehow, the same. Still, whether I agree with the ethics of it or not, I've got to give it to these people: they've got skill. I set my alarm for 6am.
The next day I am groggy and annoyed but successful. Each day I manage to whittle down the time it takes me to recreate it until I manage to squeeze it in to 45 minutes. But, I also have to reapply (mainly blush and concealer) throughout the day. In the office my colleague, Vicky, turns to me: "I keep forgetting this is an experiment and seeing you fully made-up in the morning is making me feel like really anxious. I feel like I need to make more effort." Another colleague, Ben, finds it all very amusing.
It's just my luck that all of this is happening during a blistering heat wave. I find myself avoiding direct sunlight at all cost – after the early mornings, expense and effort, I'd rather risk vitamin D deficiency than let my face melt off at lunchtime. And I mean melt.
A few times I meet friends in the park and feel The Face shift and slide; I get sweaty and the carefully sculpted bone structure gets fuzzy around the edges. Where my contour, concealer, powder, foundation and blush start to mix, I turn an odd shade of pinkish grey.
More than once on my hour-long journey to work, sweat beads my upper lip and I panic and dab away at it with pressed powder so as not to sweat off my lip liner. (Who am I?!?!) The mouth, don't forget, is very important to The Face. More than once, people on public transport – mainly men – make comments like "you don't need to wear that much make-up." Another time, a lady sits next to me and tells me it'll "ruin my skin."
I'm surprised at how often people comment throughout the week. Twice men make lewd comments to me on the street. I've dealt with my share of catcalling but in just a few days, this is much more interaction than usual. A friend suggests there's an element of performance to my make-up. "You're wearing false lashes in 32 degree heat," she points out. Which makes me wonder about the women who do this day-to-day. Is this the kind of rubbish they have to deal with?
Maybe it's the fact that The Face is a male fantasy version of how a woman should look? Those big lips, those doe eyes – one friend likens it to a sex doll. The boyfriend, for what it's worth, isn't taken with it. "But do you prefer it?" I press him. "No," he replies diplomatically. "It's not your face."
I meet friends towards the end of the week. After a full working day, and almost two hours of commuting in 800 degree heat (it really felt like 800), the make-up feels deeply ingrained into my skin. "Are you going somewhere?" asks one. "You look like you're about to do a photo shoot?" I make her take a selfie with me to prove how great I look in the picture. "It looks a little pornographic," she laughs. "You look like you're playing the role of a librarian in a porn film."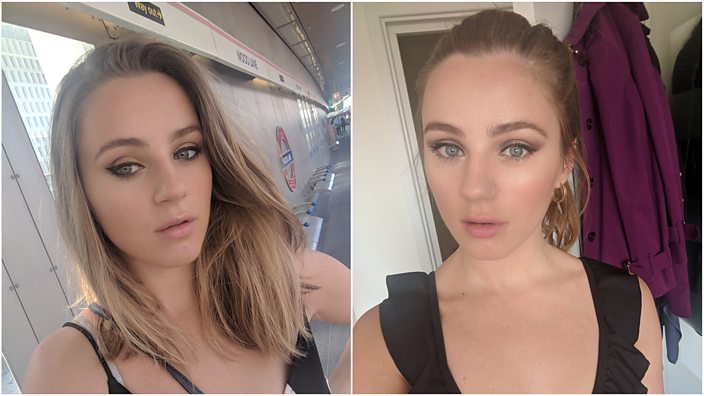 By the end of the week, even though I've got the routine down to a palatable time, I am glad to leave Instagram Face behind. Taking it off at night takes almost as much time as putting it on in the morning. I find myself needing more moisturiser as my skin is dry, and in some places breaking out in spots.
It's hard to know exact figures on selfies, but according to the latest stats from Google (released in 2016), 24 billion were uploaded to their photo sharing site in just one year. And those statistics come from 2016. Another poll back in 2013 found that 30% of every picture taken by 18 to 24-year-olds was a selfie.
On the last day of the experiment I get chatting to a colleague who has a 17-year-old daughter and she's a beauty fan. "She has so many products. And knows so much more about make-up and various techniques and looks than me," the colleague laughs. "I guess she has the time to research it all - she spends hours in her bedroom watching tutorials."
It's not unusual to see cosmetic specialists release warnings about the deeply distorting effect a simple selfie can have (the tight angle, for example, makes our noses seem bigger) and yet, still, it remains an all-pervading phenomenon. I take them, you take them, your sister, brother, parents, even your nan. And we all, whether we like to admit it or not, want to look good in them.
The Face is a by-product of our selfie-obsession - it's a make-up created for selfies, right down to re-shaping our noses so that they're "daintier" – spawned specifically for social media above real life.
And the validation those pictures offer is so alluring. With each new Snapchat filter and Insta platform update, selfie culture has been tightening its python-like grip, on us. Just last week Kylie Jenner punctured the line between Insta and IRL yet further by launching a new set of Instagram face filters which approximate the effect of her make-up. You don't even have to purchase a lipstick, but once you've seen how good you could look, why wouldn't you?
And while I love a selfie as much as the next person – I'm nearly 30, and I've escaped some of the worst ravages of the quest for that social-media-friendly, onenote perfection. When I was a teenager, Instagram didn't even exist. What about people in their teens now, though, the ones The Face is being marketed to?
Perhaps it's something that all teens and twenty-somethings grow out of once the demands of having a full-time job take hold and they can no longer hang out in their bedrooms scanning YouTube for hours. Certainly, for me, the most difficult part was finding sufficient time.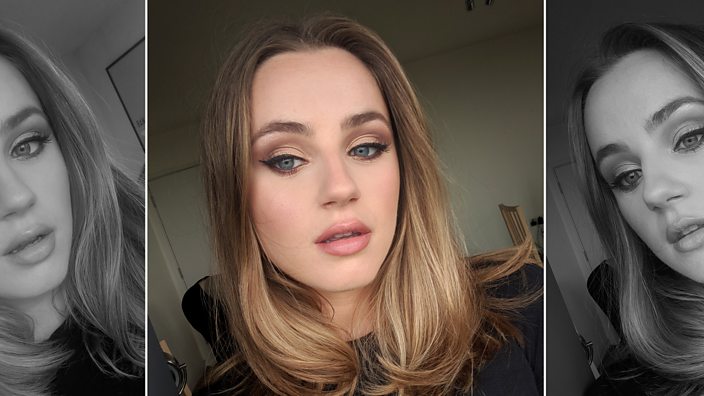 Or, perhaps, the sculpting just becomes permanent. Earlier this year, BBC Three reported on the rise of cosmetic surgery procedures which make us look more like we do in our – heavily filtered – selfies. According to research from January, 56% of surgeons surveyed in the US had seen an increase in clients under the age of 30. 
In 10 years, will those generations who've grown up surrounded by images of pneumatic, souped-up versions of themselves have access to ever cheaper and quicker surgical interventions? Just yesterday, high street health and beauty store, Superdrug announced they would soon be offering an in–store botox and filler service to those aged over 25. While they confirmed trained nurses will administer the procedure, it has prompted the British Association of Aesthetic and Plastic Surgeons to issue a warning that Botox and dermal fillers should not be seen as "casual beauty treatments" like eyebrow threading or waxing.
With time, I can't help but wonder whether this article, worrying over make-up that you can slew off at night with some soap and water, will all come to seem a little…quaint.
Without The Face, my own face looks less like one that'd catch your eye in the street. I decide to try a toned-down version for a wedding that I go to at the weekend. No one comments on my make-up and I feel a little deflated, in a week I'd become used to that little frisson of attention. Still, in the bathroom I catch a glimpse of myself in the mirror. I turn this way and that: I am plain and human. I am not symmetrical. Then I go out and drink and laugh and dance until I'm sweaty without worrying, even for a minute, about my face.