N/A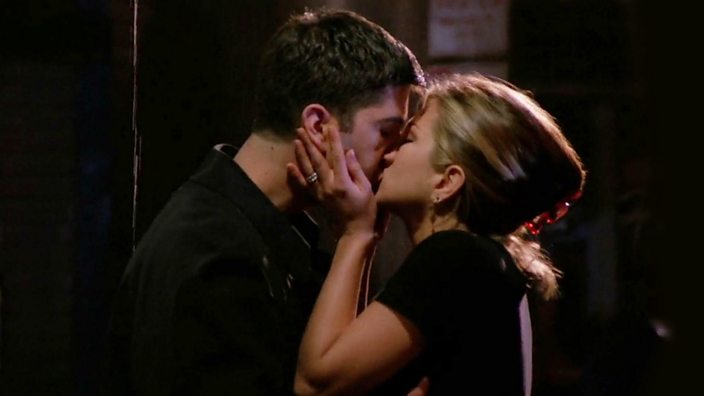 These are fans' all-time favourite TV kisses
People celebrate the best telly smooches, from Ross and Rachel, to Rory and Jess
Please note: There are spoilers below - old spoilers, but spoilers nonetheless - for Friends, Gilmore Girls, Buffy The Vampire Slayer, The OC, Glee, Parks and Recreation, My Mad Fat Diary, Misfits, North and South, Black Mirror ('San Junipero'), Scandal, Orange is the New Black, New Girl, and, erm, a 30-year-old episode of Neighbours.
You know those kisses between TV characters that just rattle your soul, imprint on your mind and basically set up all manner of unrealistic romantic expectations for your real life?
Well, if you don't, prepare for an education on the topic. It all started when Australian writer Jenna Guillaume posed the question to her Twitter followers: "Tell me your all-time fave TV kiss."
Well, people had ~feelings~ on this topic and responses poured in. Keeping in mind our spoiler warning, here's what came back.
The first kiss between Ross (David Schwimmer) and Rachel (Jennifer Aniston) in Friends was a clear favourite:
Another person had a soft spot for this Ryan (Ben McKenzie) and Marissa (Mischa Barton) snog in The OC.
Then there was this pash between Blaine (Darren Criss) and Kurt (Chris Colfer) in Glee.
Journalist Eliza Barr was firmly in the Rory and Jess (Milo Ventimiglia) camp.
Another Gilmore Girls mention: the first kiss between Lorelai (Lauren Graham) and Luke (Scott Patterson).
Who could not love this liplock between Leslie (Amy Poehler) and Ben (Adam Scott) in Parks and Recreation?
My Mad Fat Diary - and this kiss between Rae (Sharon Rooney) and Finn (Nico Mirallegro) - also had its fans.
The Misfits stans came out for this kiss between Simon (Iwan Rheon) and Alisha (Antonia Thomas).
The 2004 BBC mini-series North and South got a mention - namely, this smooch between Margaret (Daniela Denby-Ashe) and John (Richard Armitage).
Another user highlighted the San Junipero episode of Black Mirror, and this kiss between Yorkie (Mackenzie Davis) and Kelly (Gugu Mbatha-Raw).
All really solid choices, we think you'll agree. There are a few other worthy mentions we'd like to throw into the mix though.
Basically any clinch between Buffy (Sarah Michelle Gellar) and Angel (David Boreanaz) in Buffy the Vampire Slayer.
Also, basically any spit-swap between Olivia (Kerry Washington) and Fitz (Tony Goldwyn) in Scandal.
Ditto Piper (Taylor Schilling) and Alex (Laura Prepon) in Orange is the New Black.
Also, shoutout to this smooch between Jess (Zooey Deschanel) and Nick (Jake Johnson) in New Girl.
Finally, here's one which people of a certain vintage will truly appreciate: the wedding day kiss between Scott (Jason Donovan) and Charlene (Kylie Minogue) in Aussie soap Neighbours.
It's hard to convey just how huge this event was back in the ancient times of 1988. Almost 20 million people in the UK watched the episode - despite the fact that the soap aired at lunchtime and teatime.
Which proves that nothing can get in the way of us celebrating a great telly smooch - not even work.
Have we missed any classic kisses? If so let us know in the comments section below. 
This article was originally published on 18 October 2018.