N/A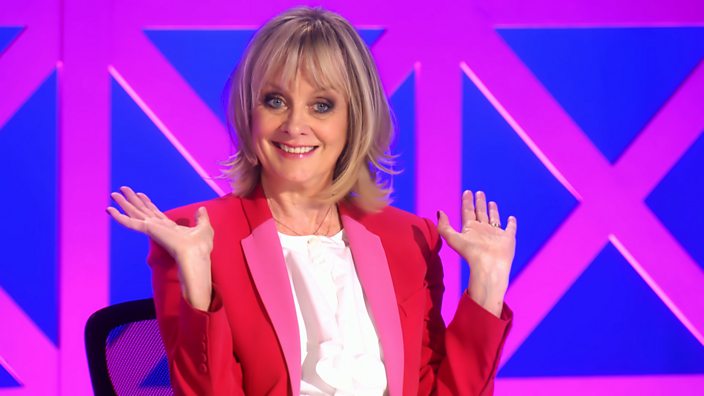 BBC Three/World of Wonder
RuPaul's Drag Race recap: Queens face Twiggy in fashion challenge
Who won this week's RuPeter badge? Which queens have an eye for high fashion? And find out who we think delivered the read of the week (and who was on the receiving end).
*WARNING: This article contains MAJOR spoilers for episode three of RuPaul's Drag Race UK, Posh on a Penny*
It's called fashion, sweetie… look it up. The queens of RuPaul's Drag Race UK faced the dreaded sewing challenge this week, after the third episode came to iPlayer at 8pm. We were gagged to see the return of one very famous drag alumna, a few of the queens buckled under the pressure while being judged by fashion icon Dame Twiggy – and one contestant revealed herself to be a secret assassin of shade. Oh, and we witnessed what will probably be remembered as one of the great lip syncs in Drag Race history.
Here are the highlights of the week's episode, Posh on a Penny, and a round-up of what fans thought about every sickening moment.
1. Blu is a secret shade queen
She might have been bruised last week after finding herself in the bottom two, but Belfast queen Blu Hydrangea this week proved she's no wallflower (that's right, I went there: I made a floral pun). In fact, in this episode the 23-year-old showed she knows how to throw some serious shade at her fellow queens – even if it is all in good fun.
"The dead weight is gone," she said. "Scaredy Kat is now roadkill." Ouch!
Later, she asked Divina De Campo: "Will you tell me about when you started drag in the 1800s?" Ooof!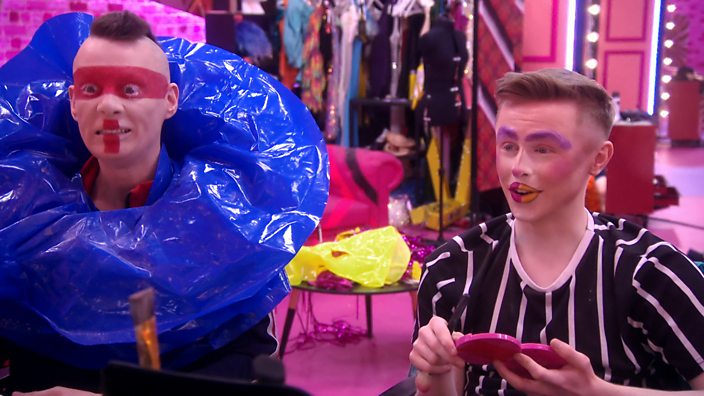 Blu even made a crack to RuPaul about his sense of style! You in danger girl!
2. Baga is confused by the assignment
Then came the mini challenge and the queens were tasked with getting into quick drag in the style of a beautiful English rose, before twerking up a storm around a maypole. Simple enough? Not for Baga Chipz, who ended up looking like a confused librarian.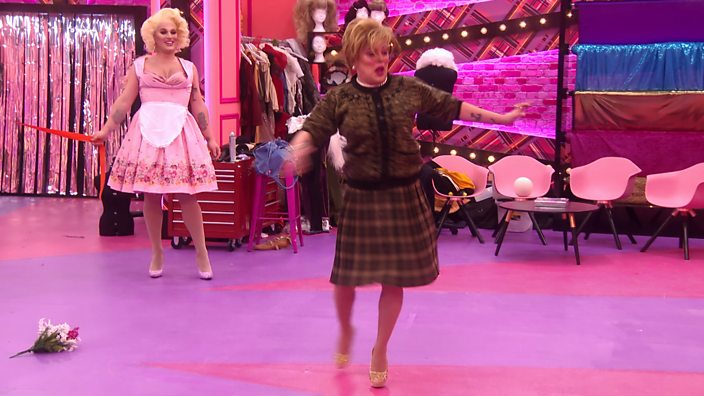 Though I suppose her look wasn't as bizarre as Blu's, who put together some real Walking Dead-realness with her Friar-Tuck-meets-Freddy-Krueger look. I'll never sleep again!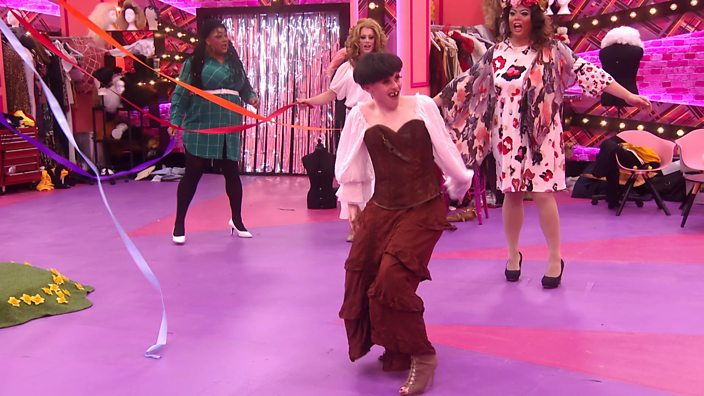 But it was Cheryl Hole who came out on top after showing off her impressive death drop skills. "This is just what I need to boost myself back up," she said. "But really just to show these girls that I deserve to be here and I deserve to compete against them."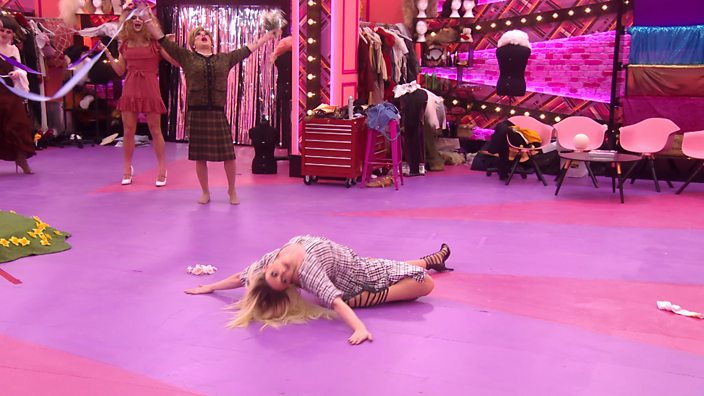 OHMYGODIT'SRAVENNNN!!! SHE'S BACK!
Drag Race legend Raven, who first competed on the second season of the US show, made a triumphant return to Drag Race to announce this week's main assignment: the sewing challenge. *DUN DUN DUN*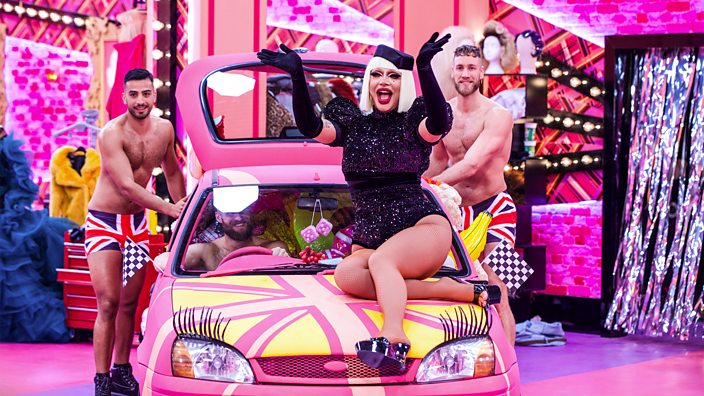 The sewing task has been the unraveling (sorry, couldn't resist) of so many promising queens (we're looking at you, Shangela), and this challenge was especially difficult. The queens were given a car full of junk – crammed with things like rubber gloves, sponges and video cassette tapes – and asked to make some stunning, high-fashion garments for the runway.
Crystal revealed she has a degree in costume design, so had an apparent head-start on the other girls, but Vinegar Strokes was obviously struggling with the design aspect of this week's challenge. First, she said she was inspired by a toothbrush (whaaaat???) and then she just shoved a toilet seat over her face while chatting through her look with The Vivienne.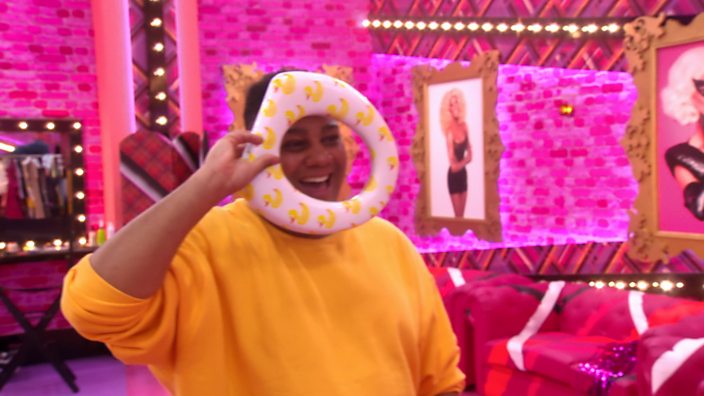 And things only got worse for the West End queen when, in the Werk Room, RuPaul critiqued the looks she's served so far in the competition, calling them "hodgepodge."
4. It really IS RuPaul's Best Friends Race
As tensions run high in the Werk Room, Drag Race can sometimes bring out the less-than-pleasant side of a drag queen. But this week we got to see some of the friendships being forged among the competitors, like Baga and The Vivienne, and Vinegar and Sum Ting Wong.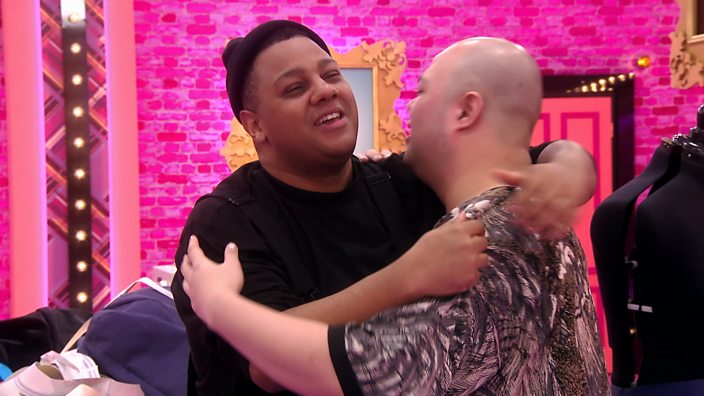 "Out of everyone in here, I need you here with me," an emotional Sum Ting Wong said to Vinegar. "Because I feel like if you're not here I'm gonna go crazy."
Vinegar added: "Over the past couple of weeks me and Sum have really bonded. I think we're going to be really great friends after this."
5. Bring it to the runway
Finally came the moment of truth and the queens had to walk their creations on the runway in front of fashion queen Dame Twiggy, who is perhaps one of the most famous models of all time. No pressure then.
Cheryl really sold the heck out of her rubber glove look (which ended up looking like an explosion in a Marigold factory), The Vivienne turned heads with her dramatic, video tape creation and Crystal wowed in her over-the-top, Ancient Greece-style dress. (It reminded me of the head Muse from Hercules… in a good way!)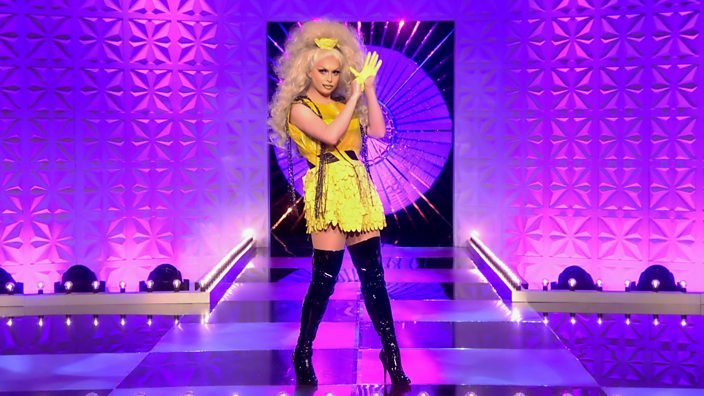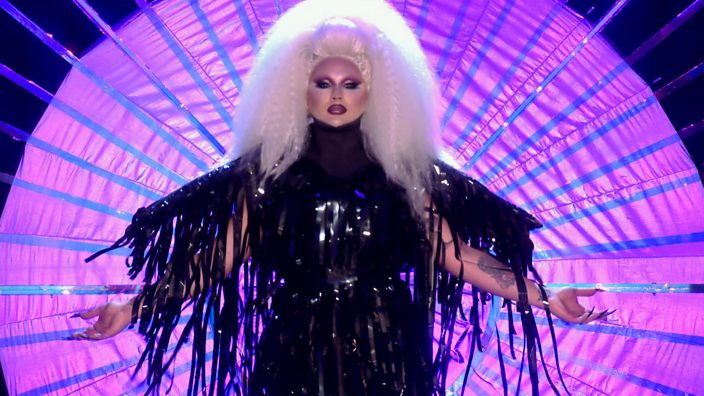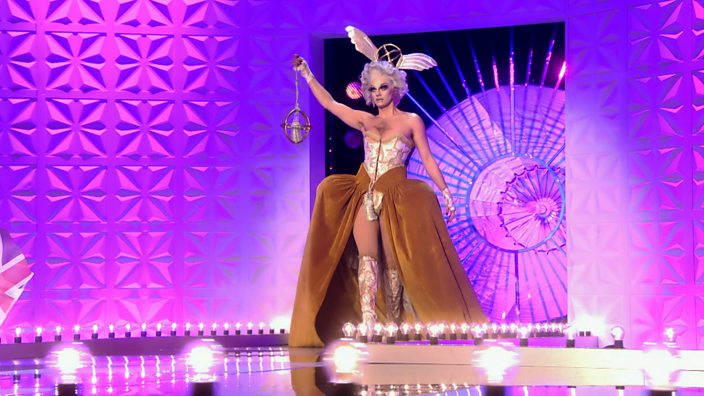 But Divina De Campo proved to be the real runway star with her avant-garde, David Bowie-inspired look made from old shopping bags. Congrats Divina! You're amazing!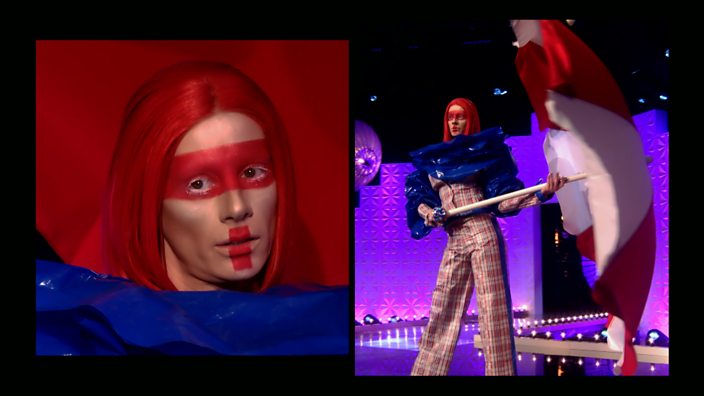 6. A lip sync for the ages
Our hearts broke when it came to the lip sync between best mates Vinegar Strokes and Sum Ting Wong. But, even though they're friends, neither of these queens held anything back while dancing to the 1985 Eurythmics classic Would I Lie to You?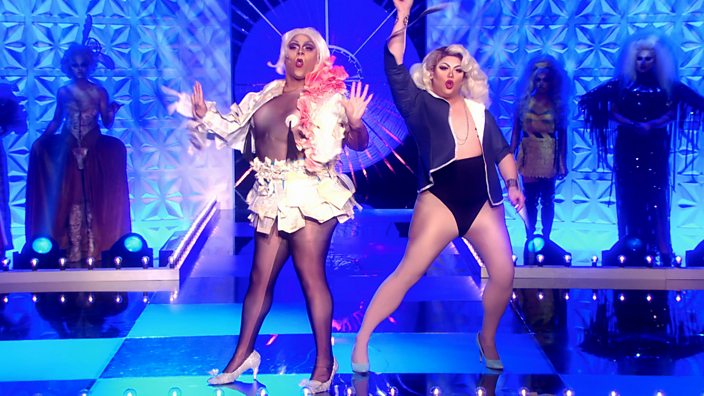 We truly wish both queens could have been saved after that performance but, alas, Vinegar was asked to sashay away.
"So long, gay boys!" she cried, quoting Mr Chow from The Hangover as she departed.
So long, Vinegar. So long.
Lastly, we're all mega excited for next week's episode - SNATCH GAME! - when the queens will have a chance to impersonate their fave celebs. I. CANNOT. WAIT.
(Accidental) Read of the week
Blu telling RuPaul – famous for his love of glamorous ball gowns – how boring ball gowns are:
"Do you have a silhouette that always works for you?," RuPaul asked.
"I quite like trousers," Blu replied. "Ball gowns are fun but I just think they've been done to death. No offence."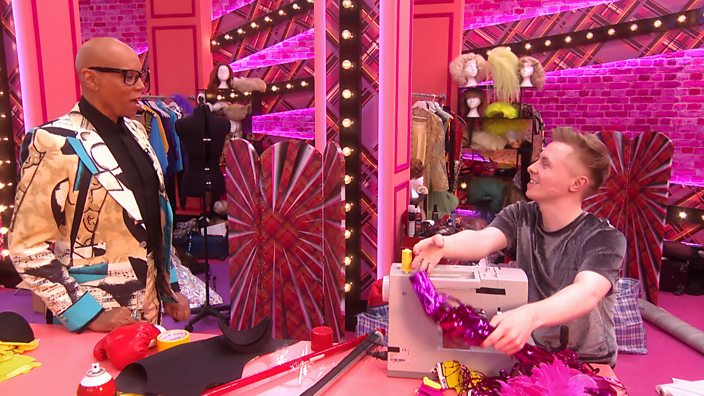 ("I have to try and be nicer," she said after the accidental read. "I swear I'm a nice person it just gets so bitchy in here.")
Look out for our chat with Vinegar Strokes, which is coming soon! And in the meantime you can read over our interviews with Gothy Kendoll and Scaredy Kat.
Don't forget to listen to the official Drag Race UK podcast hosted by Scarlett Moffatt and Baby Lame. This week's special guest will be Derry Girls actress and Twitter star Nicola Coughlan.