N/A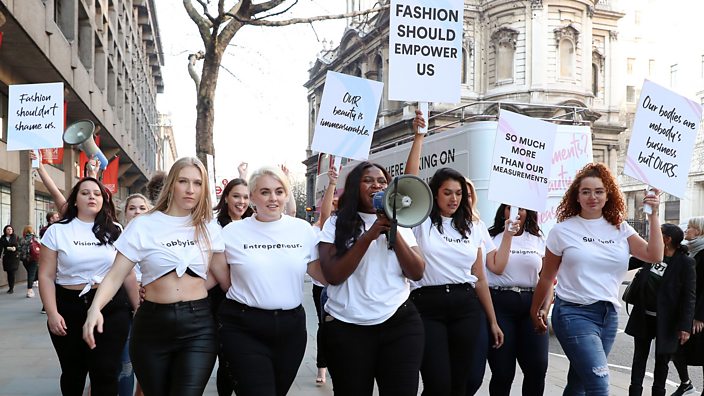 Getty Images
Do you feel represented by fashion?
Do body positive protests actually lead to more curves on the catwalk?
It seems like activism has been the biggest trend of London Fashion Week 2019. Last Friday Justice4Grenfell campaigners and celebs lined the catwalk wearing t-shirts reading "72 dead and still no arrests? How come?", (a reference to the Grenfell Tower disaster and the film Three Billboards Outside Ebbing, Missouri). Two days later, more than 100 climate change demonstrators blocked access to shows being held at the Tate Modern to demand more sustainability in fashion.
But one LFW protest returned for its second year: last Friday, a group of plus-size models and influencers marched outside 180 The Strand – a key LFW location – to call for better representation of female bodies on the catwalks.
Clutching placards bearing messages such as "Fashion shouldn't shame us" and "So much more than our measurements", the group of women were led by US actress Hayley Hasslehoff. Hayley also led the protest in 2018, when she and a group of eight lingerie-clad, plus-size women gathered to urge designers to use more models representative of body shapes in the UK, where the average woman's female dress size is a 16. Calls for a wider variety of shapes to be on display have also been amplified with the advent of viral hashtag #fatatfashionweek which returned after being started during the Autumn/Winter 2018 fashion shows.
But are high-profile demonstrations like this actually putting more plus-size models on the catwalk, or bringing them into the public consciousness?
Demand for plus size clothing is growing – the market's value is predicted to increase by 7.1% by 2022, and in 2017 plus size sales outperformed "standard" clothing. But are people feeling the effects of these changes on the ground?
Plus-size blogger Stephanie Yeboah says she's yet to see real representation take root. "I personally haven't seen any change within the UK fashion industry when it comes to showing a more diverse range of models on the catwalk," she tells BBC Three. "Honestly? I think a lot more can be done. It just doesn't seem like these protests have any effect on the fashion industry."
In fact, there's actually been a reduction in the number of plus-size models appearing on the catwalk. In AW18 shows, only 0.4% of castings were models defined as plus-size – which, in the UK, can mean anything as small as a size 8. In real terms, this meant there were eight fewer plus-size models walking than the previous season, and 90% of the total number of plus-size Fashion Week models appeared in New York, rather than London, Paris or Milan.
Meanwhile, a 2014 survey revealed women's satisfaction with their bodies decreases by 6% by the time they're 35 and a fifth of UK women cut clothing labels from their purchases to hide the size. Model and activist Sonny Turner was one of those protesting for greater plus-size representation at LFW both this year and in 2018.
"There are small changes happening but in the age of social media it is not quickly enough to have a significant impact," says the 20-year-old. "I've been to a few shows this year where representation of different groups has been evident but it's only about a 10% increase."
Nevertheless, Sonny says the protests are keeping the issue at the top of the agenda. "Our protests get noticed and in the moment people are talking. Right now that's enough of a reason for me to be a part of it," she explains.
"There's no denying brands are changing their views. Sometimes it feels very organic and [that] they truly want more diversity in their everyday campaigns. There are others I've experienced where it feels like a gesture or something they [think] they have to do because others are."
And, when a recent retail-sector commissioned poll of 10,500 women found less than 40% of girls aged 10 to 17 in the UK report having high self-esteem about their bodies, Sonny believes bringing wider representation of shapes to the fashion industry is a key social responsibility.