N/A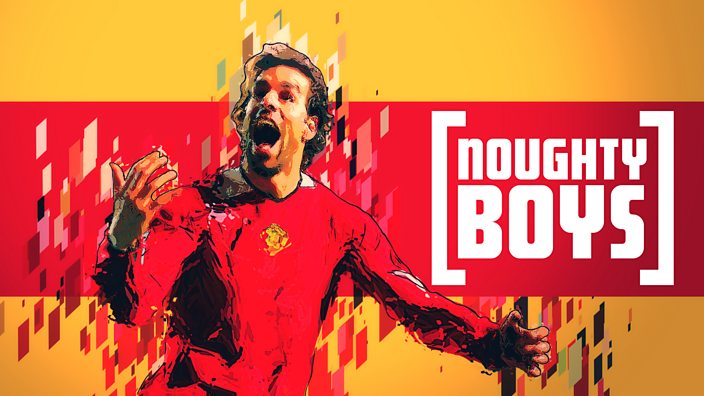 BBC Three
Noughty Boys: Ruud van Nistelrooy, the goal-machine whose future hung in the balance
The Dutchman was one of the greatest strikers of the Premier League, but one very public incident could have denied us the chance to witness his instinctive artistry
When Jamie Vardy scored for Leicester City against Newcastle United in November 2015, making it 10 straight goal-scoring games in the Premier League, one of the first people to congratulate him was the man whose record he had just broken.
It was no surprise to see Ruud van Nistelrooy demonstrate solidarity rather than jealousy. Like Vardy, the Dutchman must have once feared his dreams of making it at the very top in England would not be realised.
More than 15 years earlier, the footage of the striker's cruciate ligament injury felt like a viral video at a time before we had a name for such a thing.
It's one of those innocuous clips where the sheer unremarkable nature of its beginnings are enough to convince you something terrible is about to happen, where the mere presence of a camera almost takes on an eerie quality.
Of course, there was a reason why cameras were present for a PSV Eindhoven training session. In the summer of 2000, Manchester United had been keen to make Van Nistelrooy their club-record signing after he had scored 73 times in 78 games in his first two seasons at PSV, but United's interest had cooled due to concerns over a potential problem with the player's knee.
The transfer was on hold, but the cameras were rolling as, one second Van Nistelrooy is on his feet, carrying out a heading drill with a coach, and then, a scream as the player crumples to the floor in agony.
That piercing scream, made louder by the fact that it arrives from the midst of near-total silence, is enough to make you shudder.
At the time it felt like you were watching a player's dream being shattered in the most cruel and public way, and yet, with the benefit of hindsight, Van Nistelrooy would describe the year out as one which ultimately benefited his career.
"My body changed completely," he recalled in 2003. "It's a different posture. That helped me a lot, if I look back. I became stronger and faster, I did a lot of speed work. I had a year which turned out to be good year for me, although I couldn't play, which I missed badly."
When United returned after the striker's rehabilitation a year later to complete the deal, he was ready.
'Zero to goal with no warning'
Some players come to the Premier League after a high transfer fee and they freeze. Some struggle with the demands of English football despite scoring for fun in other leagues. Some might have suffered from the pressures unique to a Manchester United side which had dominated the division for a number of years. Van Nistelrooy had to deal with all of these potential banana skins, and yet made a mockery of them all.
His two-goal match-winning Old Trafford debut against Fulham staved off any prospect of early criticism, yet you never felt he needed to buy himself time.
If the great goal-scorers who followed Van Nistelrooy's lead almost felt like superheroes – the mere numbers put up by Lionel Messi and Real Madrid-era Cristiano Ronaldo hint at it, but watching them in the flesh gives you a glimpse of players doing what their peers simply can't – then the former Manchester United man almost stands out through his normality.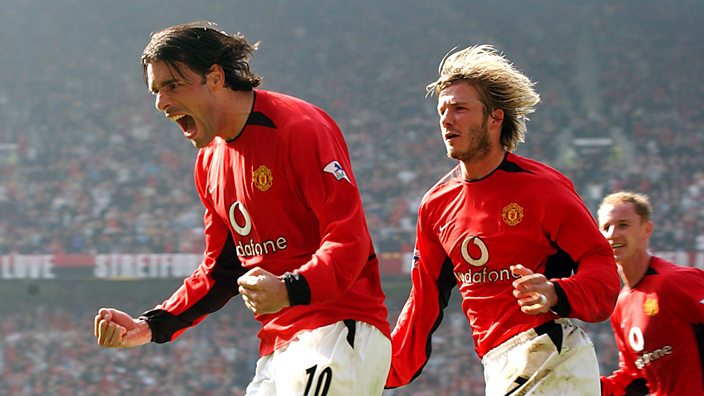 If you were to turn towards Van Nistelrooy in his pomp you would find someone who would often produce phenomenal results without producing anything visibly beyond hard work and instincts. Just one of his 150 goals in a Manchester United shirt came from outside the box, but why would he waste his time doing something he didn't need to do? The recovery from that injury might have made him stronger, but it crucially didn't take away from the speed of his mind.
You'd think the theoretically one-dimensional approach of scoring almost exclusively from inside the area would make him easier to defend against, but the opposite was true.
There wasn't a system for dealing with the prospect of Van Nistelrooy running through on goal: if you were a goalkeeper and he was one-on-one with you, then you had already lost, and with a world-class supply-line, it's likely you would have lost before even stepping on to the pitch. If you stopped David Beckham there was still Paul Scholes. If you stopped Paul Scholes there was still Ryan Giggs. And if you stood off them all and prayed for Van Nistelrooy to fluff his lines, you were toast.
The thing which stood out the most was the sheer confidence – converting chances felt like a formality. He was the sort of striker who made you want to be a striker yourself, to be the guy who could seemingly stretch that bit further.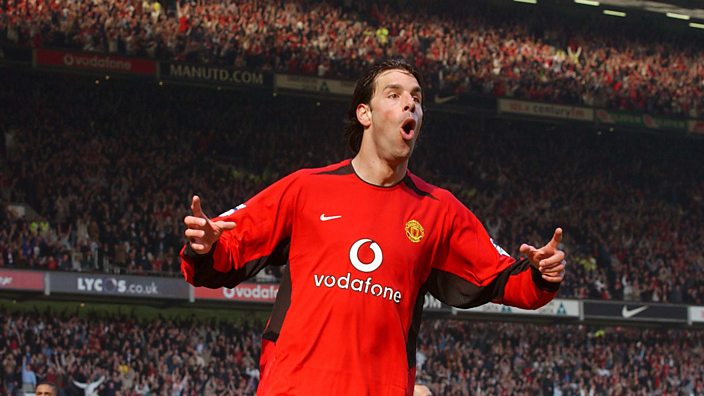 He could do subtle or he could do emphatic, sometimes both in the same move. There was often no chance for the commentator to raise their voice in anticipation of what was to come, as he went from zero to goal with no warning as if someone had managed to strap a jet engine to a bike without anyone noticing.
But to look at him in that light, all instinct and ruthlessness, was to ignore the fact that he could be extremely subtle and silky when he wanted to be. It was hardly his fault he rarely needed to show that side of his game. But moments like Manchester United's 3-0 victory at home to Fulham in March 2003, a game in which he scored all three goals, showed what else he was capable of.
Starting in the centre circle, he holds off three Fulham players, accelerates away from a fourth, skips past a fifth and then opens up his body to find the corner of the Fulham net while goalkeeper Maik Taylor was still waiting to set himself for a shot of any kind.
He was the top dog of the playground, refusing to pass to anyone else because he knew they should be the ones passing to him.
His win-at-all-costs mentality was allied with a tendency to produce results, even when you'd started to write him off and to top it all off, the grooming and good looks of a Disney villain. If you didn't hate him for all of the above - and there were plenty who did, be honest - it's because you wanted to be him.
'A ruthlessness detached from external factors'
Given how great Van Nistelrooy was at his peak, it hurts to see his name so often associated with his part in the infamous 'Battle Of Old Trafford' on 21 September 2003.
After contributing to Arsenal's Patrick Vieira earning a red card 10 minutes from time, Van Nistelrooy smashed a last-minute penalty to win the game against the crossbar. He was goaded by Gunners defender Martin Keown after his miss, and tormented by a wider cast of Arsenal players at the full-time whistle.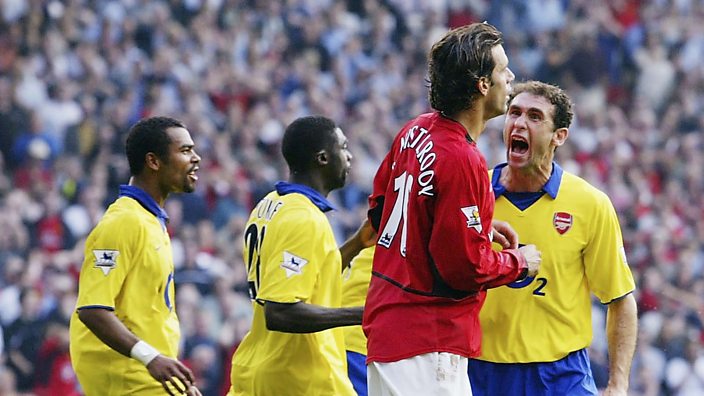 No one element of the game should be enough to cloud judgements of the player, but it's more about what the whole episode symbolised.
There's the butterfly effect of Arsenal going the whole season unbeaten after their let-off at Old Trafford, but also the fact that Van Nistelrooy looked mentally exhausted by the game as a whole.
So many of his goals had come from a ruthlessness detached from any external factors, and so to exaggerate a rare occasion where he let things get to him feels misleading. This was a man who scored four times in the five games before this, and another four in the two games after, and yet his failure at the crucial moment shows just how much weight football places on the smallest moments.
The gravity of it all means our mind's eye isn't drawn to the highs either side, but instead to the clash with Keown, and later to the insensitivity towards Cristiano Ronaldo which precipitated his Old Trafford exit.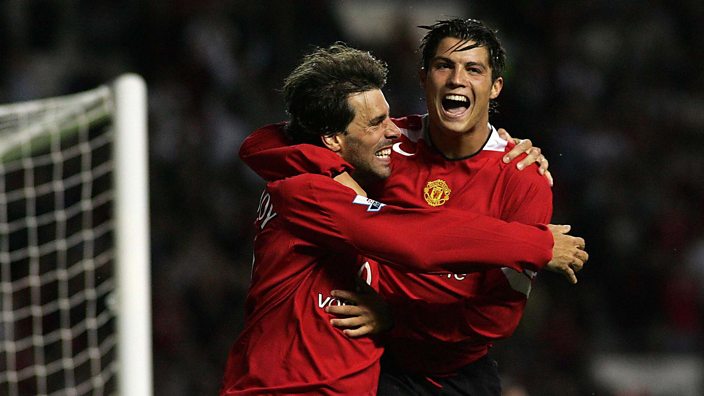 Amidst an argument with a young Ronaldo at the training ground, Van Nistelrooy allegedly told the Portuguese forward to "run to your daddy," in an apparent reference to him being coddled by compatriot and assistant manager Carlos Queiroz. The dispute, however, was exacerbated by the fact that Ronaldo had lost his actual father just months earlier.
If Sir Alex Ferguson saw it as a choice between the pair, though, he'll have had no regrets about putting his faith in the younger man.
That was essentially it for Van Nistelrooy at United, though he would more than land on his feet with a successful couple of years at Real Madrid - more than 50 goals in his first two seasons were enough to prove his United exit wasn't ability-related, if that argument ever needed to be made.
Ruud van Nistelrooy's legacy may well be coloured by the comparative lack of trophies he won in England.
While his own contribution in front of goal could hardly be faulted – the 95 he scored in 150 Premier League games would have been considered phenomenal were it not for Thierry Henry being his contemporary – he left United with just one Premier League title.
Ruthlessness works better when the titles are there to accompany it, but this is little more than a quirk of circumstance. To even go toe-to-toe with Arsenal's Invincibles and José Mourinho's first Chelsea squad was an achievement in itself, and that's before we get on to the fact that the man leading the charge might once have thought he would never play again.